A while back – I did a post that documented my typical day. I think it is super fun to get a sneak peek into the life of someone.. just how do they spend all of those hours of day.  Well – life is different in the summer – especially for someone who teaches for a living!
I had been planning on doing this post for a while – so much so that I had drafted about half of it .. but never finished. However.. when fellow teachers Janae.. and then Chelsey posted their summer life.. I thought I'd get my act together…
I am in my 4th week of vacation and have actually found myself a nice little routine. I was petrified of being bored since I am not teaching summer school and for the weeks leading up to the last day of school – I contemplated getting a part time summer job.
Well – I've been filling my days JUST fine – and have really been enjoying that much needed time to relax. I think I have FINALLY decomposed from the 2011-2012 school year. I am ready for next year.. but just not yet. There are a few more things that I have to accomplish before I can get back to school
The Typical Summer Day:
Actual (first) Wake-Up Time: Usually somewhere between 6:30 and 7:00. That is when Colby gets up. He will roll around, make noises, and scratch so he shakes the bed uncontrollably. I pretend that I am in a DEEP sleep and don't move. I really don't like walking Colby first thing in the morning. Eventually Justin gets out of bed. Sometimes, I fall back to sleep for a half hour. Sometimes, I lay in bed for 10-15 minutes. I am usually out of bed by 7:20am. This gives me 90 extra minutes in comparison to my school year wake up.
I brew so coffee, watch the morning use and drink a big glass of water (accompanied by some vitamins).
By 8:30 I am eating my breakfast. I will watch Boy Meets World, catch up on some blogs and chat it up with Justin before he leaves for work.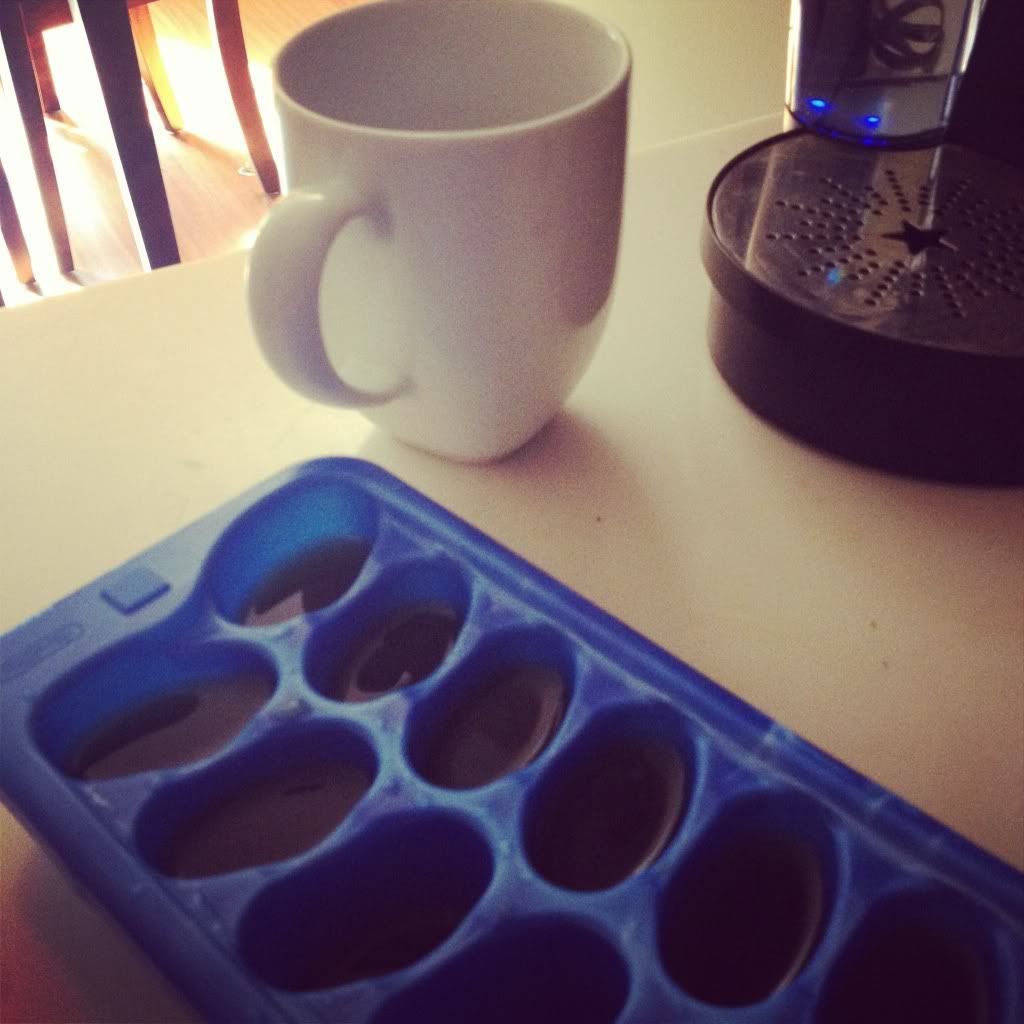 Thanks to
Katie
.. I am making coffee iced cubes
10:00 - I am ready to get rolling for the gym. I will take Colby on a 10 minute walk – and then head on out to do my thing. What I actually do varies. I've gone through periods of doing an at-home workout like Insanity. Sometimes, I'll go for a long run. Other times – I will head to a fitness class. When I do take a class, sometimes the schedule shifts around depending on the time of the class.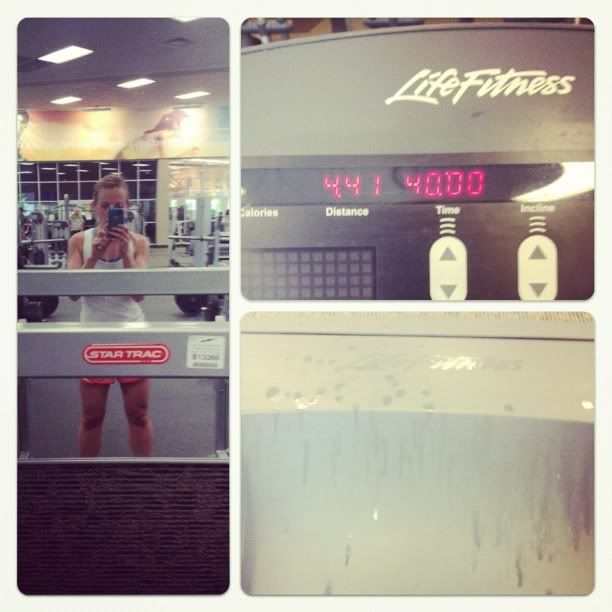 This is a sad day. The last day I had my keys. I can see them in my hand. Minutes later, they vanished into thin air and have yet to reappear!
After the gym – I will run any errands I have for the day – be it grocery shopping or whatever. I like to get everything done in one trip out.

I will usually eat lunch sometime between 12:00 and 1:00.  During this time, I will also make phone calls and write emails to wedding vendors/bridal party members.. and those type of things. However – this usually slips to blog reading.
After lunch, if the weather is nice, I head down to the pool to do some reading. I will stay outside for 1-2 hours .. especially if I am really into what I am reading. As the summer continues on – this reading will likely change over to Teacher's Manuals and State GLE's for first grade. I probably get to the pool 2-3 times a week. It is NICE having it so close – and I will take advantage of it while we are hear. Whenever we move to a house – it will certainly not include a pool!
By 2:30 or 3:00  I am getting to work on wedding related things. The biggest thing I am working on now is the seating chart. I have made some pretty good progress.. but I am still working on it! Then I am passing it off to Justin so he can seat the guests that he invited! I am also working on our cermony programs, menu cards, and place cards. Always more to be done.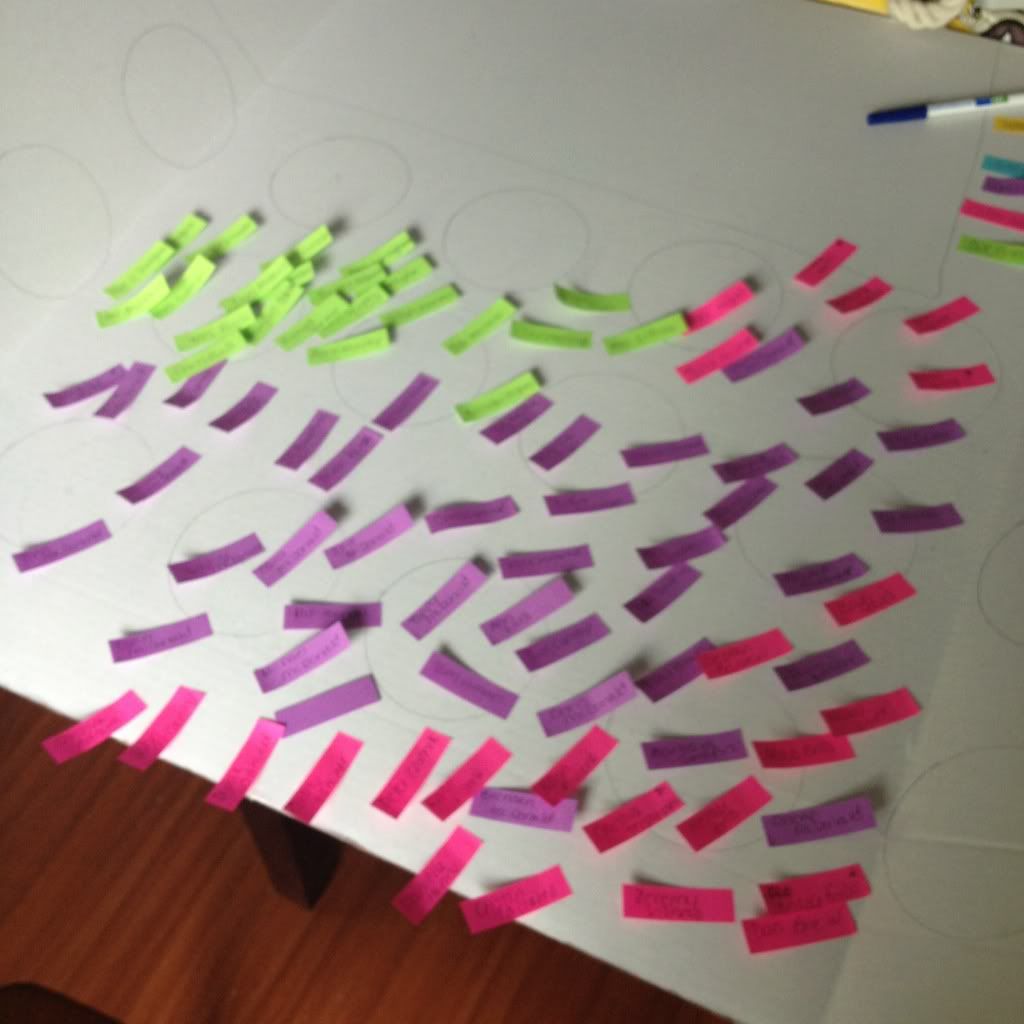 I am usually ready to gouge my eyeballs out after 2 hours.. and then I will watch some TV and hang out with the Doodle. He is just too cute to not want to gobble up.
Sittin' all proper with one leg tucked in…

Justin gets home between 5:30 and 6:30 most nights.. so we will eat dinner sometime around there.  The rest of the evening is spent relaxing.. occasionally going out for dessert.. and usually watching Lost.. or Hell's Kitchen.
Lately, Justin has been going to bed before me! He has been super stressed at work.. and I've been saying up WAY later than I do during the school year. I usually head to be between 11:00 and 12:00 – and then repeat the cycle all over again!
Not too shabby for a day's "work" … huh?
Do your daily schedules vary based on the season?
Do you go to bed later in the summer?
I'll be back tomorrow with a VLOG… all things wedding! Lots to chat about