Body Pump. I've now done it twice. My first class.. ehh not so great. But after going for the second time on Monday – I can tell you that it is growing on me.
I felt that today was a great day to talk about my experience since – it is Wednesday and Jenn has combined fitness AND food for July's WIAW link up.
So – the first class.. was July 4. I think that is why it sucked to bad.  Don't get me wrong – I had a good workout and the instructor surely knew what he was doing.  But – it was almost as if the students in the class were more interested in talking with one another and goofing off – then they were with the class. It was PACKED. Like running out of equipment – - going to other studios in the gym to find equipment.. wasting time kind of busy.
The gym that is offering the classes is super expensive. If it wasn't for the groupon, I would not be there. The monthly fee is like 4x what I pay per month at my current gym. That being said – there wasn't any one my age in the class – most people were older.. more "established" and just better off financially to be able to blow well over $100/month on a gym membership.
I left my first class feeling sort of "eh".. but wasn't going to stop there. Well.. of course not. The groupon is for one month of classes. No way I am not going to get to as many classes as possible.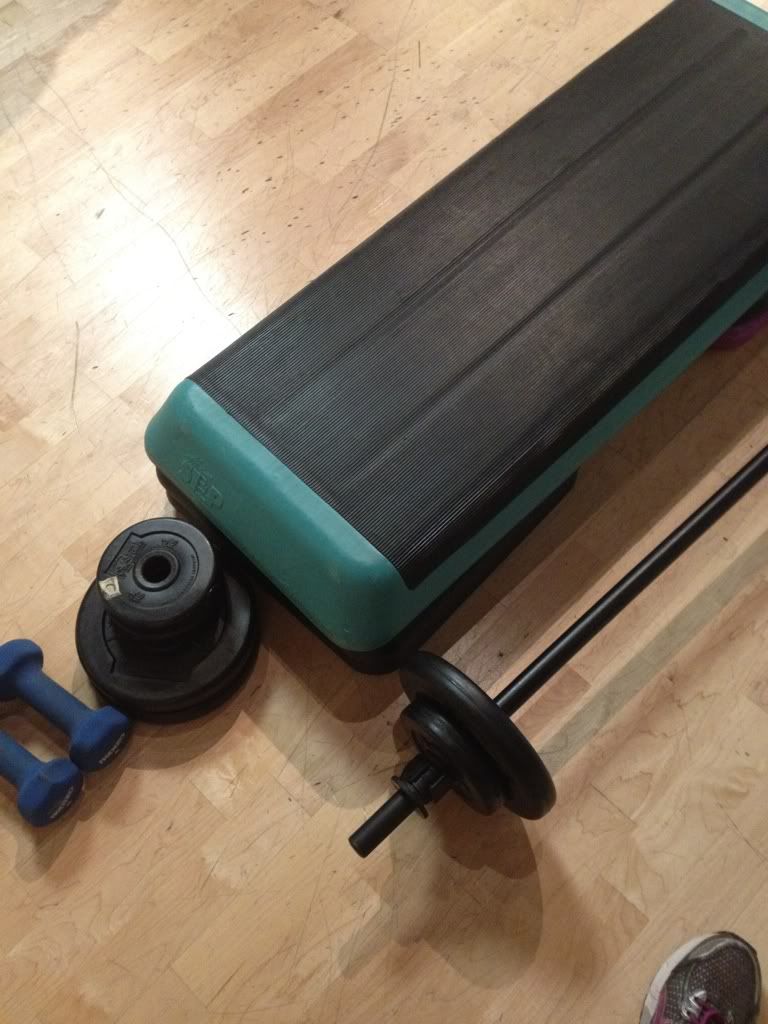 So – I returned on Monday. TOTALLY different experience. 5 students. (That is really odd for a Body Pump class from what I hear…). The instructor was definitely passionate about what she was doing and definitely knew her shit. It was a group of ladies who were definitely into their fitness and strength training – and were there to WORK (and not gab). I felt like I fit in much better. I also had a better idea of what my weights should be.. when I could go heavier..when I needed to lighten up.
Things flowed much better and I left with a much better taste in my mouth. Unfortunately, this instructor will be on vacation for the next three weeks… (aka until my groupon expires…). Oh well. I am open to other instructors!
Onto the eats..
Breakfast: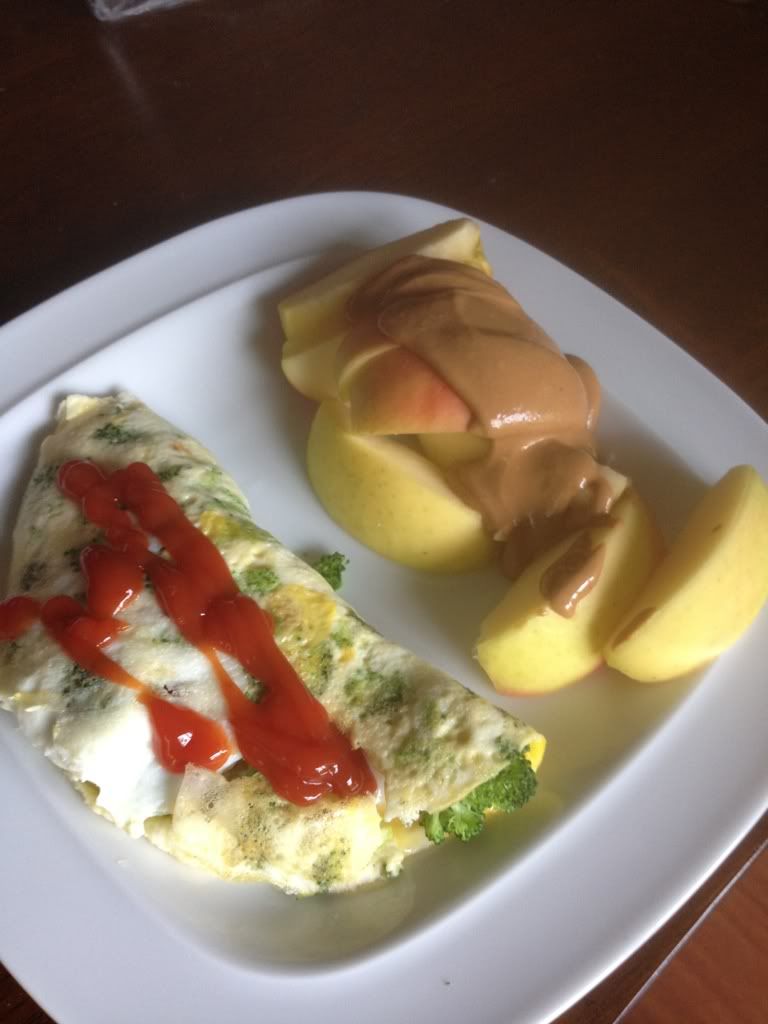 I have typically been eating eggs for lunch since summer vacation has started. However – I've on occasion, i will have eggs for breakfast rather than oatmeal or yogurt bowls. In this omelet .. 1 eggs, 2 egg whites, broccoli, cherry tomatoes, and feta. Topped of course… with a little bit of ketchup. Side of.. Pink Lady Apple and homemade PB. (I've now made 3 different nut butters
)
Lunch: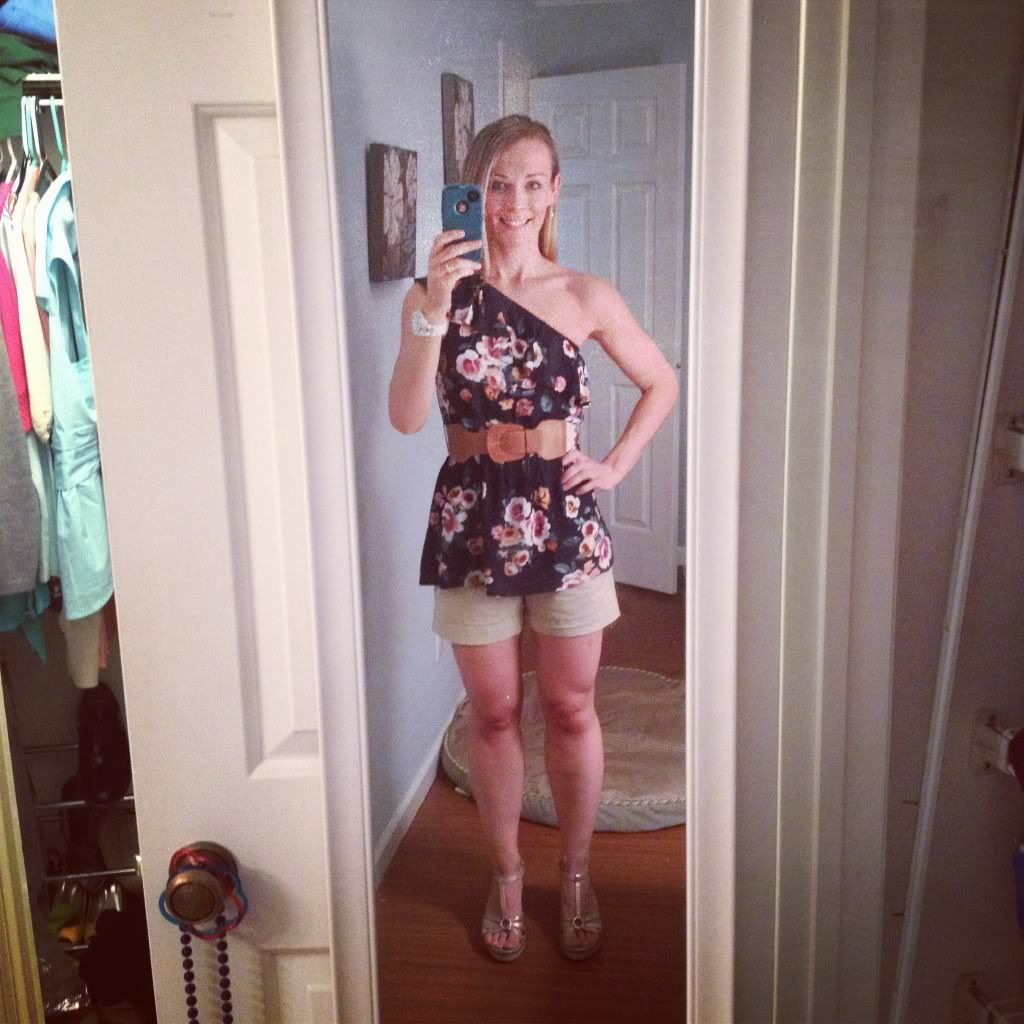 No food photo. But I can show you what I wore. Sorry.  Cameras in restaurants just don't do it for me.  Yesterday, I went out with lunch with the mother of the family I regularly baby sat for throughout college.. and in the few years following. Now – there is no need to baby sit – since the oldest is going in to HS. It makes me feel super old.  Lunch was great – we went to a new place called the The Spotted Horse .. a fairly new restaurant with unique character and delicious food. It was PACKED for a lunch service.. but the company was amazing.
I enjoyed Ahi-Tuna Tacos – which came with a delicious pineapple and mango salsa. The tuna was amazing!
I was out for the rest of the day cashing in a groupon at a local spa.. a gift courtesy of Justin. He was such a sweetheart and presented me with this card after I finished my school year…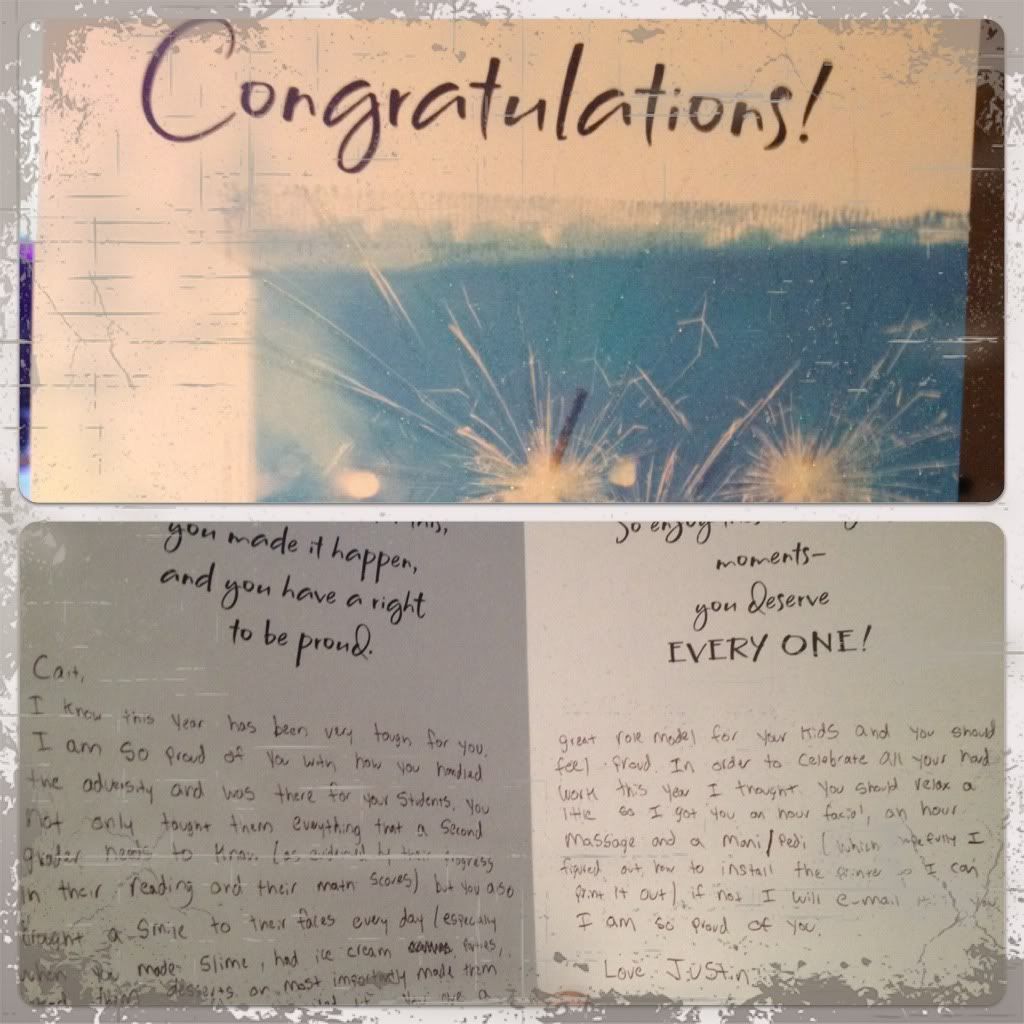 I was at the spa for over 3 hours. It. Was. Awesome. Spa pedicure, manicure, facial.. and an hour long massage. My fiance sure knows how to spoil me!
By the time I got home (and picked Colby up from camp)..  the last thing i wanted to do was cook. Justin worked late last night, so I just threw together a salad with some chicken I had grilled up at the beginning of the night. It hit the spot!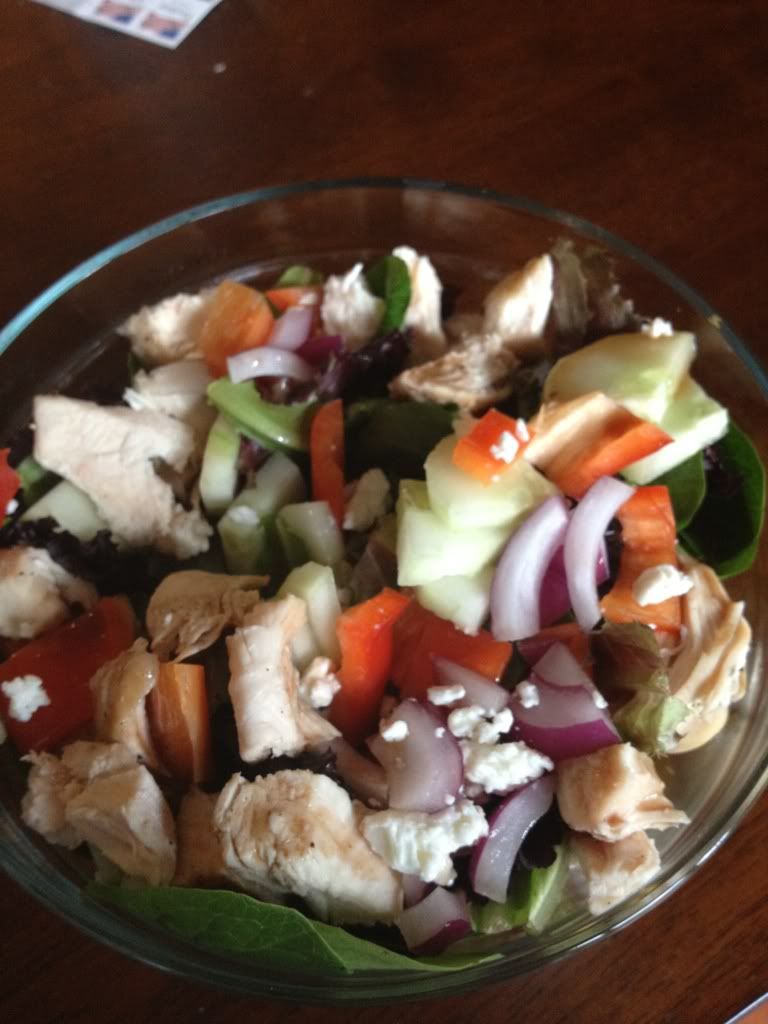 Now today.. is a big day. It is quite possible that I will have my wedding dress in my possession. I am off to my 3rd fitting this afternoon. As long as everything went according to plan.. then we are good to go.
Right now the plan is to hang it from the ceiling fan in my bedroom at my parents' house. It is a dog free zone. The only hiccup with that… is I'll have to find a new place to sleep when I visit between now and August 10….
————————-
What is the worst group fitness class you've been to? Why was it so bad?
Best thing you've eaten this week?