Another weekend has come and gone. I can't believe how fast time is flying! There is just a little over 3o days left to the big day! There will be A LOT of wedding related things going down this week .. and I am extremely excited for all of them!
This weekend, I was able to step away from all of the stress of wedding planning, have some fun with friends.. and rock n roll!
Saturday afternoon, Justin and I headed out on our friend's boat to have a little fun and watch some fireworks. The weather wasn't too cooperative earlier in the day, but it ended up being quite a nice afternoon and evening. We ended up mooring and just hung out and did a little swimming and eating.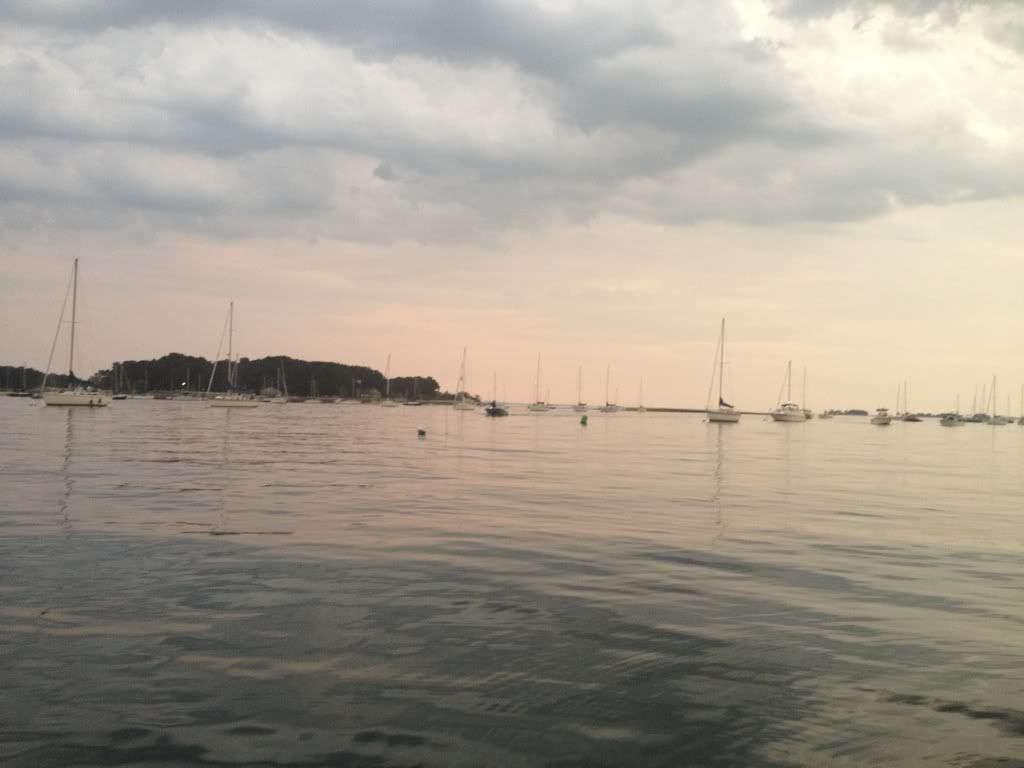 We even had a little notebook action going on with the small rowboat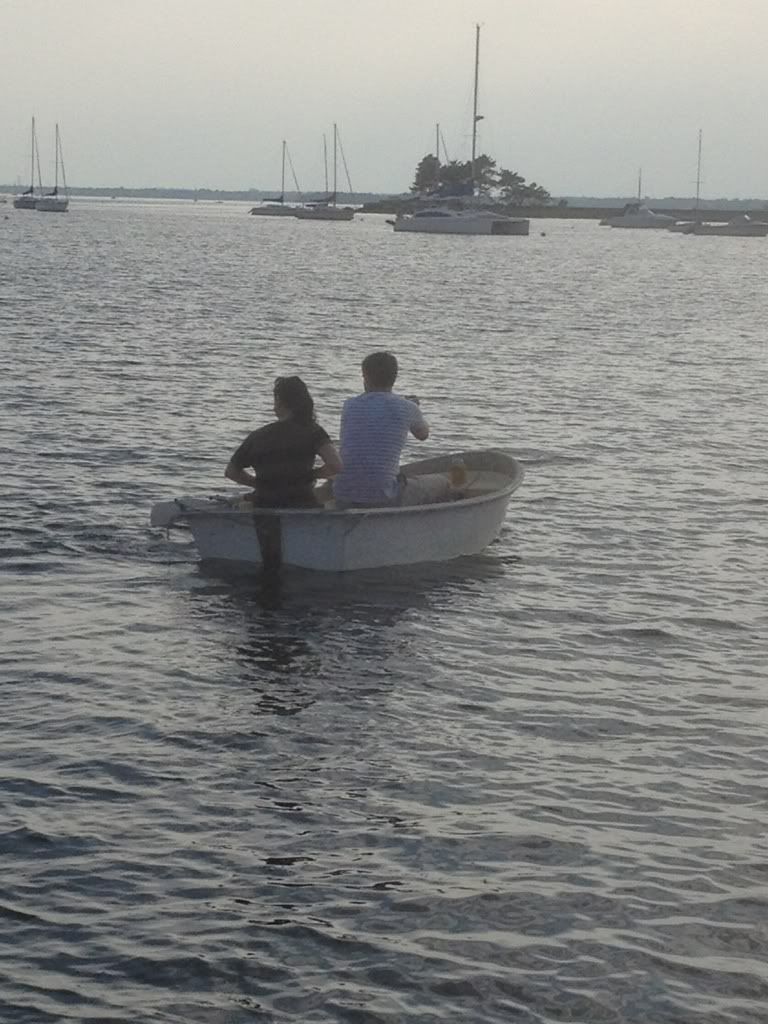 We were surrounded by gigantic houses – and none of us could imagine even wanting to live in houses so big. So much space – so much furniture. There is really no need to have THAT much space. Seroiusly.  One of the houses in our view was Kathy Lee Gifford's home. We think they were having a little party because it seemed like there were people buzzing around.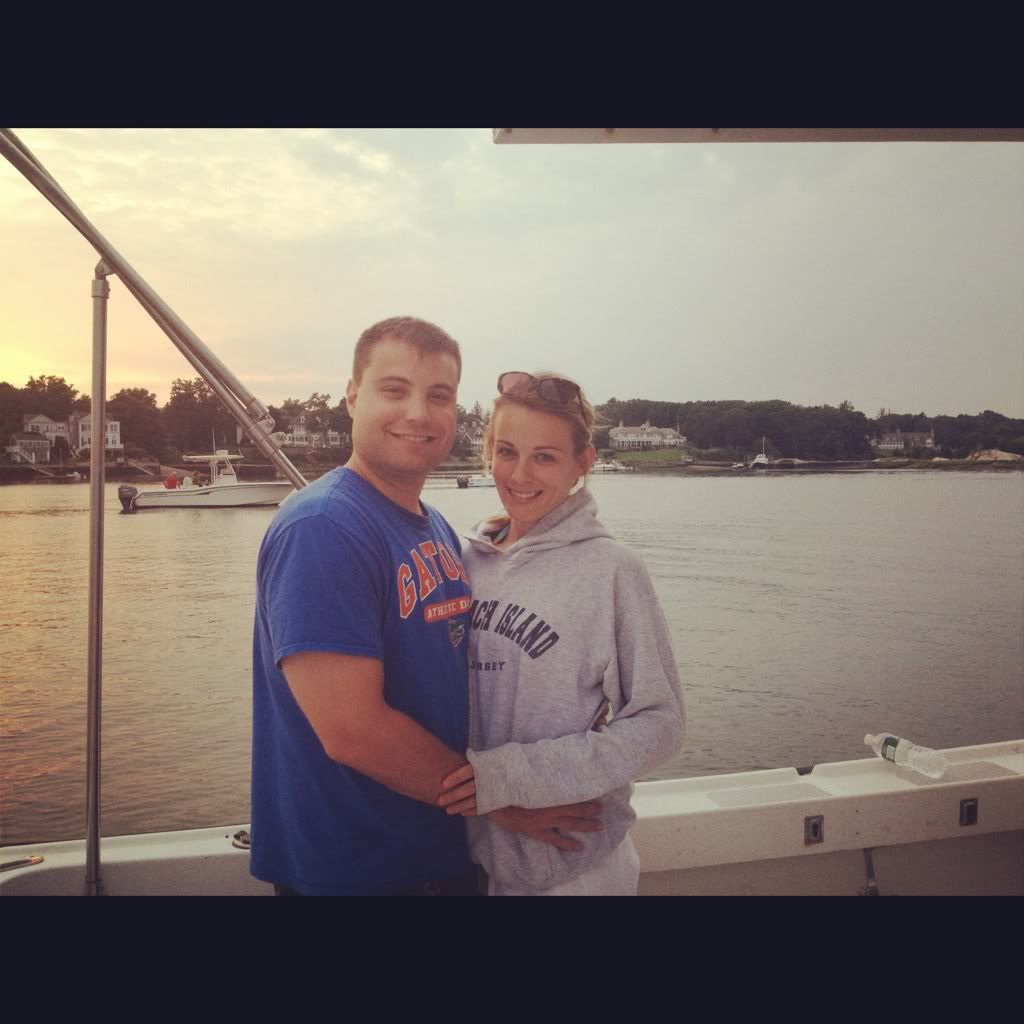 We were able to see two different sets of fireworks on the boat – both were great! There is something that always brings out the child in all of us during a fireworks display. We each had a smiled glued on our face the entire time (accompanied by ooh, ahhs, and I JUST SAW A SMILEY FACE remarks.)
Of course, the finales were the bes t- and the second finale was better than that in the first show – which certainly ended our night with a bang!
Early yesterday morning, Justin and I were up and ready to go at em again! On the agenda.. NYC with our friends – lunch with another set of friends – and Rock of Ages!
Getting into the city from our condo is really easy – and I feel like I should take advantage of this more often.
We walked to Helen Hayes Theater to pick up our tickets before lunch. When I saw Shrek in Time Square, I just had to nab a picture with him. I love Shrek.  Apparetnly, Shrek loves donations. As soon as we snapped the picture, he opened up his little brown satchel – which was filled with dollar bills.. and requested one of ours. No biggie.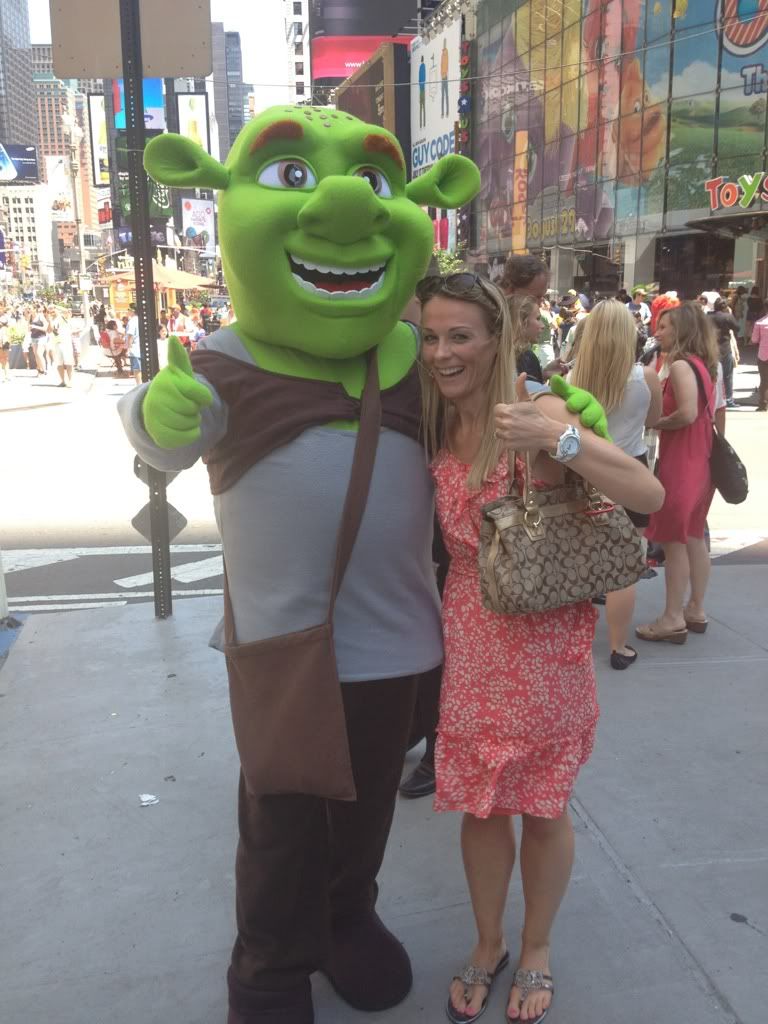 After getting our tickets, we headed the The Eatery to meet with a college roommate and her boyfriend. I really loved the atmosphere in the restuarant. They had unique options and it was definitely well priced for a brunch in the city. There were 6 of us total – and with some mimosas and bloody mary's – it ended up being like 20$ a person. New York people.. I think you'd agree its a pretty good deal!
Then – it was time for Rock of the Ages! The show was recommended by a co-worker. I was told it was basically a party in a theater with awesome music and a pretty good story line, too!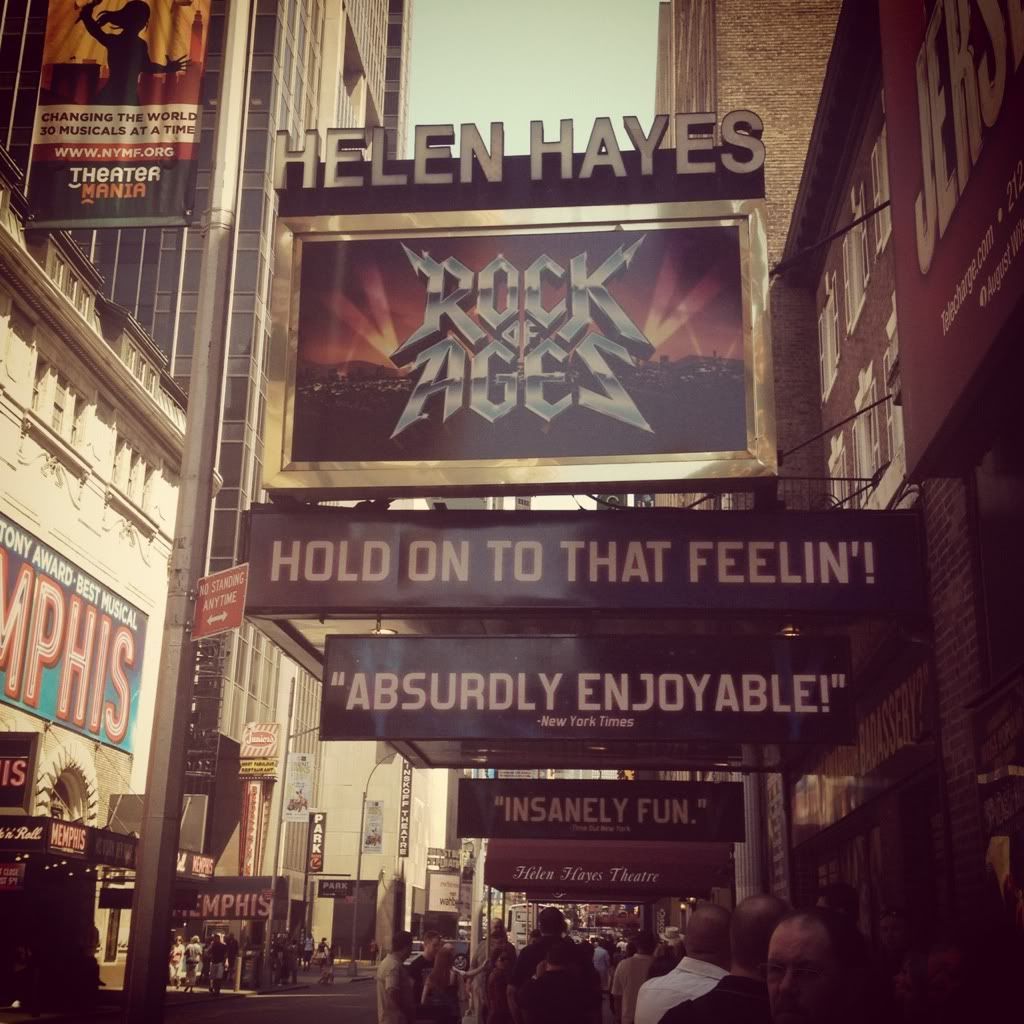 Well, we loved the show. It was definitely a party atomosphere. Now – we saw the matinee on a Sunday – so the party goers weren't in abundance. But I could see this being a hoppin' place on Thursday, Friday, or Saturday night!  They had a stocked bar in the reception area – beer vendors walking up and down the aisle of the theater, and a waitress that would take drink orders so you didn't have to leave your seat!  Also – there were JELLO SHOTS!  It was totally a party place – and had the music to accompany it! All of the 80′s hits that you love to sing along to – well.. they were played!
The Helen Hayes Theater was AWESOME. It was cozy – and I don't think there is a bad seat in the house! We were in the last row of the orchestra – and felt RIGHT up in the action.
On a semi-tangent – when theaters say no pictures.. they REALLY mean it. I didn't try to take any pictures of the stage – but there were people who tried with there phones..and the ushers would literally SPRINT across the theater and throw a playbill in front of the phone. If they saw you take a picture – they would have you take out your phone/camera and watch you delete it.
I have a hard time declaring a "favorite broadway show" – because of those that I have seen (Jersey Boys, Rent, Mamma Mia, Chicago).. there are different aspects of each that I love. (Except for Chicago. Didn't care for it. At all.)
So – about that whole going out and being more social goal that I hadn't really made a lot of progress with.. we can forget that for now! I had so much fun both days – and am looking forward to some fun events next weekend!
————————
What did you do this weekend?
Do you have a favorite broadway show?