Do it yourself. DIY. I usually have big eyes when it comes to DIY – high hopes, dream, and glitterful inspirations.  The end result usually does not match up to my vision. That is usually because I never complete the project.
The entrance of Pinterest (<– click to follow me
) has made my DIY dream bigger then ever… and my finished projects even fewer then ever.  Actually wait.  I did complete a cute little DIY craft earlier this year.  I have proof. GO ME!
And now friends, I can add a second project to that list.  But – don't get too excited. It is basically the same project I completed before. It just says something different – and will have a totally different use!
I really want to put a personal touch on our wedding – things that will make it unique to Justin and me – something that gives an idea of just who we are and how much we love each other. I think the best way to accomplish this is to put myself to work – and create some things that will be proudly displayed at our wedding – in our pictures – and will remain in our lives forever!
Enter: Project Mr. & Mrs.
These can be used to make cute pictures…
Or as a cute play on wedding colors to help further weave them into ceremony decor…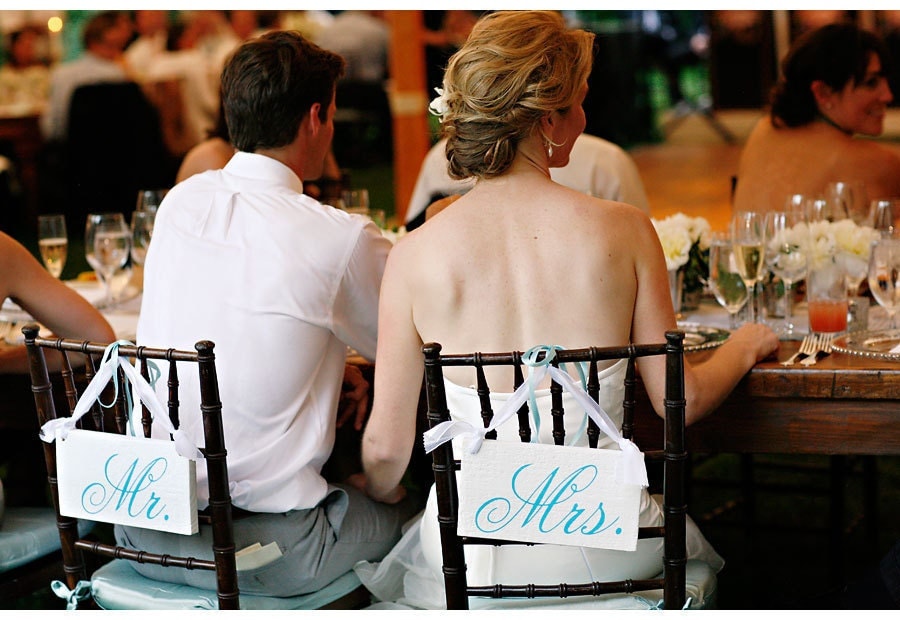 They can even by used on the backs of the new Mr. & Mrs. at the reception.
I wanted a set of Mr. & Mrs. sign. And this was the perfect opportunity to use my new found freedom (hello summer vacation) to practice a skill that I have already .. mastered (?) in my last craft project!!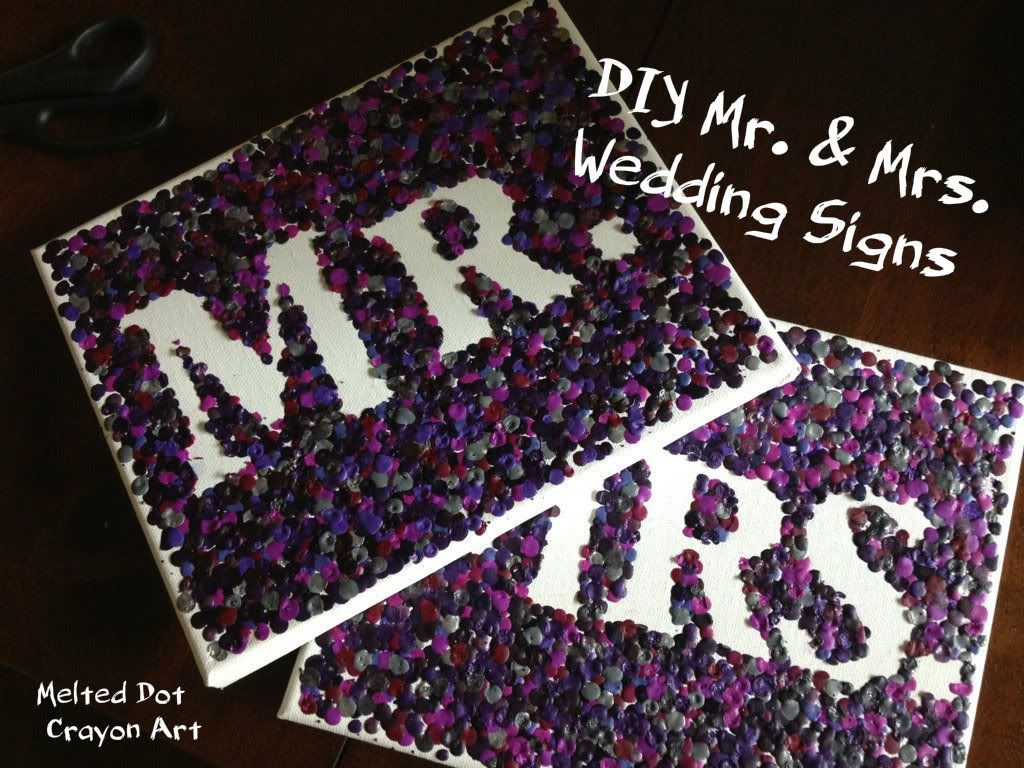 What you will need:
Canvas ( I bought a value pack at Michael's)
Crayons in your choice of color (*see below)
Computer Print out of Letters
Scotch Tape/Scissors
Candle/Lighter
Rule/Measuring Tape
*Buy a variety of different types of crayons. You will want to use numerous shades of your color of choice. I must have used 15 different purples.  Don't be afraid to buy jumbo crayons, discount crayons – the colors will come out different & the dot size of the jumbo crayons can help fill up the canvas!  Some cool types to consider are GLITTER CRAYONS and METALLIC CRAYONS! They add  some glitz and glam to your finished project!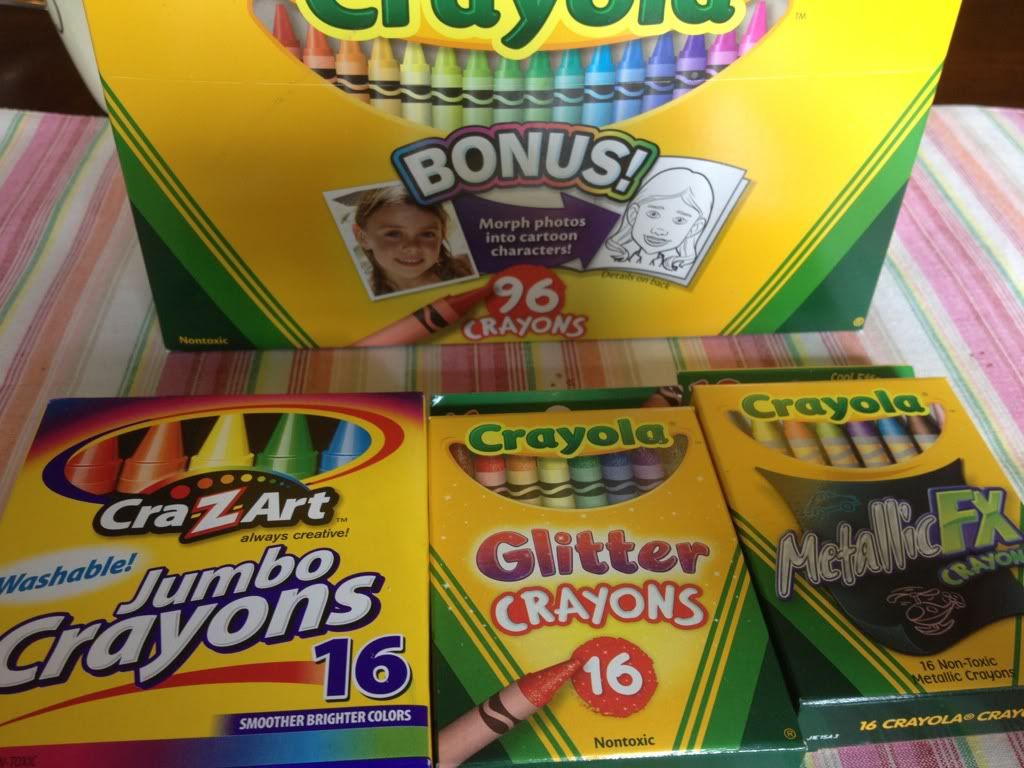 What You'll Do:
Choose your font & size and type your Mr. & Mrs. into a word document. I set my paper to landscape so I could get a better feel for the size of the letters – since I would be holding my canvases in the landscape position.  Print & cut out your letters.. and then get ready to measure to ensure that your letters will be straight on your canvas!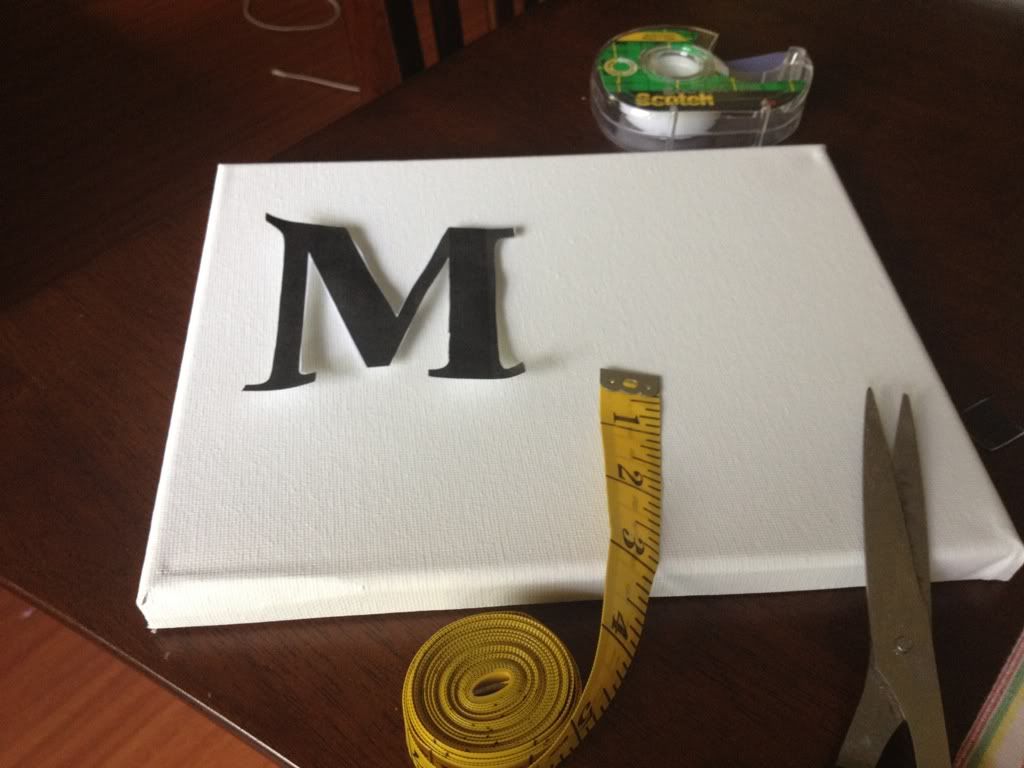 Tape your letters down to your canvas. Check again to be sure that everything is straight. Ask others to make sure they are straight .

Separate the colors you wish to use for your dot are.  Peel off all of the paper. You don't want to light it on fire!

Light your candle. Hold the crayon about an inch over the flame.  Then gently dab the melty crayon onto your canvas. Repeat. Repeat. Repeat. If you want your Mr. and Mrs. to look similar – don't use the entire crayon on on canvas! Be sure to use half – and then move on to the other canvas!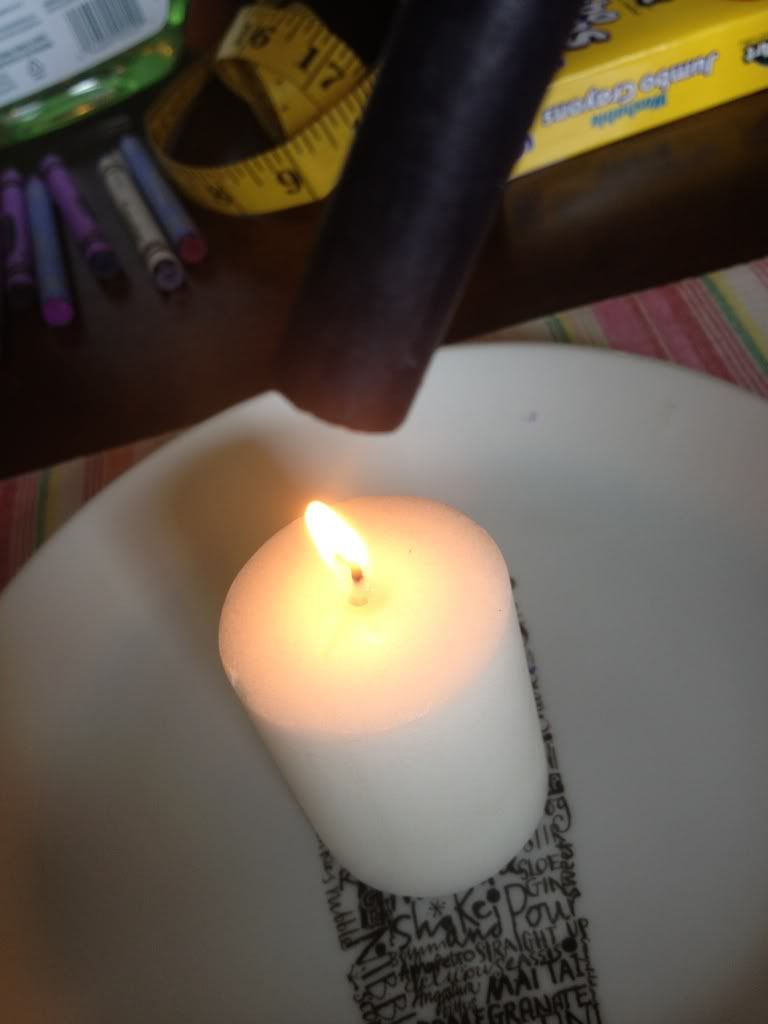 Once you fingers start to feel the heat (aka you are nearing the stub of a crayon).. repeat step 4 using the next color. And the next color. Be sure to line the letters well – but also be careful not to go overboard. Pieces of the wax will lift when you remove your letter stencils. Once you've dotted to your hearts content (and there is little white still showing) carefully remove your stencil letters – and you will have yourself a master piece!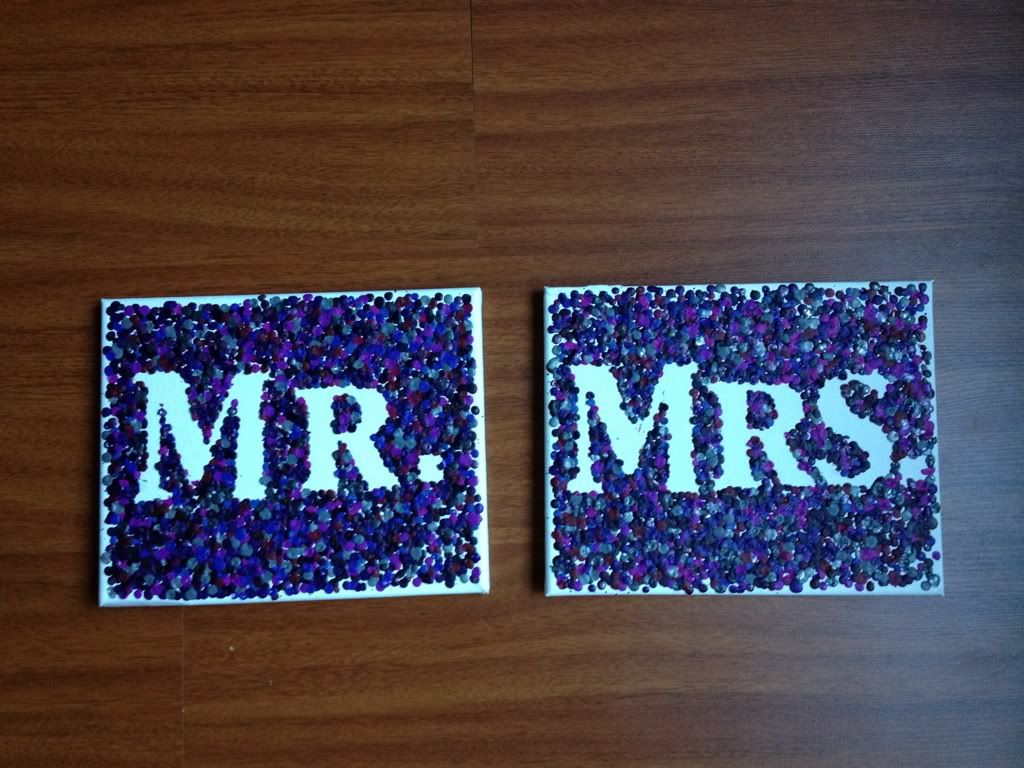 Time wise – you can probably complete this in an extended afternoon – but I stretched it out over two days. The whole melt-dot, melt-dot thing can get a little tedious – but I believe it is worth the final product!
I will likely use a hot glue gone to add some ribbon to hang these signs on our chairs at the reception. I also hope to do some fun pictures with them as well!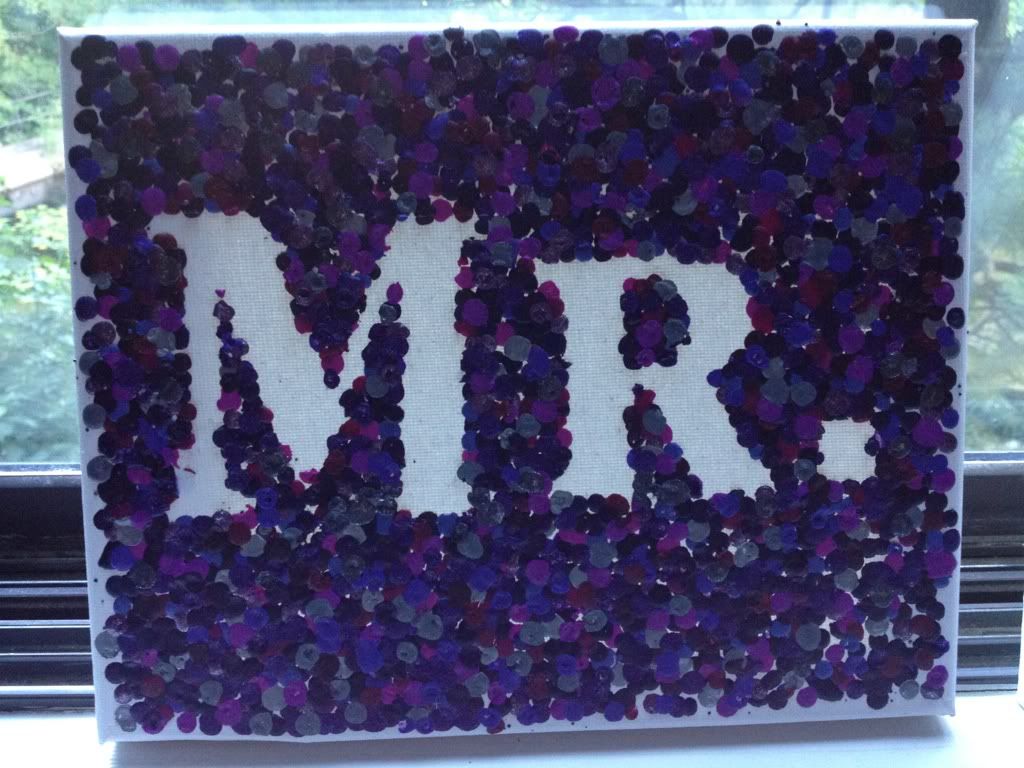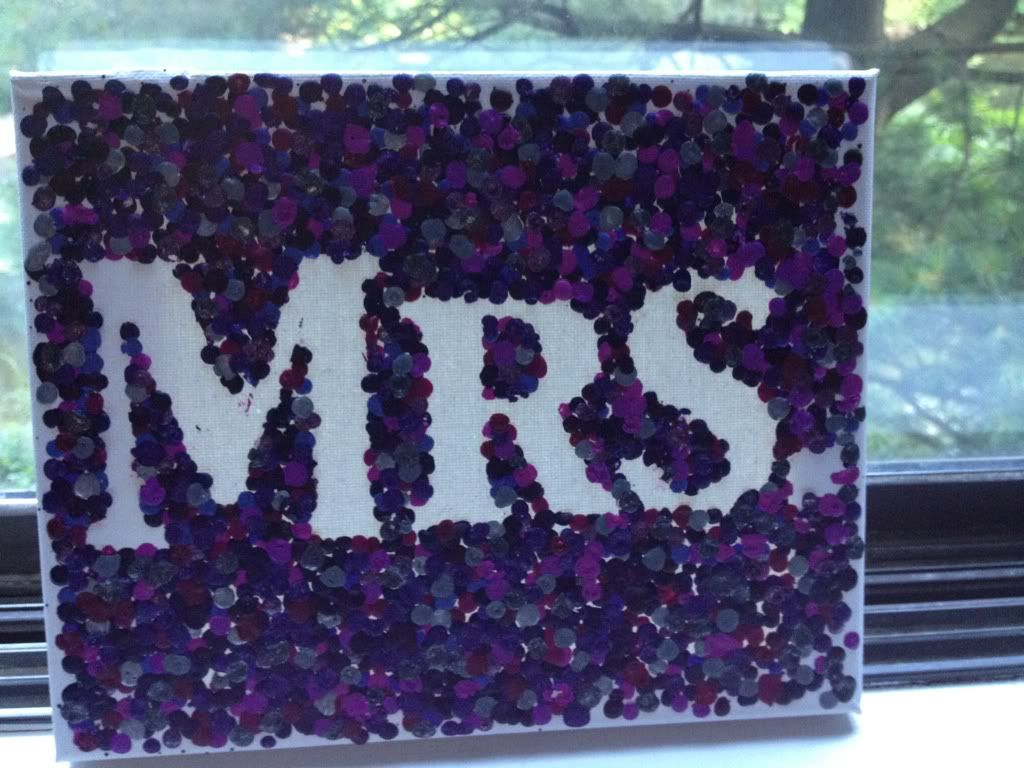 Personal Touch: Complete. I've got all of the materials for my next project. Only problem is – I bought a mini glue gone – and regular glue sticks.. so I guess I've got to go get mini glue sticks so I can go to work!
————————
What was the last DIY project you completed?
Did you add any personal touches to your wedding? If so, what?