Happy Wednesday!!! I am super excited for this Wednesday – because I am heading to the Bridal Shop in a couple of hours for my second fitting!!! I am hoping that the alterations went well – so we can get the length right. We had to take the dress in because the corset in the back was basically non-existent .. and the length can't be touched until the fit is right elsewhere (its quite long). I am starting to wonder the we should have ordered a size smaller – but I am SURE it will all work out just fine (and its cool because I paid a one time fee for ALL alterations.)
I am also feeling dandy this Wednesday because I've had a lot more time to take pictures of my eats – making this weeks What I Ate Wednesday a little bit more entertaining!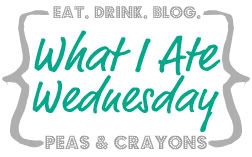 Thanks to
Jenn
for hosting, as always. It is unbelievable to see how much this link party has grown over the past year!
Breakfast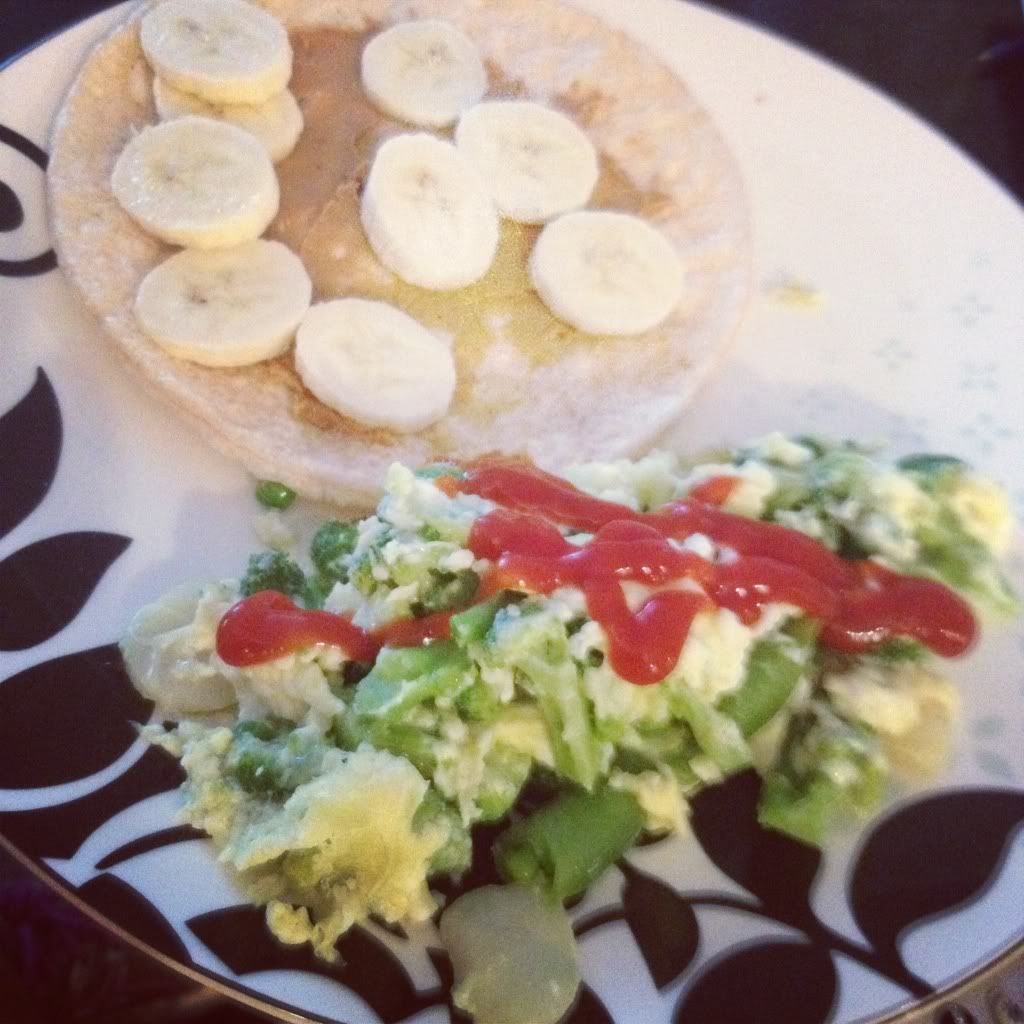 Eggs and veggies! It is so easy to sneak in extra veggies when I make scrambled eggs. These were left over from dinner – and I knew when I put them in the firdge that I'd be making eggs for breakfast. I also enjoyed a rice cake from Stew Leonard's – with a little bit of PB and half a sliced bananas.
Morning Snack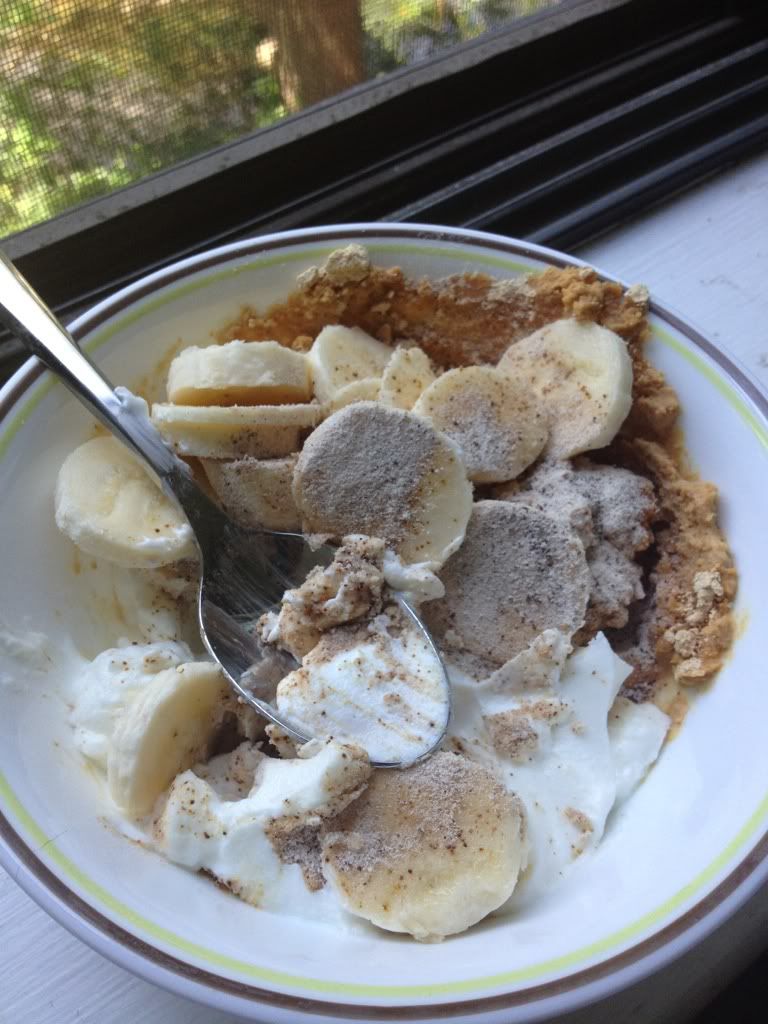 Greek Yogurt with the other half of that Banana, peanut flour frosting & some Fit Frappe Vanilla Latte Protein Powder sprinkled on top!  I am sad that my Fit Frappe is down to the last drops. Looks like I'll need to reorder soon!
Lunch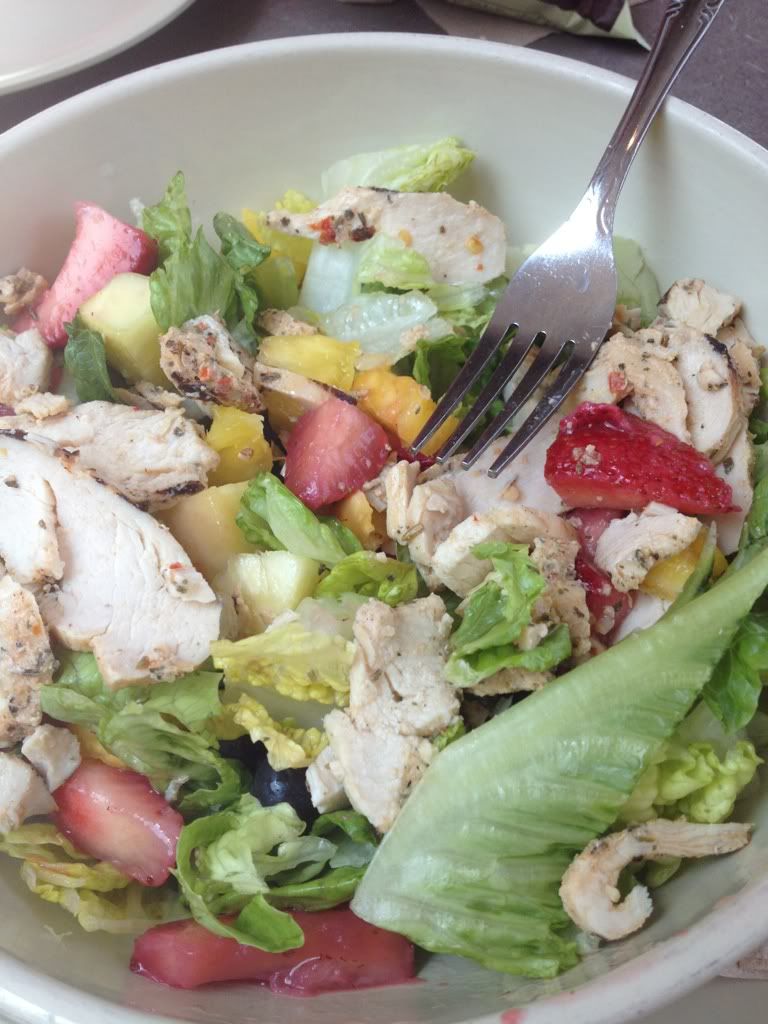 Salad. Courtesy of Panera. They actually made a mistake on my order (although it was printed correctly on the receipt.) I asked for it to be made without mandarin oranges and with the dressing on the side so I could control how much I used. (HATE it when salads are soaked with dressing).  When I brought this to their attention, they told me to throw the wrong salad out. I felt terrible throwing out the food – and the guy had already begun the "do-over" salad. I wished I had said nothing and just ate the damn salad the way it was.
Afternoon Snack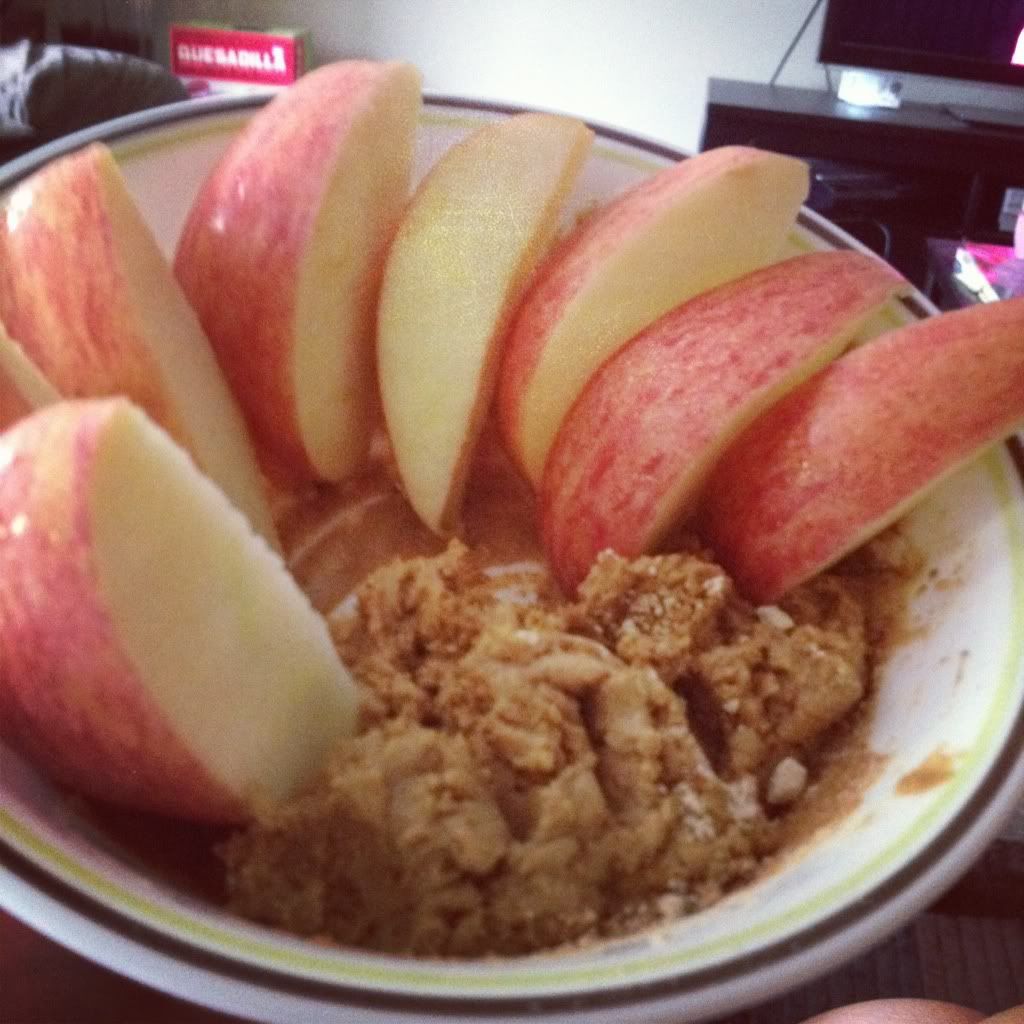 Gala Apple with Peanut Flour frosting.
Dinner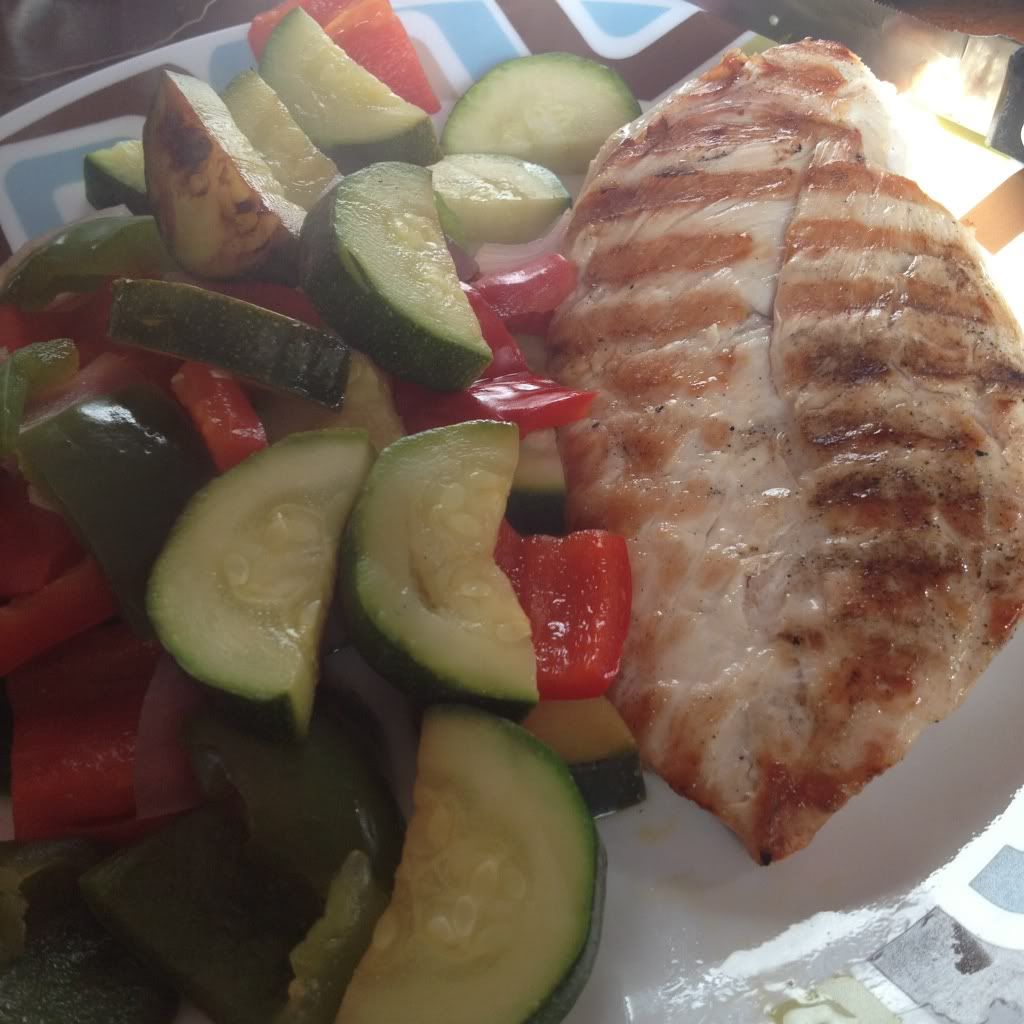 Grilled chicken and grilled veggies, courtesy of Justin!  Hits the spot on a summer night for sure!
Dessert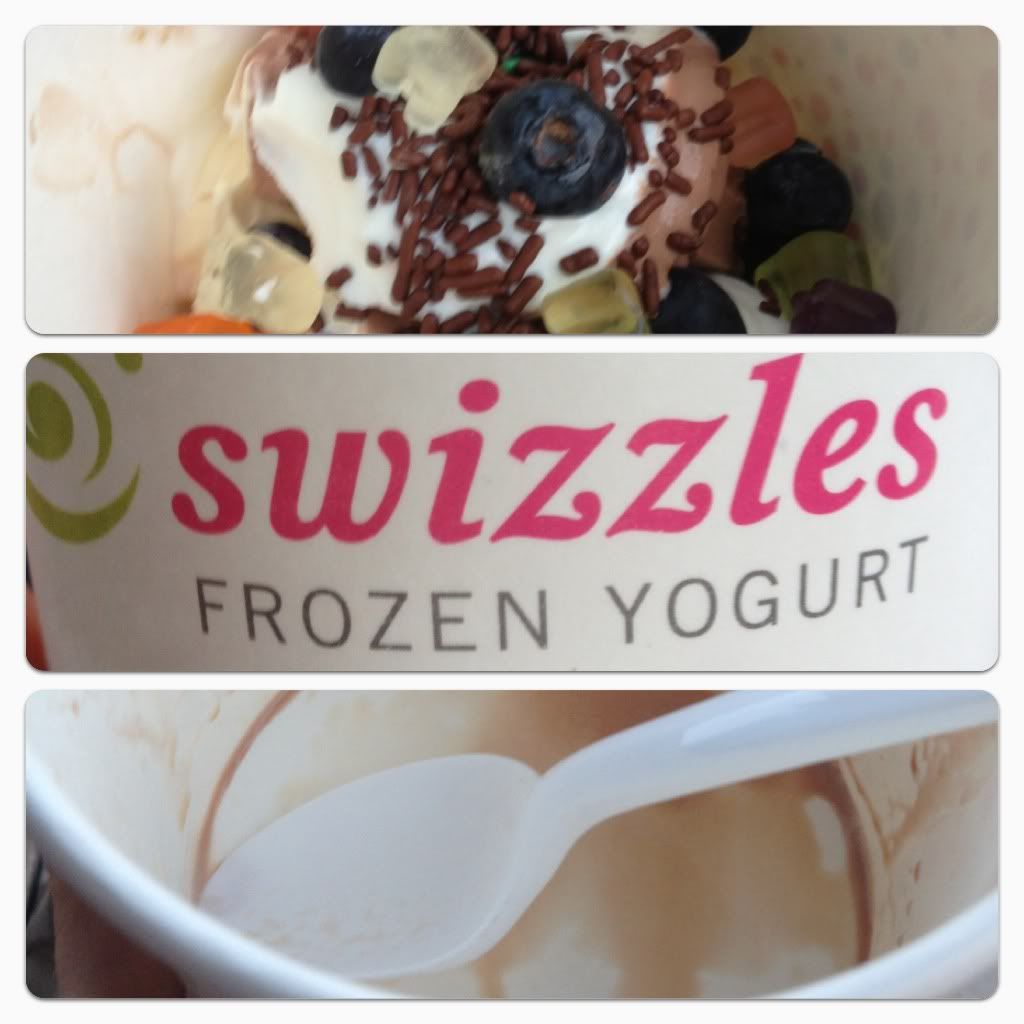 Summer time also means more dessert outings! And dessert outings mean one thing only: Frozen Yogurt!  We went to Swizzles in Darien and I got a mixture of cake batter, chocolate and vanilla!  I topped it with blueberries, gummy bears, and chocolate sprinkles. It was amazing!
_______________________________
What are some of the things you like to eat during the summer?
Don't forget to enter my The Better Chip Giveaway!