Wednesday always get here so quick when we have Monday off. I love it. I am loving it even more because Friday is Picnic in the Park - aka Field Day for my kiddies. I don't count that as a work day. So I've basically got today and tomorrow left. *WHERE DID THIS SCHOOL YEAR GO?!*
I know.. I've been counting down the days (for what seems like months… this year has been rough).. but it is shocking that the end is almost here. It seems like the year just started yesterday! The other teachers weren't kidding when they say each year gets progressively faster!
Anywho – I've actually remember to photograph some meals so I can whole-heartedly participate in Jenn's link party – What I Ate Wednesday.  What I've got for you today.. is "berry" good indeed. (I can't help it, I teach second grade
)
For breakfast, I've been eating oats a little more often.  I actually strayed from them for a couple of months -eating them only on weekends. I am sure that this will change when I am home and eating breakfast every morning starting June 16.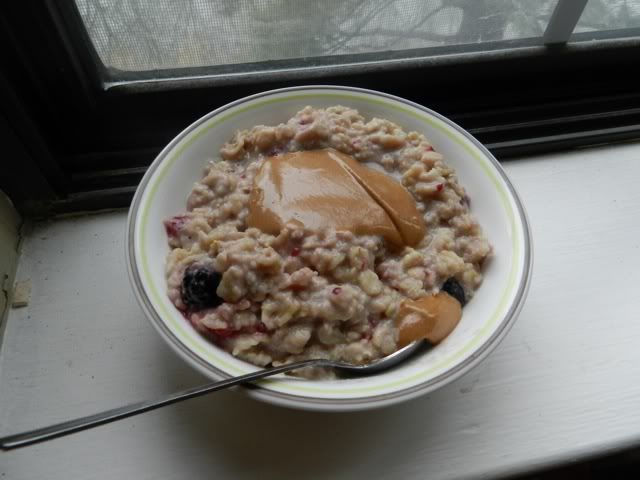 One of my favorite mixes was consumed (on Monday..).  1/2 cup oats with 2 cups water; 1/2 a banana, and some of TJ's Very Cherry Blend. Top it with some PB, and you've got yourself a delicious bowl of oats indeed!
Warmer weather is upon us.. and that means one thing: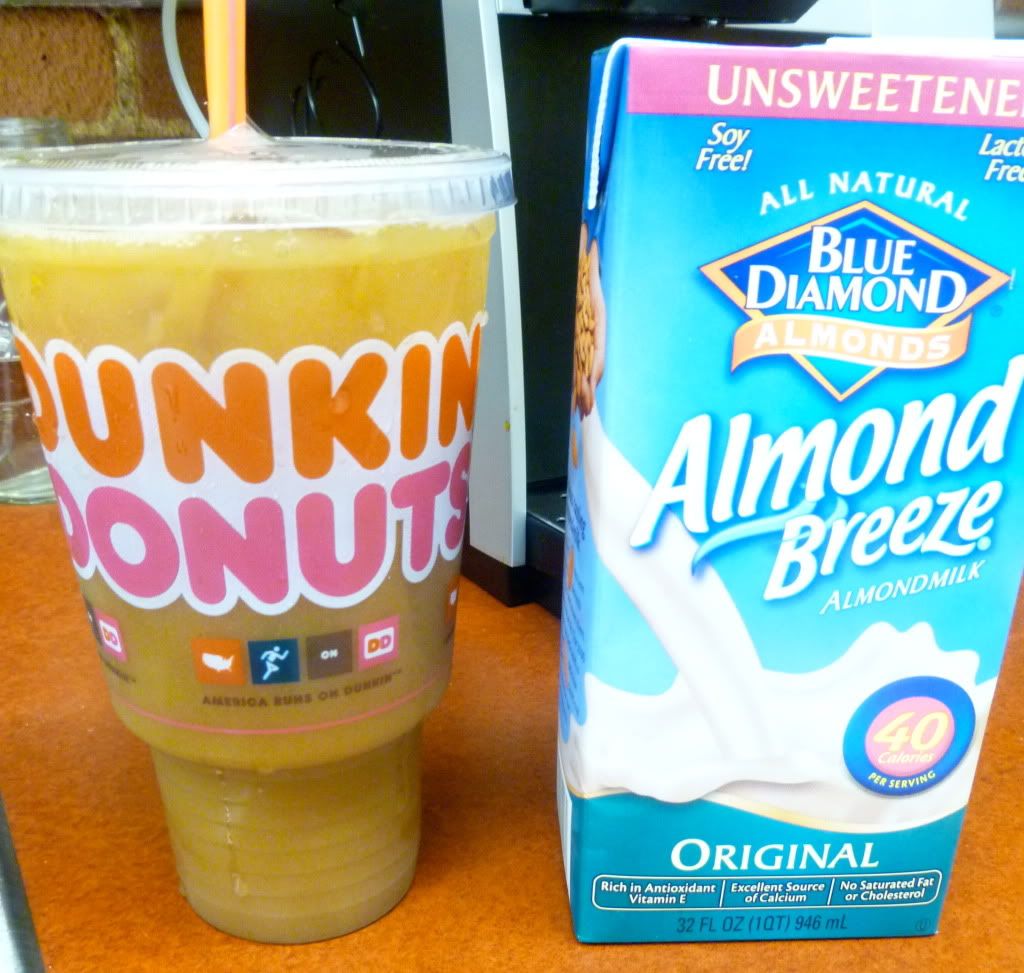 ICED COFFEE SEASON!  Sure, there are days when I still enjoy a hot cup o' joe.. but when I feel like stopping at Dunk's on my way to work.. I will now be picking up a black iced coffee.. and adding Almond milk when I get to school. Ain't nothin' better!
Lunch (sorry.. back to Monday again..) involved a sandwich, yogurt, and berries (of course)!   I sliced upon a pita and topped with with spinach leaves, turkey, and mustard.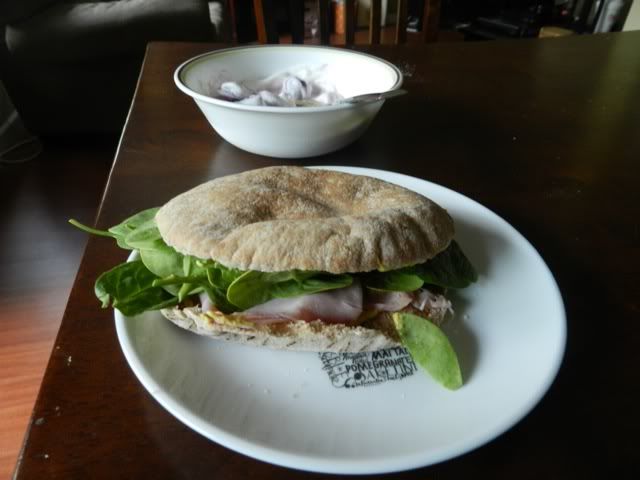 Into some 0% Fage went some MORE Very Cherry Blend.. and a little spoonful of PB (chunky this time!)
Fage 0% is my new go to yogurt. I eat it almost every day – and wouldn't want it ANY other way.
And while dinner may not include any berries.. it screams summer in my mind due to a special little side: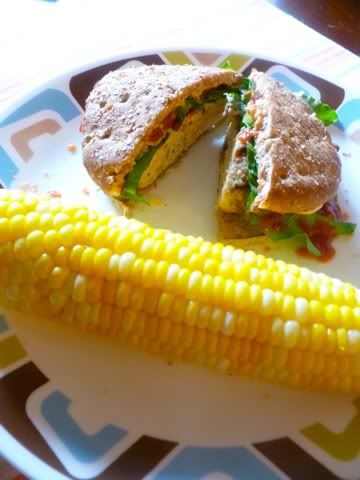 Corn on the Cob! You best believe Justin and I have been lovin the corn now that grilling season is here! (Esp. since it was on sale for 17 cents an ear
.. love me a good sale!)
Oh, and behind the corn is a lovely turkey burger topped with some romaine and salsa – a combo I've been loving lately!
And while dessert also didn't include berries (wait. maybe the title of this post isn't THAT accurate)… satisfaction was guaranteed:
Mmm. Can't get enough of those lightened up boxed brownies.  We had a few extra.. so I've been enjoying them at my leisure!
And I  just have to share a picture of Colby from his eventful weekend:
AWWW! Lovin' him some ice. (And no that is not a muzzle. That is his gentle leader that only gets used on occasion.. like when there are tables and tables of food).
—–
What is your favorite way to eat berries?
Does your dog/pet like ice? Colby has become obsessed! Except some times he takes it out of his water bowl and leaves it in a random place in the house.