Hi friends!!  How was your weekend?!
Mine was absolutely amazing – filled with family, friends, love, and laughter!  On Saturday, I gathered with many of my friends and loving family for a bridal shower thrown by my fabulous mother and extraordinary Maid of Honor and Bridesmaids.
The time and effort put into creating this bridal shower really warmed my heart. I could not be more honored to have such a supportive group of friends and a loving mother.
My shower was held at a local hotel and my bridesmaids did a fabulous job of putting a little purple touch on everything. I especially loved the purple ribbon that was tied around each of the chair covers.
I brought my camera with me – but didn't pick it up once. I wasn't at my shower to take pictures of the delicious food that was served. I wasn't there to document every little detail. I was there to enjoy family and friends – and celebrate that love that Justin and I have found.
My Maid of Honor and life line, Christina, had some touching things set up. Instead of your run of the mill bridal party games, she had each guest write their name on a paper and put it in a box. I picked 10 names – and each of those people shared their favorite memory that they had with me.
There were some laughs – and also tears – as memories were shared. But each memory also held a special place in my heart. It was so touching to hear the people I love the most share their memories – and comforting to know that we both held those memories with high regard.
We enjoyed a delicious (purple) cake from a local bakery
And then I was overtaken by the generosity of my famiy and friends as I opened my gifts. (Which by the way.. is definitely a little bit awkward…you know.. everyone looking and lots of gifts..)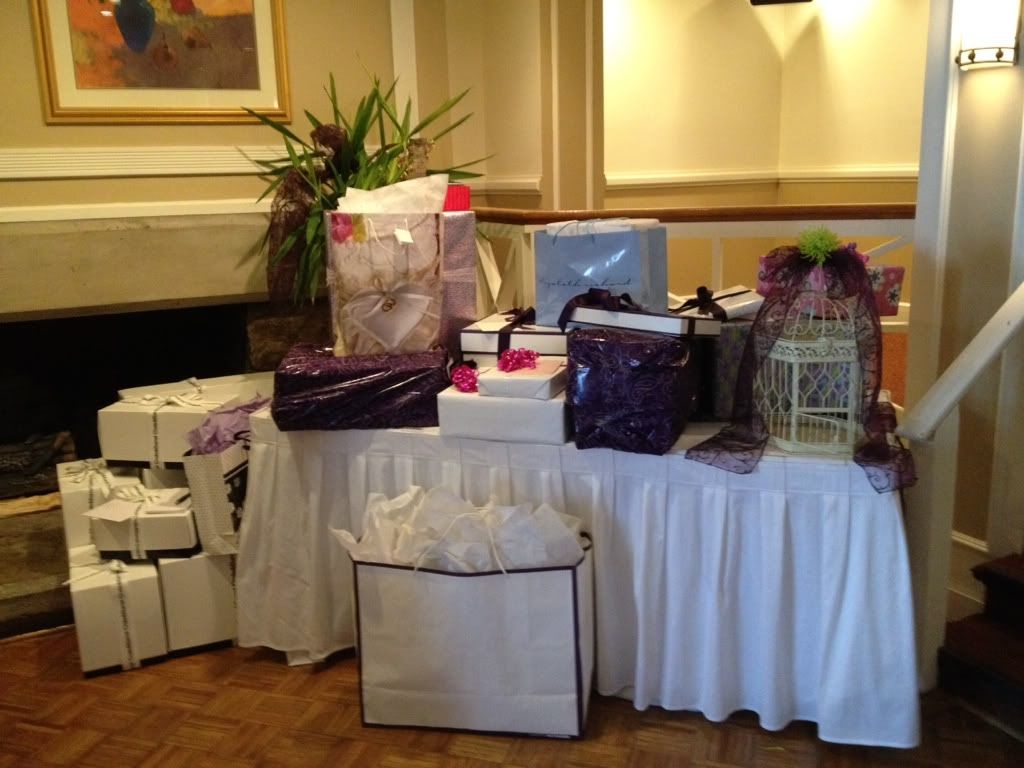 I think Justin and I now have more kitchen gadgets than we know what to do with! We are so excited to start putting them to use (and to find places to store them
haha)
My bridesmaids also put together a "Panty Poem" for me.. which was hilarious!  I promise to share it with you – along with some other touching details that my best girls so kindly coordinated – in the very near future!
Of course, I had was crowned a beautiful hat made of ribbons and bows
And you best believe I wore that baby with pride!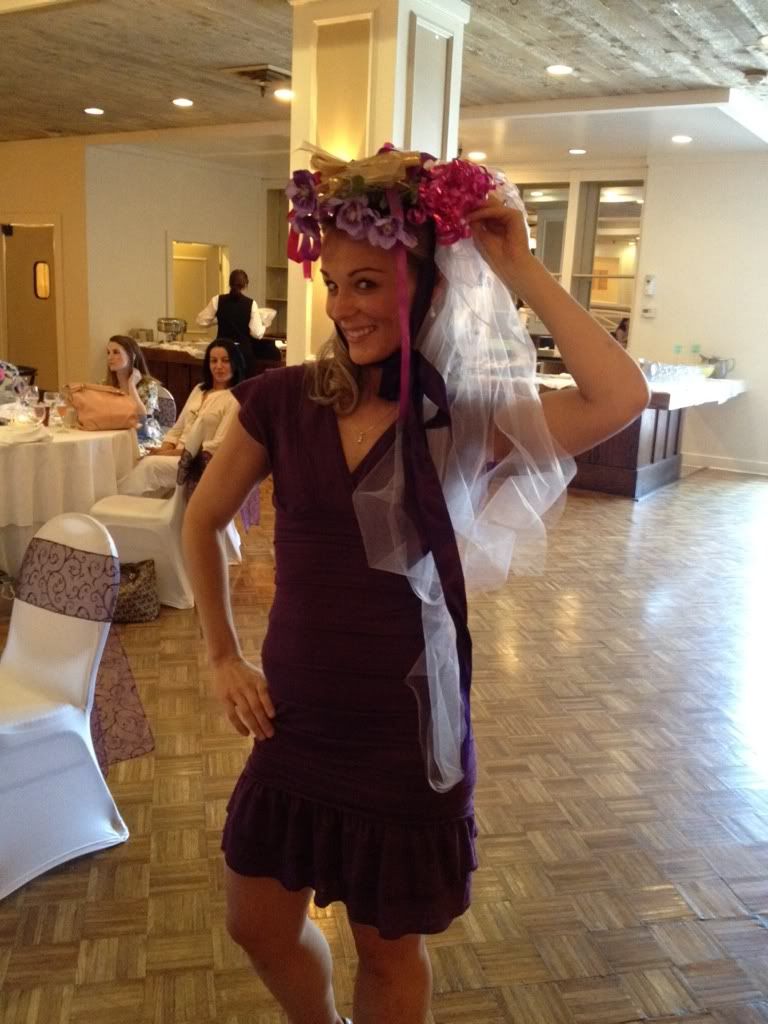 And for the rest of the afternoon, I gabbed.. and smiled my face off! (For both pictures.. and just because I was that darn happy!
)
In all honestly, it is kind of awkward to recap my own bridal shower, but I can tell you that I am one lucky girl and feel surrounded by love and support in every aspect.