We did it! Justin and I completed Tough Mudder Vermont on Saturday! And boy.. what an amazing experience it was! It required WAY more than physical strength and toughness.  Mental toughness was the key to completing the race. Personally, it was more a mental challenge than a physical challenge (although it certainly was a physical challenge as well!)
Justin and I headed up to Brattleboro, Vermont on Friday. We made really good time and arrived at out hotel, The Holiday Inn Express at 3:00.  Then we realized we needed to find something to do – as we weren't going to hang out in the hotel room all night.  We headed into downtown Brattleboro – and it was definitely different then any area of CT!  We tried to eat at a neat looking pizza place, called Fireworks, but they were having kitchen technical difficulties and could only serve salad and cocktails.
Salad & Cocktails does not equal adequate fuel for a Tough Mudder!  Sadly, our options were rather limited as there wasn't a huge selection of restaurants closeby. We didn't want Chinese/Japanese.. or Mexican. We ended up at the chain restaurant Ninety-Nine.  Justin had a honey BBQ chicken wrap and I had Salmon with asparagus and broccoli. Not was I was intending on fueling with.. but we didn't have many other options!
We were in bed by 9:30 – and I woke up two minutes before our alarm that was set for 5:00am.  We dressed quickly and hit up Dunkin' Donuts.  I had a wheat bagel with some almond butter that I had brought from home with a coffee.  We were still an hour outside of West Dover – so we made the trek to Mount Snow and arrived at about 6:45.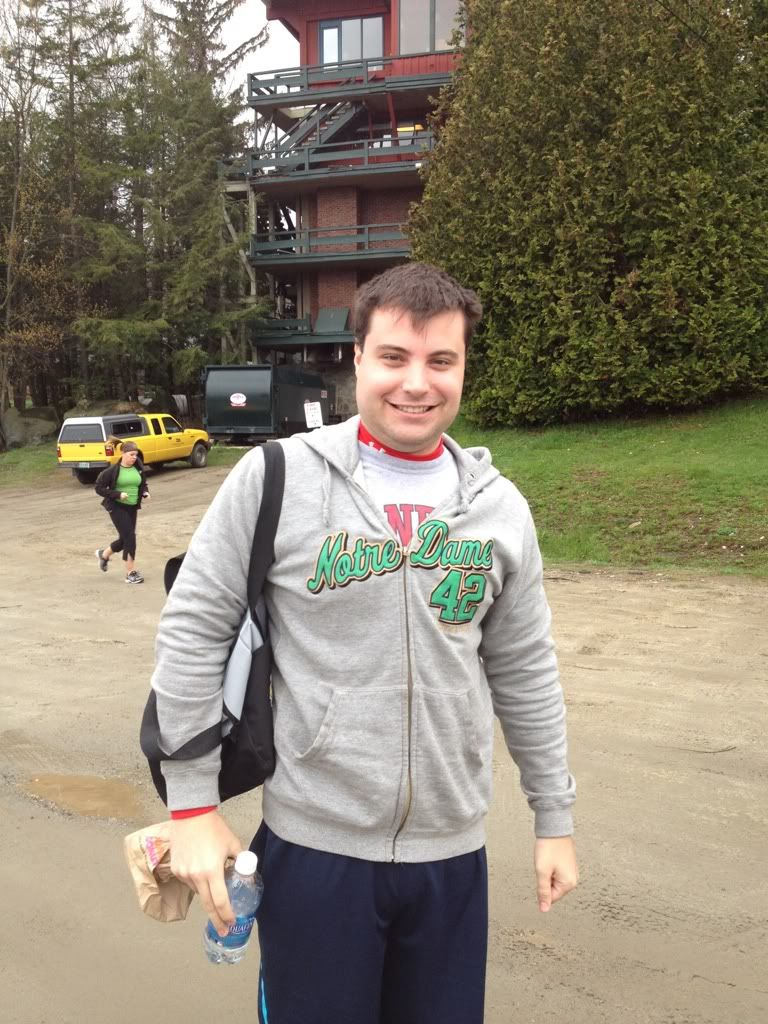 It started to sink in that we were really about to do this! Neither Justin nor I were terribly nervous.. but we were certainly excited!  Looking back.. the entire day seems like blur!  We made our way to registration.. were we were first in line for our last names! (I love being early in case you didn't know…)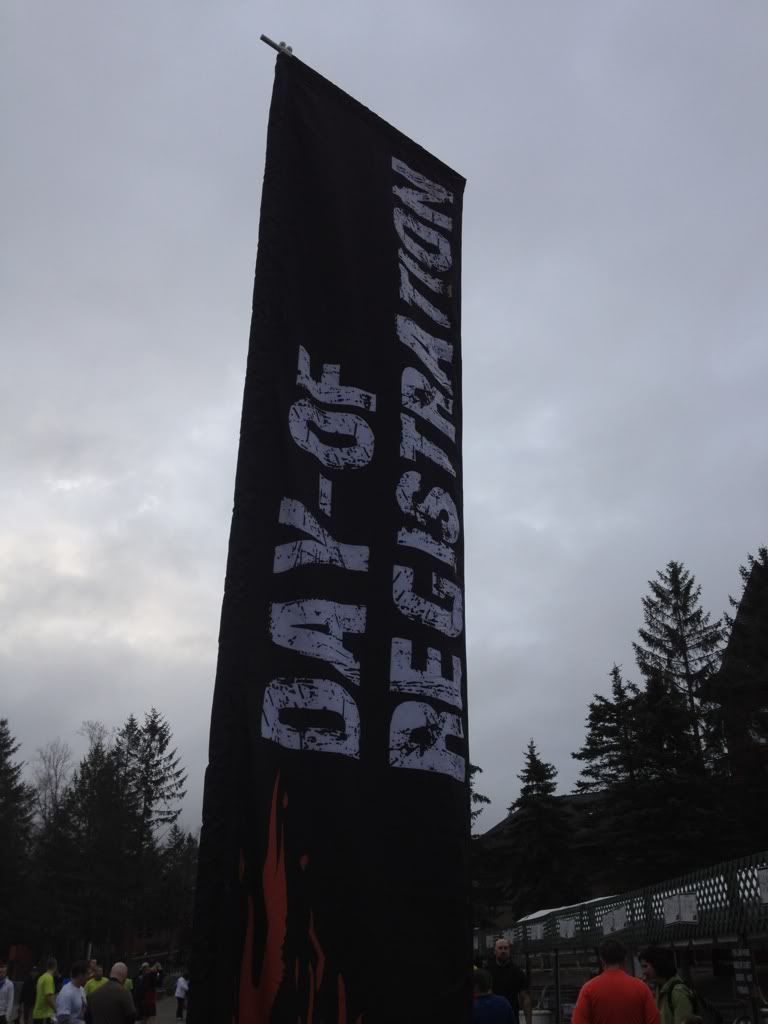 Registration opened at 7.. and we followed the following steps: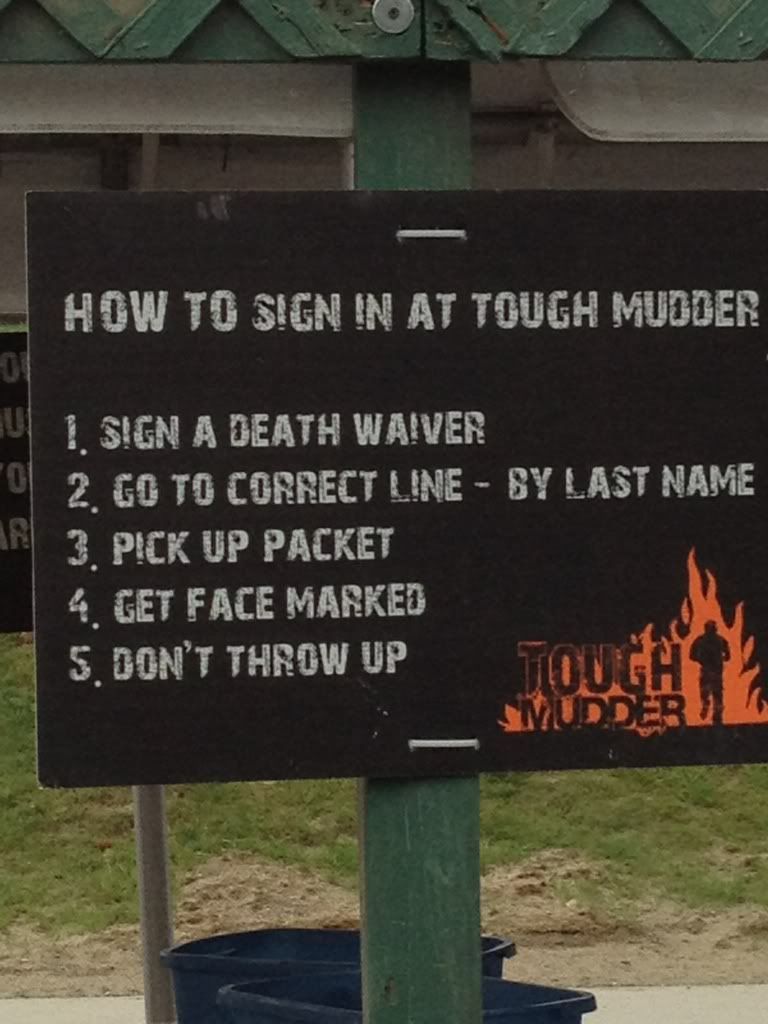 Yes.. Death Waiver. It included some phrases about knowing that equipment may malfunction.. and that you could get seriously injured. No biggie.
Since we had time to kill, we wandered around the start area and snapped some photos.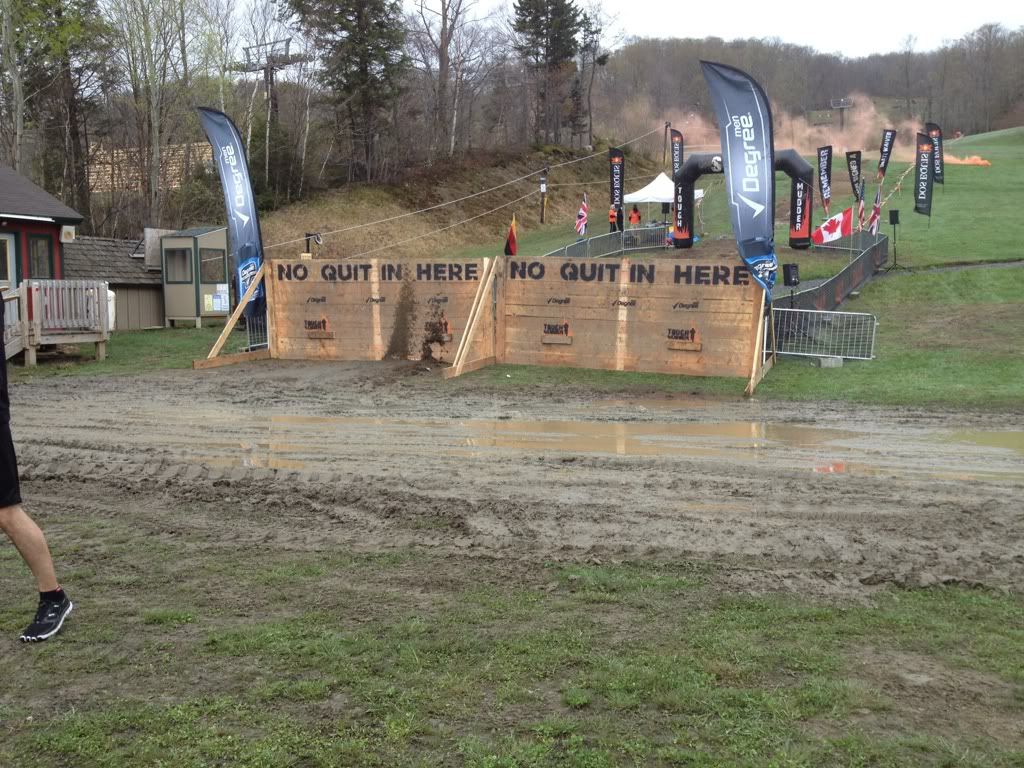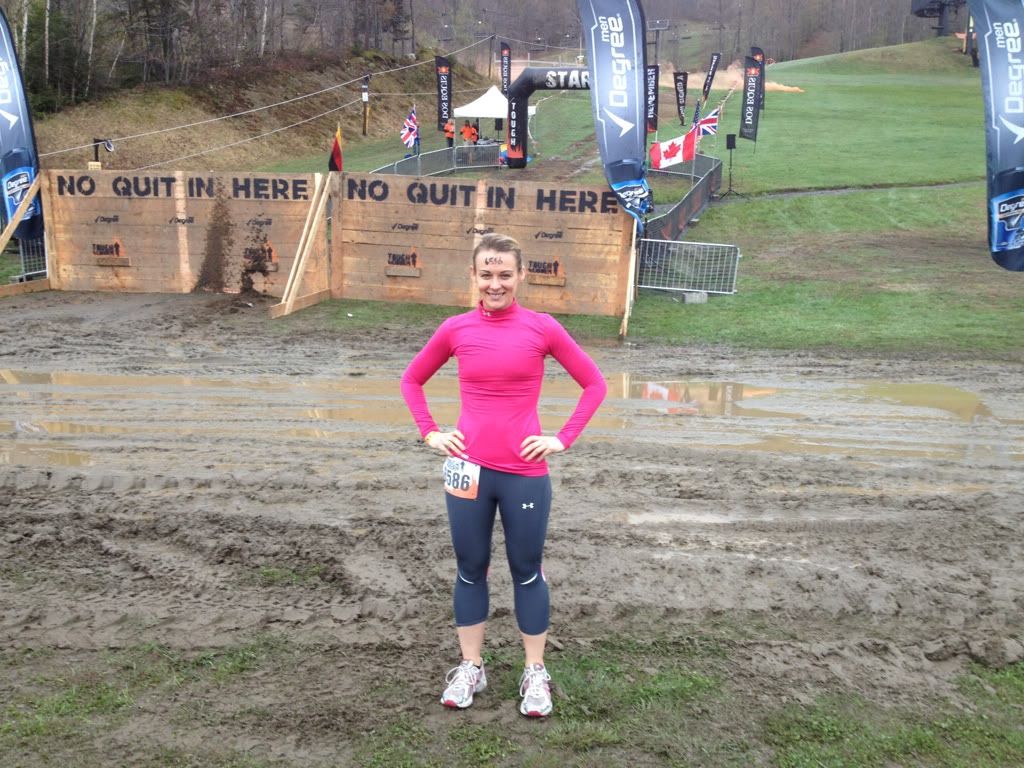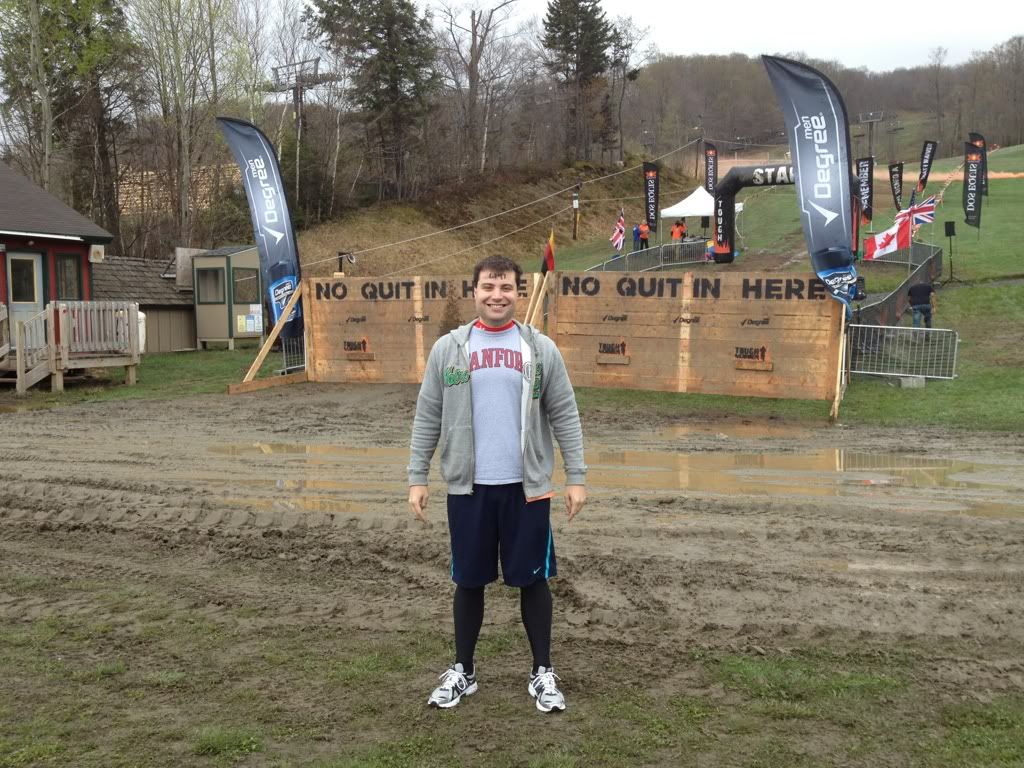 Look at how clean we are!!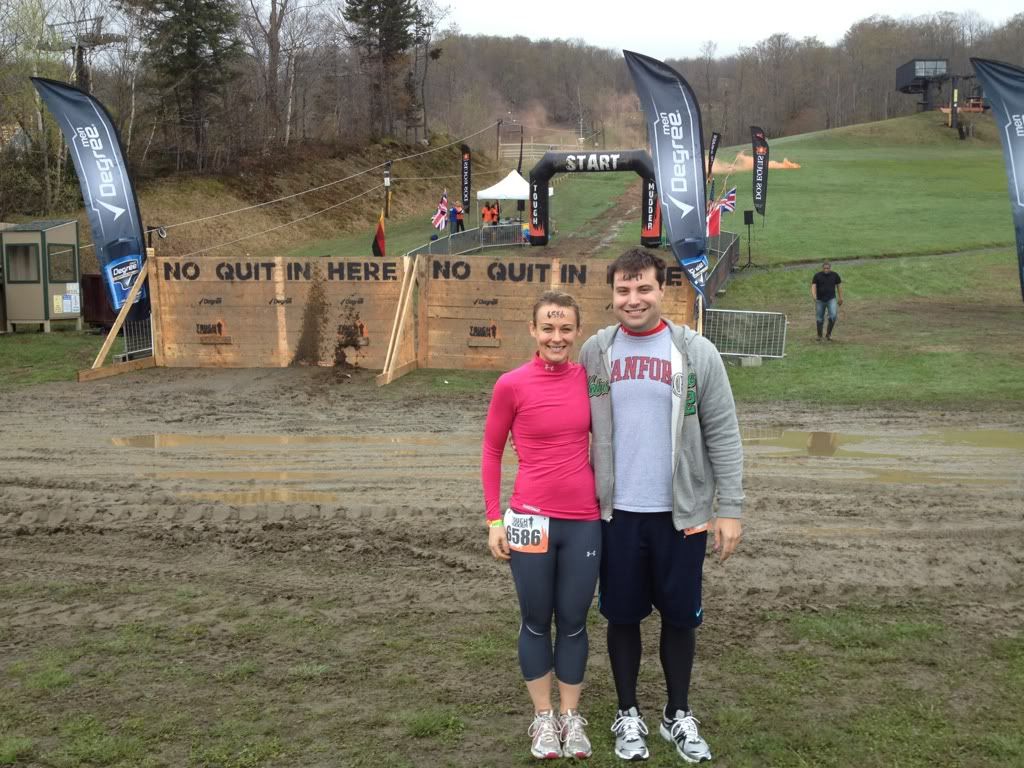 We checked one bag that had the sweatshirts we were wearing, car keys, flip flops.. and a few other things. We left our change of clothes in the car because we weren't parked too far from the Start/Finish.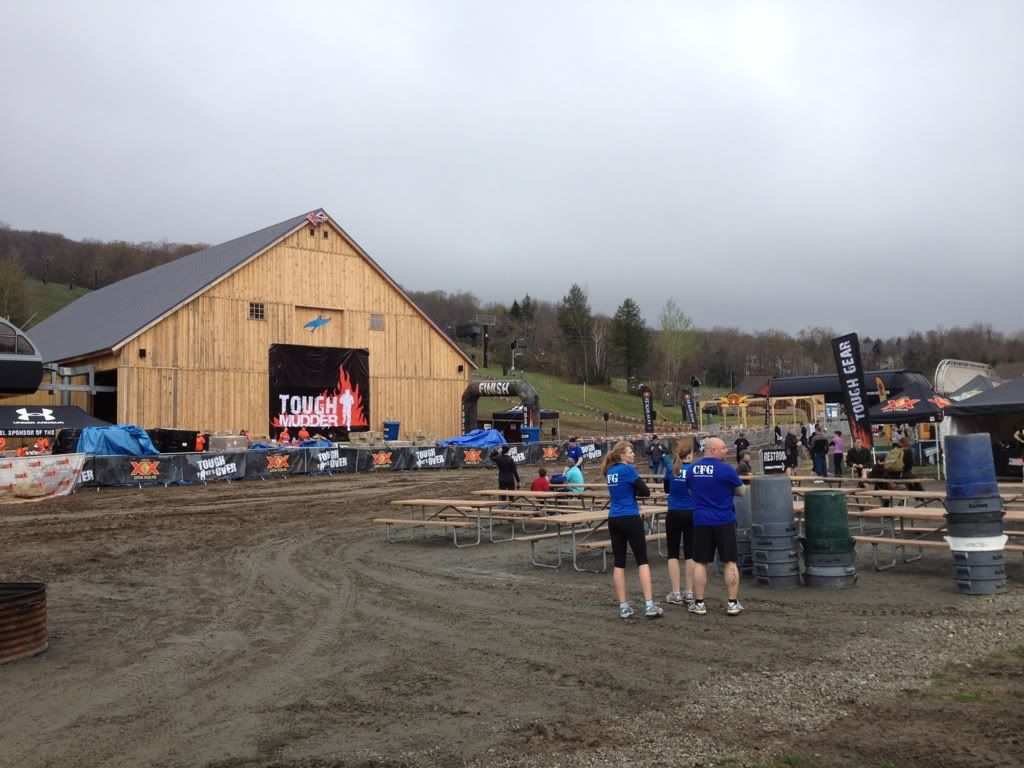 One of the nice things about the event being help at a ski resort – is that we were able to go into the lodge to sit down.. use the bathroom.. and basically kill time until about 7:50. We wanted to watch the first wave take their marks – so we headed over to the start area after saying good-bye to our clean shoes!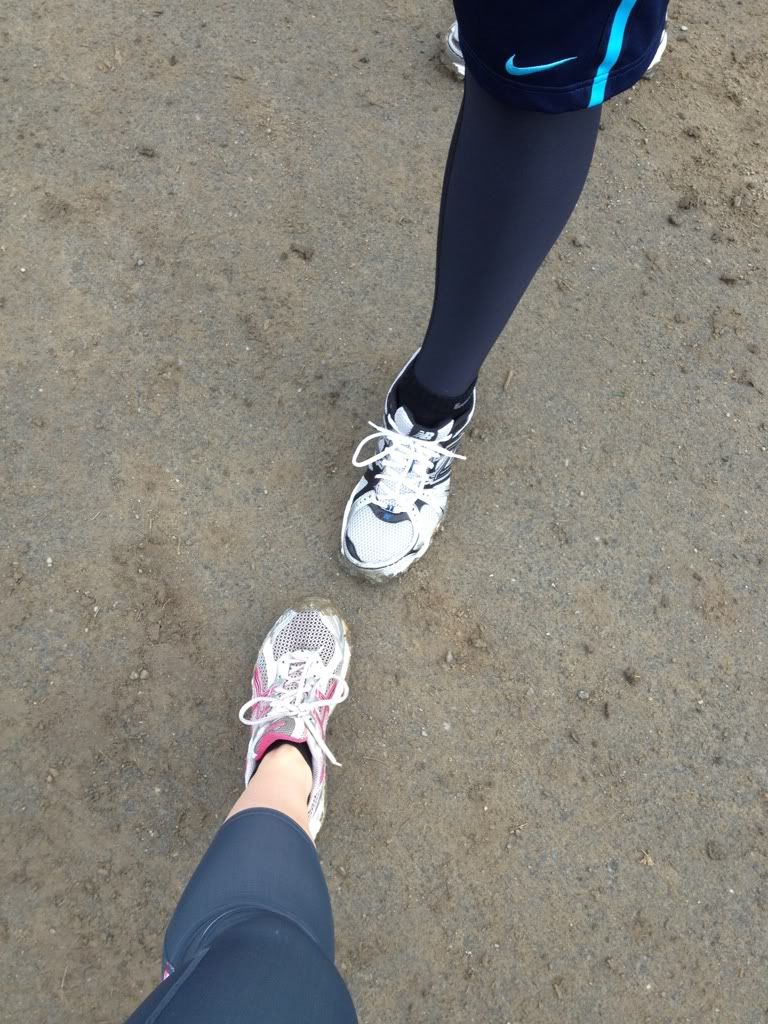 Once the 8:00 wave took off, it was our time to climb the mini Berlin wall and get into the "corral". Both Justin and were really excited when we saw the wall because we thought it would be more difficult to get over. Little did we know – the ACTUAL Berlin wall obstacle was about twice as tall.. and DID NOT have the little piece of wood sticking out.
(I apolgize for the lack of pictures in the remainder of the post. Clearly wasn't about to carry my camera/phone with me!)
We set out with 600 other Mudders at about 8:20.  Everyone was running for the first 5 minutes. Then we looked up and saw just how steep the incline was ahead of us – and that there was no end in sight.  Slowly but surely, everyone began walking…including Justin and myself.  There were 3o obstacles ahead of us – and Tough Mudder is not a race.. you don't do it for time!
We went up.. and came back down, rounded a corner and found ourselves face to face with ARCTIC ENEMA.  I had a brief panic attack because according to the map – this obstacle was supposed to be very close to the end. I wasn't prepared to jump into a vat of ice cold water, complete with ice cubes so soon!
But you have SUCH an adrenaline rush that you just go! You can't hesitate or you will start to play mind games.  So.. in we went without even thinking.  We were completely submerged as we swam underneath the wooden barrier in the middle. The feeling is indescribable.. but it is almost as if your entire system is paralyzed for a second as you try to gain  your bearings. Then we were up and out. (I may have kicked Justin in the head as I swung my leg over the end of the tank. SORRY BABE!).
We tackeled more gigantic hills.. and finally hit a flat area where Justin and I could actually jog! I won't bore you with a turn by turn, obstacle by obstacle  recap  - – but here are a few highlights:
Favorite Obstacles:
Dig Your Grave:
Basically under ground tunnels (this was a mystery obstacle) that you had to army craw threw. It was pitch black and full of sticky mud. I thought I was smart and I crawled on my hands and knees because I could fit that way.  You will see why this was stupid at the end of this post!
Twinkle Toes:
Balance Beam across water. I made it by going slow. Justin tried to run.. and then jump to the end when he lost his balance. He ended up in the water.
Most Difficult Obstacle:
I don't know what it was called and can't find it anywhere on the TM site – but it was a mystery obstacle – where one large cable went from one site of the pond to the other. You climbed up  so you were upside down with your legs wrapped around the cable and then had to pull yourself across the pond with your arms.  I started off GREAT and was moving quickly. When the next mudder (ahem Justin) got on the cable, it started to shake a lot and I was having trouble holding on. At this point, I just jumped off because my hands were started to cramp up. BOOM cold water.. and a 50 yard swim.  I panicked at first because I suck at swimming.. but I just treaded my way along and made it to the end.
Most Disgusting Obstacle:
I guess this would be most comparable to the Under Water Tunnels. There were big trees set across a swamp. (Yes. Swamp). The water was about 2.5 feet deep. Basically, you had to go UNDER the trees. (There was barb wire on top to prevent anyone from cheating).  So..underwater and muck, leaves, nasty water. Not my favorite.. particularly because I ended up with a ton of dirt in my contacts and it was extremely uncomfortable!!
Skipped Obstacles:
Berlin Walls – Justin and I ended up traveling alone – and there were never large groups at ANY obstacle.. which was odd because I know sometimes people have to wait a LONG time to do any obstacle. (Perhaps this is one of the perks of being in an early wave?) Needless to say – there weren't tons of people at the walls and Justin and I could not have made it over with just the two of us. We skipped them.
Everest – Justin rolled his ankle about mile 8.5 – but was determined to finish. It wasn't worth trying to sprint up the half pip – and risk him injuring his ankle even more!
Shocking:
I got shocked! On two obstacles ! The electric eel.. and the final obstacle: ELECTROSHOCK therapy! The eel shocks weren't to bad.. but the one at that final obstacle was a doozy!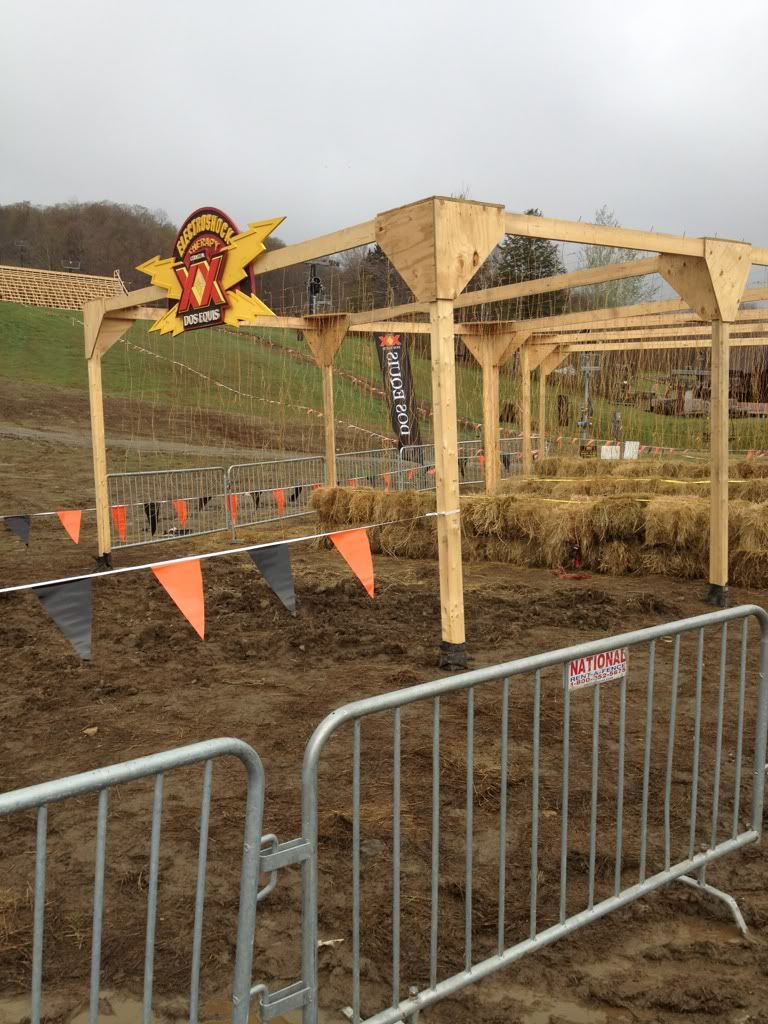 This little baby knocked me RIGHT the the ground! Not all of the wires are active, but I did an AWESOME job finding ones that were! After I was knocked to the ground, I crawled the rest of the way to avoid any further shocking! Justin was smart and went BEHIND me so he could learn from my mistakes!
We crossed the finish-line.. hand in hand.. dubbed the Prom King and Queen by the MC. Man did it feel amazing to cross that finish lines and earn our orange headbands!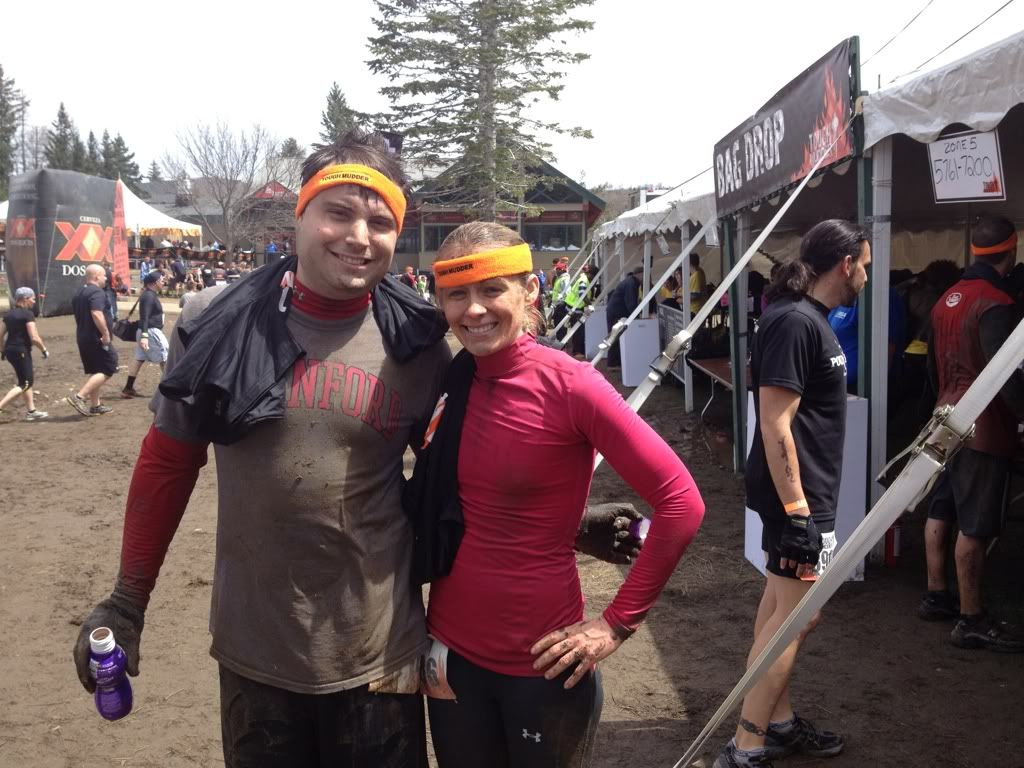 We declined our free beers because we both felt like we would be wasted if we drank a beer. We did have some of the EAS protein shakes they were offering.. as well as some Sharkies!!
Sharkies were also available on the course.. which was fantastic because I have really wanted to try these! There were quite delicious! My oncourse fueling included a half a pack of sharkies and a Vanilla Bean Gu!
With a 3.5 hour drive ahead of us, we didn't hang around long. We changed out of our dirty clothes.. and quickly hit the road!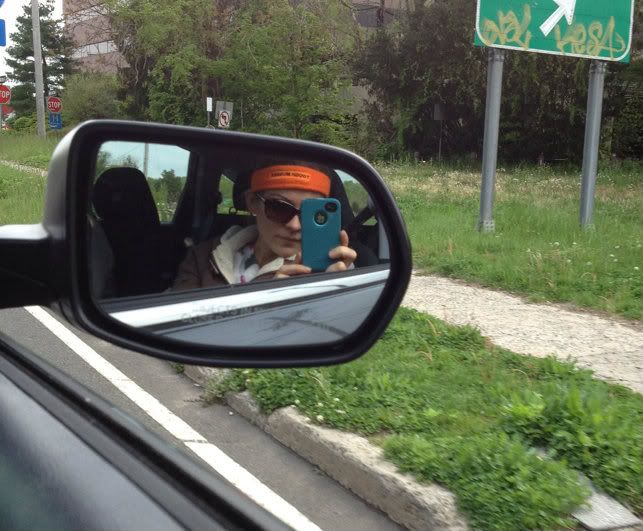 The rest of the weekend was spent relaxing and refueling.  I am also trying to figure out what to do with these: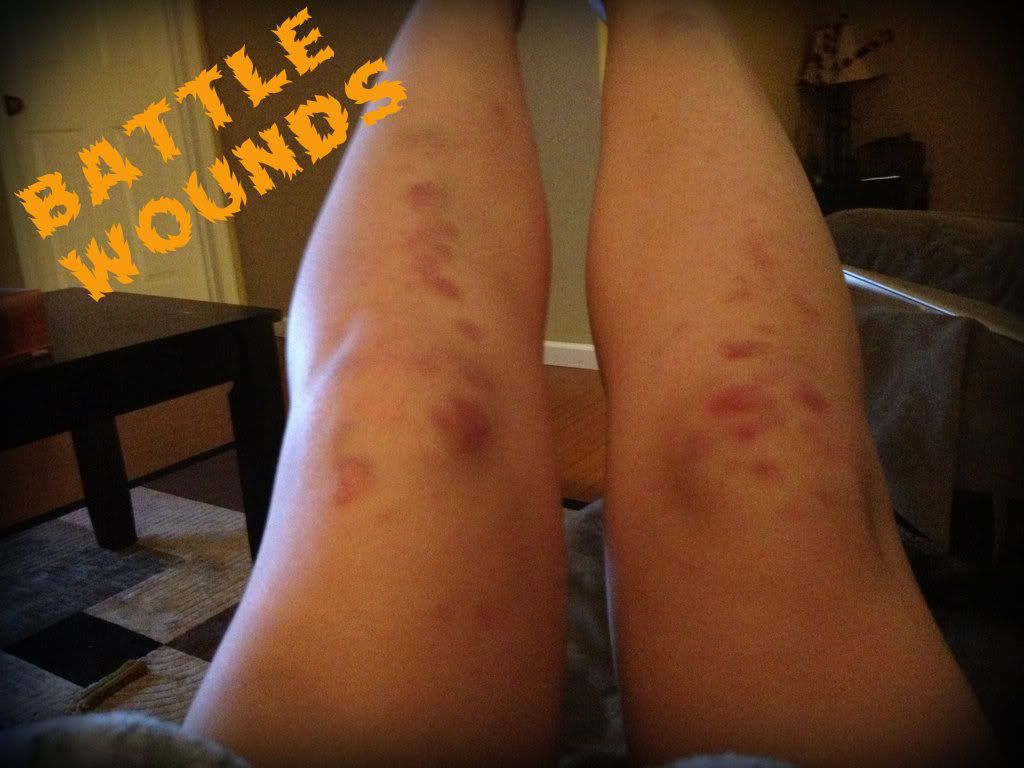 I don't mind having bruises all over my legs.  Really. I know they could have been avoided if I didn't crawl through all of the tunnel obstacles. I thought I was being SO smart because I could crawl quickly – and my body could fit while I was crawling. Should.have.army.crawled.like.everyone.else! Damnit!
But here is the problem: My bridal shower is SATURDAY.  As much as these bruises show my hard work … I'd rather have more lady-like legs at my shower.  Since I have six dresses to choose from (yes.. I said 6.. and I mean it; 5 will be returned after the final decision is made)… I have no interest in finding some sort of.. pants to wear.
But.. YES. We are TOUGH MUDDERS. We are proud. We had SUCH a blast and I am so happy that I impulsively decided the sign up. The thing about a Tough Mudder is – you don't need to be in fantastic shape. You don't need to be able to do 10 pull ups and 50 push ups. You are surrounded by people that all have one goal in mind: Teamwork.. Camaraderie.. and FINISHING.
With that being said, yesterday, Justin and I signed up for TOUGH MUDDER TRI-STATE… on October 20.  This course is flat.. so we are ready to get our run on! AND.. we WILL have a team this time!!
——
What is the most challenging task – physical or mental – that you've faced?
Any suggestions as to speeding up the healing process of bruises?!