WOOP! It is Friday my friends! A great Friday. A Friday that is a half day and therefore ends at 12:15.  A Friday that kicks off April vacation!
I plan on getting in an afternoon long run before heading up to Hartford tonight to meet with some friends for dinner and to see their new place!  It should be a fun time – but I am super excited for tomorrow because I am headed to the city to meet with one of my college roommates. We are going to check out the 9/11 Memorial at Ground Zero.. and I can't wait to see it!  We already got our tickets. It is free to visit, but they have you get tickets so there are not tons of people there at the same time!
I saw this personality survey floating around on Chelsey's Blog – so I thought I'd give it a go so you can take a deeper look into my life.
10 Questions About My Personality
1. When a cashier in the checkout line at the grocery store is being a grump for no reason, how do you typically react?
I am usually pleasant (unless I am in a grumpy mood). I think by being polite.. saying please and thank you– and just telling that person to have a good day as you leave can lift their spirits a little bit.
There have been plenty of times where I've just been totally ignored while doing this.. but every once in a while.. you hear the tone of the cashier's voice change.. and they suddenly seem a little less grumpy!
2. Are you the type that likes going out with your girlfriends or staying in?
One of my goals was to get out and be more social this year. I've failed thus far. But I need to start doing it. I think now that warmer weather is here.. I don't want to spend my time  home.. so I hope to be out and about more often.
I am definitely a homebody and go to bed early. I get up early and am exhausted by the end of the day. There have been many times where I told myself I was too tired to go out. But I  know if I just sucked it up and went.. I would have enjoyed myself.
3. Do you sob and get emotional watching romance movies?
I sure do. I am a huge crier. I cried last night when Cristina Yang was crying as Owen was telling her about how he cheated (Anyone else still watch Grey's?) If any movie has a slightly moving scene.. I have tears in my eyes.  If it last for more than a few minutes… those tears will be rolling down my cheeks. Romance movie.. something else.
4. What stresses you out the most?
I am stressed to the max right now with work and wedding planning. There is nothing going wrong with either of them.. but both are just overwhelming.
5. What do you think people think of you?
I am really not sure what other people think of me. I suppose you would have to ask them. And I am sure many people would have many different answers. From my perspective of what other think (um.. that is a little bit of an oxymoron), others think I am dedicated and motivated.. and certainly stubborn. I like to always be right…but can eventually admit that I am wrong. I am also a little unpredictable mood wise.  I can have some intense emotional swing.
In high school, I used to be outspoken.. and a big bitch. But as I've grown, I am falling to the opposite end of the spectrum.. especially when it comes to being around friends and acquaintances.
6. When you overindulge do you hit the gym to burn it all off, or just accept the indulgence and follow your same routine?
No.. I keep a fairly consistent diet.. so this doesn't really happen. I must be honest and say that I do not really over indulge very often. I am sure Justin (and others) wish I would just loosen up a little bit and indulge a little more. This is another thing I am working on.
7. Are you easily annoyed?
There are some things that really annoy me as a teacher.
Pencils. I hate pencils. Students should have lead in their fingers and write with those. i don't appreicate when kids slam their pencil tip into their desk and then need a pencil. I've gone through4 boxes of 250 pencils thus far.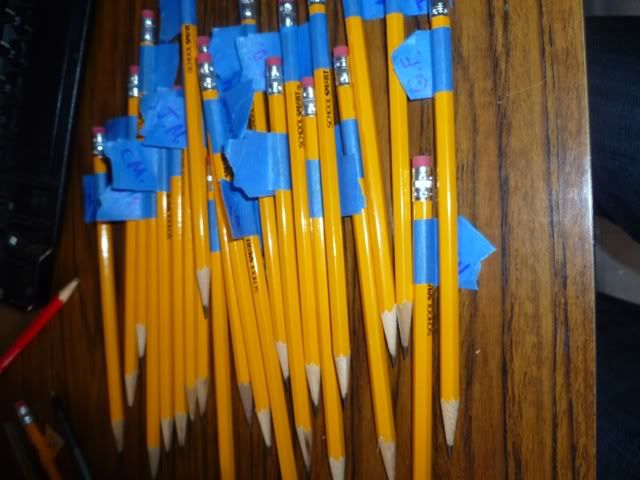 Not doing homework. I don't assign a LOT of homework. It probably takes 25 minutes in total. JUST DO YOUR HOMEWORK.
Otherwise, I try to be patient.
8. What do you think is your biggest personality flaw?
Letting go of the small stuff.  I am spent most days when I get home from schools. I have a few buggers in my class that challenge me every day and test my patience. By the day's end, I am often out of patience.  When I don't have any patience left, Justin sometimes gets the short end of the stick and I kind of start nagging about the littlest things. (i.e… Justin bought chicken breasts instead of chicken tenders for Colby's chicken and rice. The tenders are far easier to cut into tiny bit size pieces.. and I made this fact known).
Seriously? He was awesome to go to the store and get it. I need to just let that sh*t go!
9. What is one thing you don't think people see enough of when it comes to your personality?
I don't think people see enough of my silly and crazy side. I've been bogged down with some health issues lately and have just been stressed and had a rough year.  I am normally more happy-go-lucky.. especially when I am out and about. But lately, I've been a little bit more internal. It really doesn't fit who I am.
When I did the 3-Day with a coworker this summer.. she was shocked to see the way I was acting.. doing stupid and silly things.. since she has never seen that side before. I need to be like that more because it is just more.. ME!
10. Can you feel relaxed in a busy crowd or messy room?
Sometimes. Sometimes I really just don't care. This year, I have been REALLY bad in my classroom. In fact, I hope to clean it today while my kids are taking a test.
This has spilled over to home a little bit, and I am not proud of it. But I will get into these frenzies where I have  mini panic attacks and must clean EVERYTHING asap or the world will end. Really. It will!
——–
Hope you all have a wonderful Friday!
Questions for YOU!
What is your biggest personality flaw?
What stresses you out the most?