Colby is home!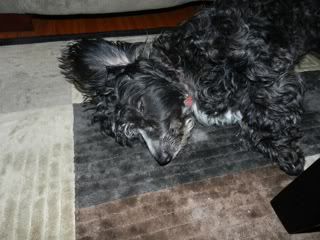 Tired. Indeed. He spent a majority of the night passed out and I am pretty sure he was freakin' pissed at me when I was snapping pictures with a flash! But he is glad to be laying on our floor rather than in the ICU at the animal hospital!!
Justin picked Colby up at around 4:00 pm yesterday. He has a parasite called Giardia.  It is picked up through the dog's environment – and mostly transmitted through drinking water and/or fecal matter. Gross.
We don't know if Colby picked it up at day camp – or somewhere in our condo complex. We are armed with antibiotics and a bunch of information and tips on how to ensure that Colby is not reinfected.  Most puppies do have a parasite at some point in their life.  We were assured that we didn't do anything wrong or cause this – it is just the nature of a dog's life  and environment.
Colby is finally eating and drinking again!  And BOY is he eating! Right now he is on a bland diet of chicken and rice.  You would have thought we put a bowl of prime rib down in front of him because this dog ate his bowl of food in 5 second flat. We were trying to get him to slow down because we didn't want to him eat so fast that he threw up!  He stalked both Justin and I in the kitchen for a while hoping he could get some more.  After Justin and I left the kitchen, he tried to help himself to seconds by peaking onto the countertops.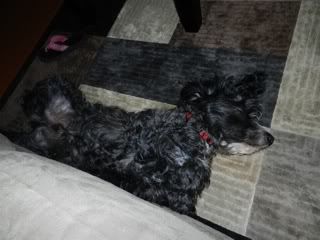 This dog does NOT countersurf… so he totally was loving the chicken and rice!
We are just so thankful to have Colby home with us!!
—–
Have you ever had an scary sicknesses with your pet?