How was your weekend?! Mine was quite interesting. Definitely NOT the best weekend I've ever had.  In fact.. it has extended itself.  Again.. NOT for good reasons….
Let's rewind to Saturday.  I had gotten a text from a friend asking if I could help them out in a basketball game – as they were short players. I used to play on the team but took this year off because weddings were reserved for weekend things and it would have been difficult during busy season with Colby.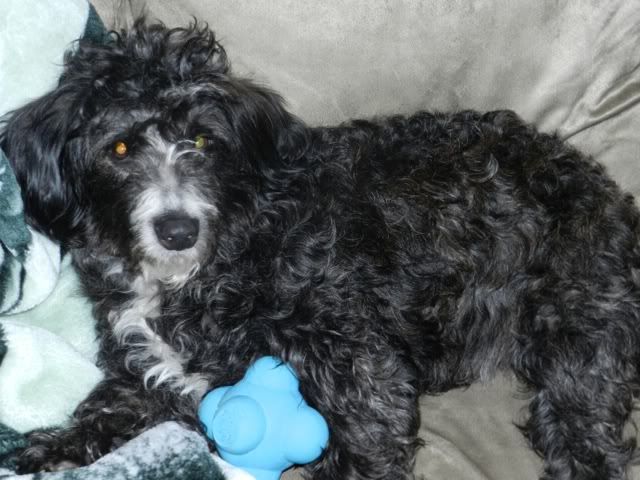 I teetered – because I knew I was running in a 4-miler on Sunday – but in the end.. decided to go with it. I mean.. what's the worst that can happen?
The worst that could happen?  Well… that would be a concussion. I made the not so smart decision to attempt to catch a full court pass that was coming inbetween two very tall players. I ended up taking a hefty elbow to the head… and then found myself lying on the floor. Moments later, I had a big old bump on my temple, an severe headache.. and some nausea.
Bye-bye race.
I of course still wanted Justin to run and enjoy his first race.. so when Sunday rolled around I decided to go and spectate.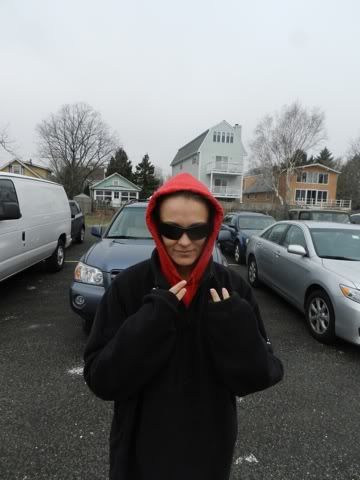 My headache was actually getting worse.. and I will admit that I was getting a little worried. It was much chillier than anticipated..so I ended up rocking the awesome outfit you see above – which is thanks to some extra things Justin had in the trunk!
We checked in and picked up Justin's registration – and hung out in the car for a good 45 minutes. Justin had no desire to warm up.. claiming that 4 miles was all that his legs could handle.  At about 15 minutes before race time, we headed over to the start.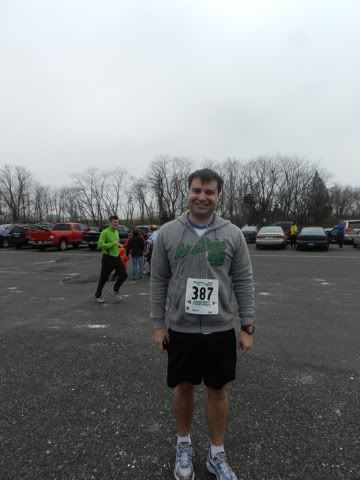 I also spotted Kaitlin  - and decided to take a stalker pic of her as well!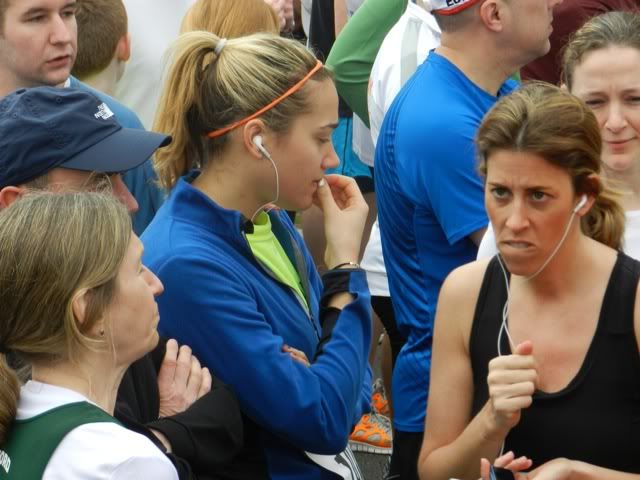 When the gun went off..  I knew exactly what I needed to do. I needed to get back to the car..STAT.  I started feeling super lousy with ridiculous body aches. (Did I mention that 8 students in my class had the stomach bug on Friday). As soon as I sat down I started crying. You can imagine that this did wonders for my already aching head.
About 25 minutes after the race began, I made my way to the finish. There was no way I was going to let Justin finish his first race while I sat in the car!
Here he comes.. finishing strong!!!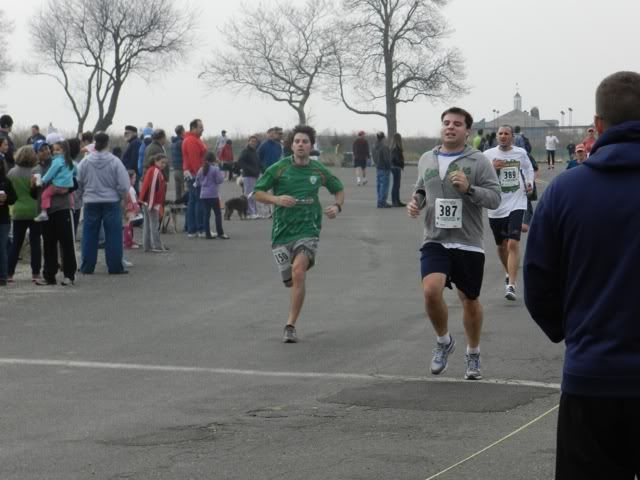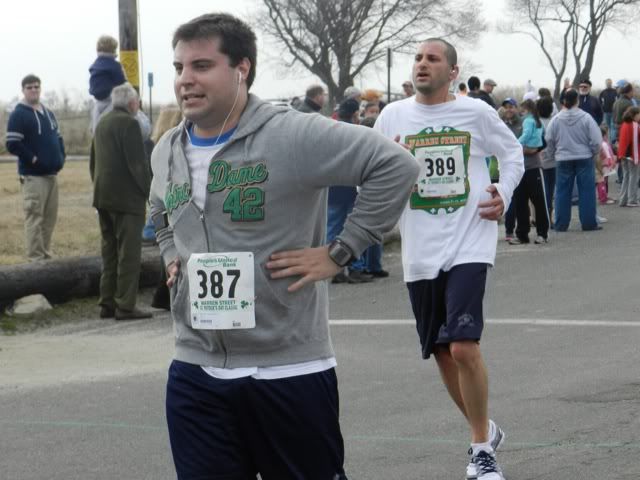 Justin finished the race in 32:31!!! That comes out to a little over 8 minutes a mile! I am so proud of him! He was shocked that he did so well! He set a goal to run the race in under 34 minutes.. and he killed that!  He also used my Garmin and was able to track his splits! His last mile was 7:55! I think he caught the racing/running bug because he wants a Garmin of his own, now!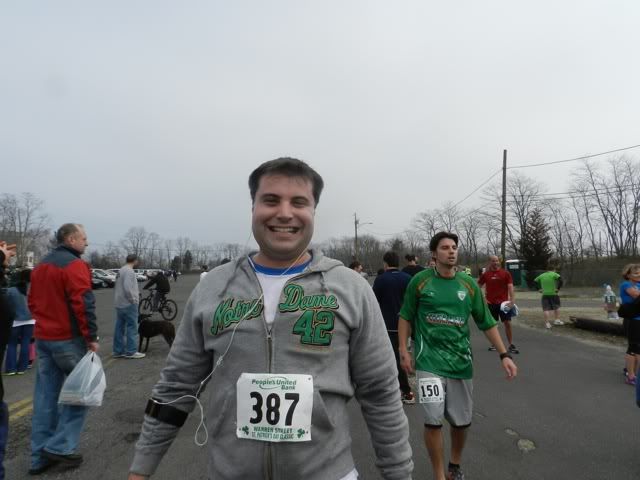 The rest of the day… was not so good.  We went straight home.. where I was unsure if my symptoms were related to the hit I took to my head.. or if I was coming down with the dreaded stomach bug.
We actually went to the doctor..and before they even let me check in .. they told me I had to decided if I thought my head injury was serious … and in that case.. I needed to go to the hospital.. not to them.
I was  in no decision making mood. Weren't they supposed to be able to tell me if my head injury was serious?  So.. I decided to go home and lay down for a while and see if my headache subsided. (I had been crying.  A lot. I am a baby).
I managed an hour of sleep. When I woke up, my headache felt a little better. However… when my temperature clocked in at 102.5 … I knew I had been struck with the bug.
Needless to say.. I've spent a lot of time in bed … and in the bathroom. I've spent very little time in the kitchen. In fact.. most foods that I enjoy sound absolutely REVOLTING to me right now. Peanut butter makes me gag. Ugh.
I am hoping to feel better by later this afternoon – because one day out of work is enough for me!
—–
Tell me about your weekend! Any races? Illnesses? Hits to the head?