Well, Well, Well.. it's Wednesday. And we've STILL got beautiful weather all around! I mean.. take a look at what is to come…
(Let's ignore Friday's chillier temps with rain. Does that even matter? It will be Friday.. and that means it is just about the weekend!)
It is fitting that today is going to be a beautiful day with temperatures reaching the mid 60′s (likely higher)… because today is also the day we celebrate the birthday of a beautiful woman!
My mother! Happy Birthday, MOM!!
Another thing I love is the temperature for Sunday. Sunny.. High of 58*.. Low of 42*.  I've failed to mention this.. but I am running a little 4 mile race on Sunday with Justin!  It will be Justin's first real race (besides the little one we did for my school.. which was not really.. real).
Justin has finally finished his busy season at work.. which means I get to see him during the week (and not just on weekends).  The greulling busy season also kept Justin's running and gym visits to a minimum.. but he has been working hard for the past week or so to really have a great race!
I am very excited for him! (And even more excited that  I don't feel like I am living alone anymore!) So that beautiful weather will CERTAINLY make the run one to remember! Can't ask for much more in the middle of MARCH!
Movie Apps
Do you guys have RedBox near you?!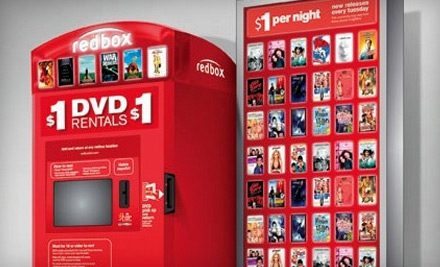 We have them at many of our local store.. the food store, some gas stations, Walmart, Walgreens… and I am sure many more!
While we do have Netflix – occasionally Justin and I will stop at a RedBox when we feel like having a movie night.. but don't have anything on hand from Netflix.
Or.. have some movie about aliens, science fiction, fantasy, or weird wars…which don't particularly tickle my fancy..
Redbox has a pretty good selection of movies with new releases.. as well as some older movies!  The one thing that USUALLY happens to Justin and I .. is that we get to a Redbox – and they are OUT of the movie we were really hoping to rent.
And then we found a solution.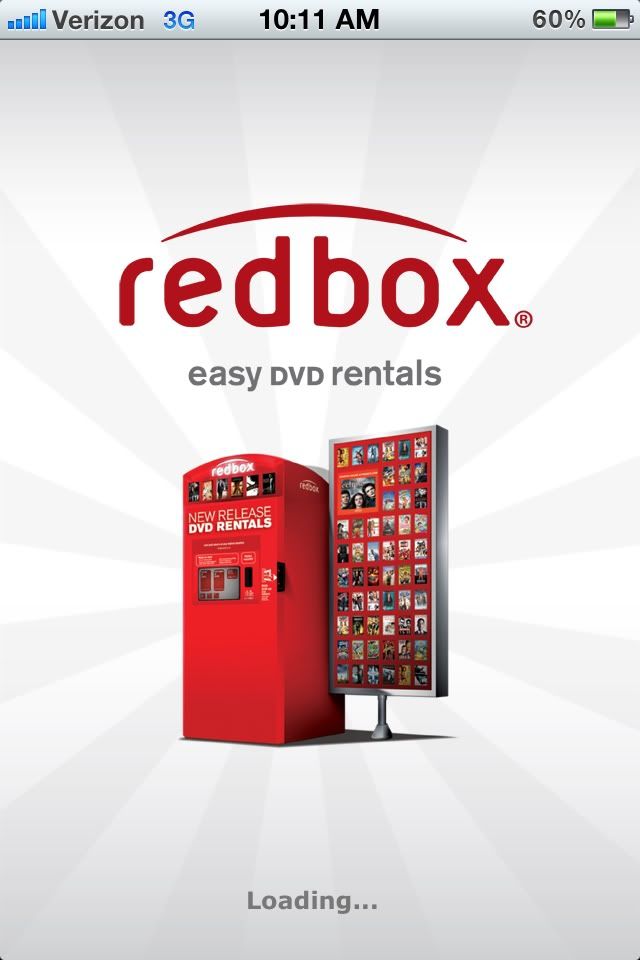 Hello, Redbox App. Thank you for kindly gracing my iPhone Screen with your presence.  You have taken the guess work out of renting a movie from Redbox.
Basically, you search for the movie you would like to rent…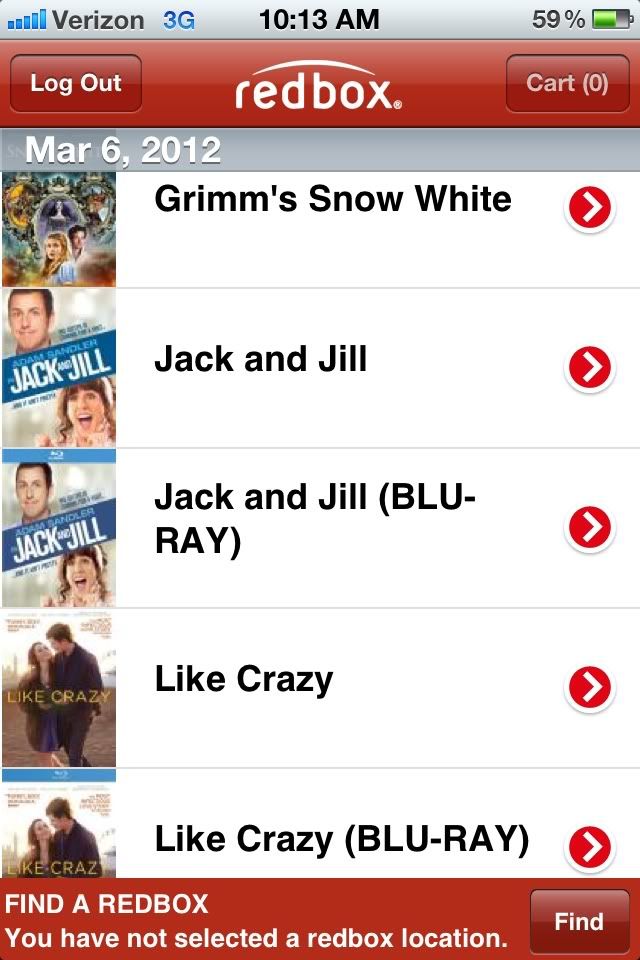 Select it and enter your zip code…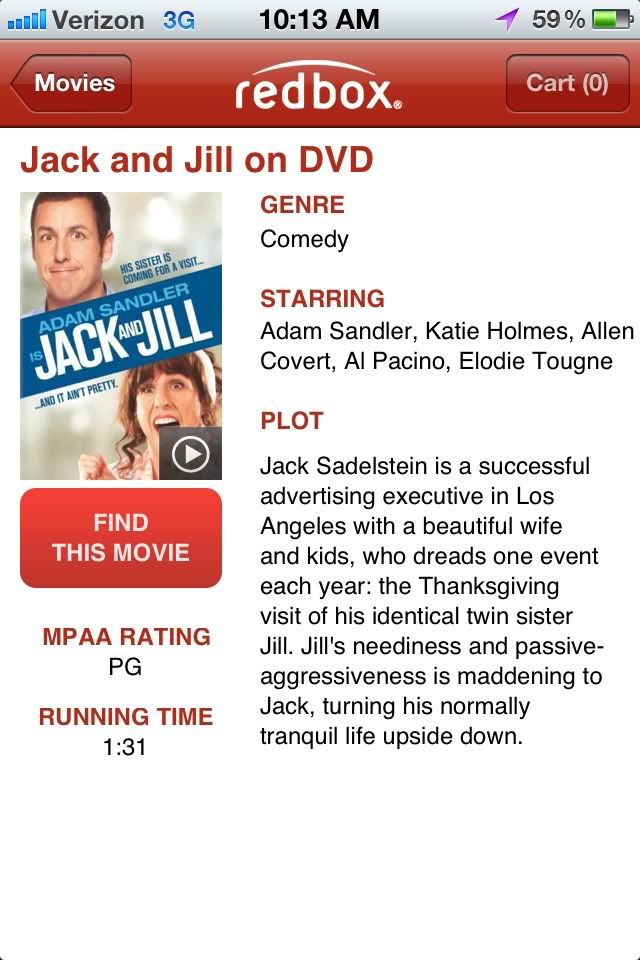 And then it magically finds the RedBoxes near you where the movie is available!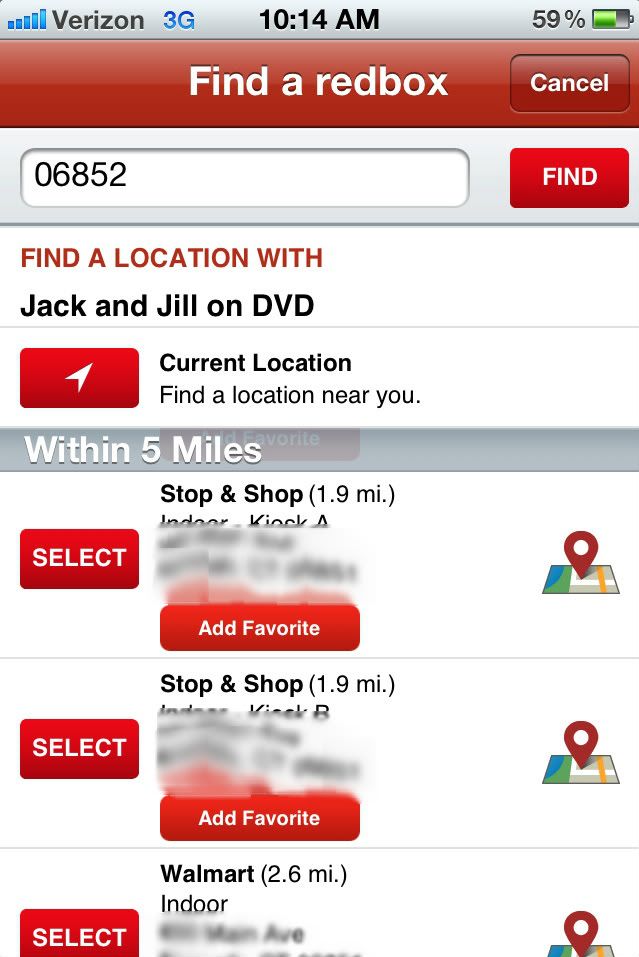 You can reserve the movie by creating an account and entering a credit card number!  You have until 9:00pm that day to get to the Redbox, swipe your card.. and pick up your movie!
Now, when Justin and I have a particular movie we want to get from Redbox, we will certainly be using this app!
———————————-
Do you rent from RedBox.. or something similar to it?!
What is the best movie that you have seen lately? We loved 50/50 and I also enjoyed What's Your Number.. but I am COUNTING down the days until HUNGER GAMES hits the theaters! Can't wait to see it!