We've got a lovely little Saturday on our hands here in CT.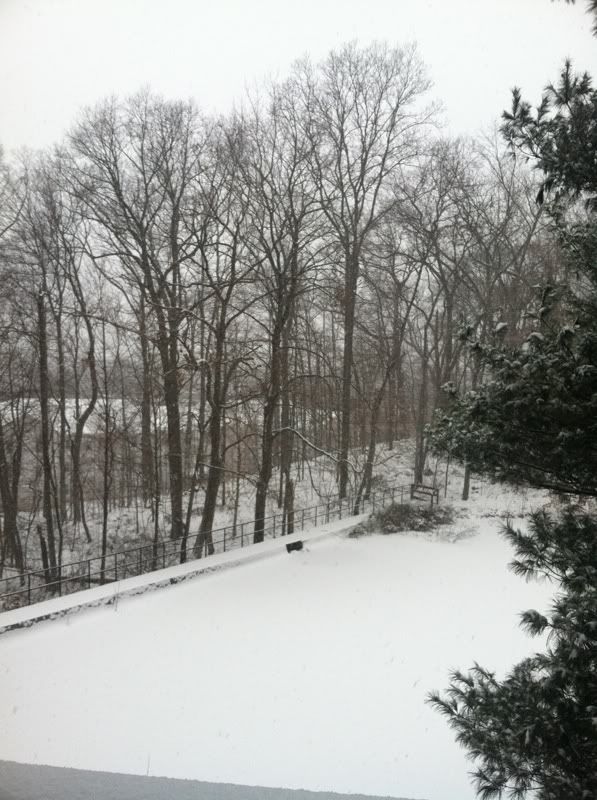 Wait. Lovely, Saturday.. and SNOW do not go together.  As a teacher, I whole-heartingly support snow storms… as long as they occur during the week.  I have absolutely NO problem sleeping in an extra 90 minutes when we have delay.  I also have NO problem sleeping as late as my little heart desires and then lounging around in my PJs all day when we have a snow day.
But snow on Saturdays does absolutely nothing for me. I have things to do on Saturday… and I am not a huge fan of traveling in the snow unless absolutely necessary. Road conditions aren't too great right now.. so it looks like Justin, Colby, and I are going to be hanging out at the condo for a majority of the day.
If the snow keeps up well in to the afternoon as predicted, I will probably do the 1,000 rep workout in the extra bedroom while Justin plays in Colby.  With no equipment needed, it is totally something I can accomplish at home!
Or maybe I will break out my new TRX system and play with it!
A couple of weeks ago… I should off my mad braiding skills. Some of you requested a video.. so I tried my best to shoot a decent one.
After many attempts, this is the best one that I got. Apologies in advance for my head being cut off in some of them. Even more apologies for the random nasty sniffle in the middle. It's cold season, ya'll!!

I am sure that was the most useless video you've ever watched. I apologize for wasting 6:33 of your time. (Or probably less then that because you likely didn't watch the whole thing.. but I am still sorry).
—
Snowy were you are today? What are your plans?