Yesterday, we finally got a little bit one winter weather. We woke up yesterday morning to slushy, slick roads.  Unfortunately, there was not enough mess to create a delay or snow day. Boo to that. BUT… This meant no AM gym for me… as I am sure the roads aren't cared for very well at 4:45am! So yesterday was an un-planned.. turned planned rest day.
I actually determined the night before that it would be a rest day because I had suddenly started having some pretty serious pain in my hip on Monday night.  I wanted to just lay on the couch, but Colby kept pushing his toys under the couch and then barking at me to get them.. so I was up and down and lot.. and super unhappy about it!
I think I may have over did it last week with 13 treadmill miles. 13 miles on the road would be fine.. but treadmill.. ehh.. no bueno. On top of that… for Monday's interval training in NROLFW .. I did some running.. on the treadmill. My interval speed was 9.3.  I should have known better.. since high speeds on the treadmill always get my hip a hurtin!
So.. extra rest .. and some unsafe roads.. ended up being just fine! Depending on how I feel as the day progresses, I will either lift again or take it easy on the elliptical.. OR rest again if necessary. I am open to it!
Now that I am all rested up and feeling a little better, let's get to this little party we do on Wednesday..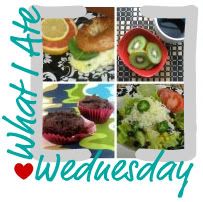 Chocolate for breakfast? Oh YOU know.. it is absolutely delicious!!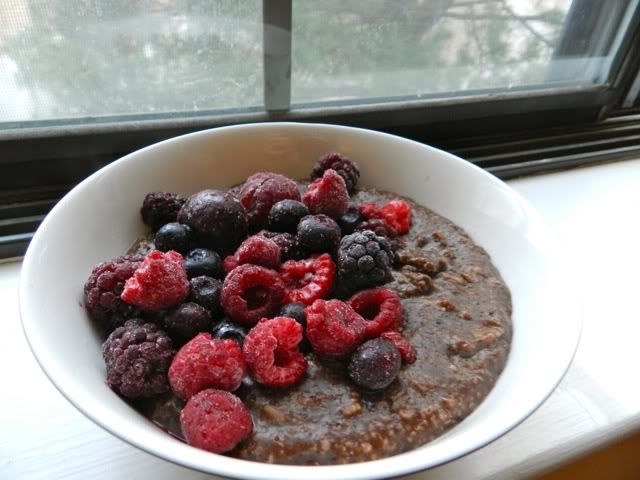 1.4 c. oats, 1/4 c. oat bran, 1.75 c. water, splash of vanilla, and a heaping spoonful of cocoa powder. Top it off with some frozen berries.. and you've got yourself QUITE the breakfast.
A trio of deliciousness for lunch!!  Chicken & Apple sandwich (on the forman of course), cottage cheese with almond butter, and trilogy kombucha!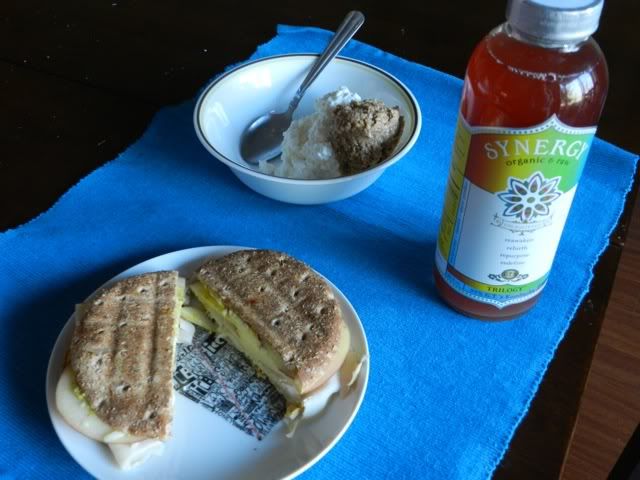 It's been a while since I've been to Whole Foods … and I can't find this stuff anywhere else. I was happily reunited with my favorite probiotic drink!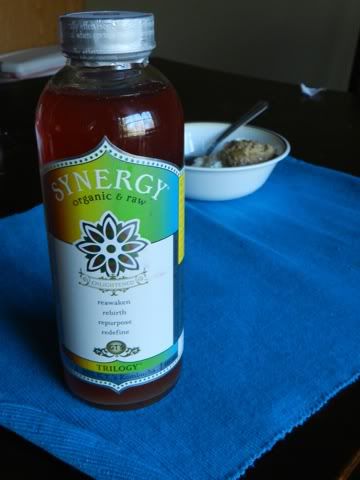 A new snack.. (also found at Whole Foods…) HUMMUS CHIPS! They are made by a company called Simply 7… and contain all natural ingredients. They looked unique and I was craving a salty crunch.. so I picked these up in the tomato basil flavor.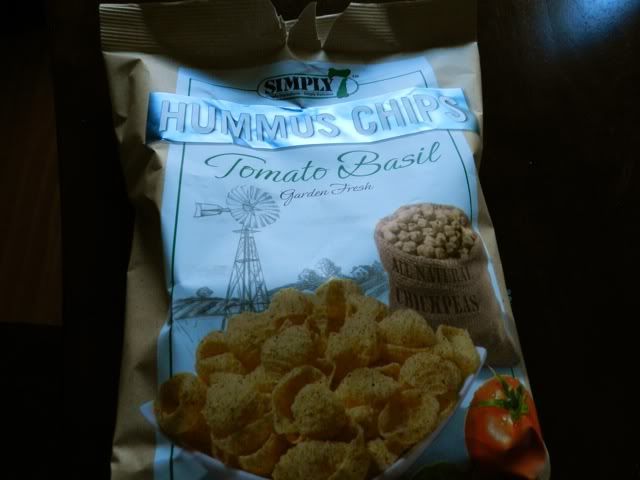 THESE ARE SO GOOD! I highly suggest giving them a try. They taste like something I've had before. but I can't quite put my finger on what it is!!  The main ingredient is chickpea flour.. (hence the hummus name). There are a few other flavors.. and I am hoping to get to WF again soon to try them out!
Dinners have been eehh lately. I've been eating alone because Justin isn't home at dinner time because of work. I've been digging leftovers. Like this leftover Turkey Chili!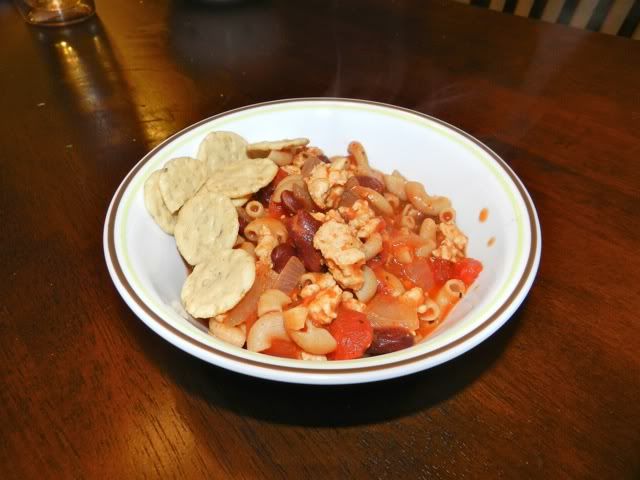 This chili is one of my favorite meals to throw together on a Sunday. Justin loves it.. and I can bring it for lunch and have it for dinner at least one time during the week! Yay for leftovers!!
It was great to read all of your experiences with marriage preparation!!  I think that Katie hit the nail on the head.. saying that relationships work with trust, communication, strength, and love.  I totally agree with her.. and the marriage that she shares with her husband truly supports that notion!
—-
Have is your favorite crunchy, salty snack?
Chocolate for breakfast.. yay or nay?