Saturday Morning:
4:00am.  I am awake. I know I don't need to be up yet.  I try to fall back to sleep, but I am worried I won't wake up when I need to wake up. I toss and turn until around 5:15.. closing my eyes, but checking the clock roughly ever 5 minutes.  I finally roll out of bed at 5am. I go to the family room. Did you know there isn't an awful lot to watch at 5am on a Saturday morning?  Finally, I get the text message from Tim, the man responsible for transorting Colby.
5:30am. I wake Justin up – and we are SO excited. He changes in roughly 2 minutes and hop in the car. We arrive at the drop-off location at 5:45.  We watch closely as every car pulls in, wondering if it will be the car with Tennessee tags on it.  We wonder how Colby handled on the 16 hour car ride. We heard he gets car-sick; so we were very concerned about what sort of shape we'd be in when he arrived.
5:55am. Finally we see the vehicle!  We pull out of our spot and follow it to where it parks.  We jump out of the car and walk around to the driver's door.  They fooled us, Colby was on the lap of the man in the passenger seat! So we walked back around. And then we laid eyes on our new little pup!  He was wagging his tail and appear to be in surprisingly good spirits.  I held Colby in my arms as Justin took the paper work.  The driver helped me into the car and gave us a few parting words. In the car Colby sat wonderfully on my lap.He crossed over to Justin's lap.. then back to mine.  The car ride home was uneventful.  Besides a little slobber, I didn't see any signs of anxiety or nervousness. He was alert and very curious.. looking at our city lights.
6:15am. We welcome Colby to our complex with a short walk and a pretty poop.  Justin had the honors of picking up Colby's first poop. I am sure he was thrilled.  We brought him in to the condo and let him explore.  We didn't overwhelm him and hover him, but were always there to pet and comfort him when he decided to explore us.
Colby had a LOT of energy for the next couple of hours.  (We may have encouraged some of this.. but learned quickly that fetch is no game to play in the house
).  Eventually, night time turned into day. Colby explored, played, ran, slept, and explored some more.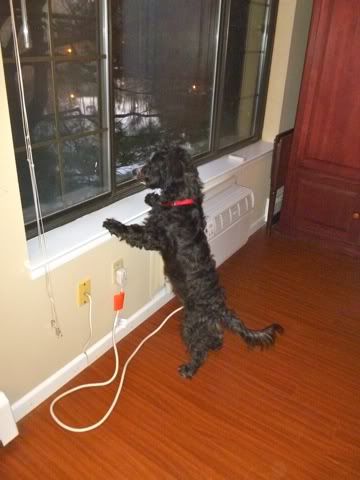 He really liked looking out our back window.  He would either put his paws on the window sill to get a glimpse of all that was going on…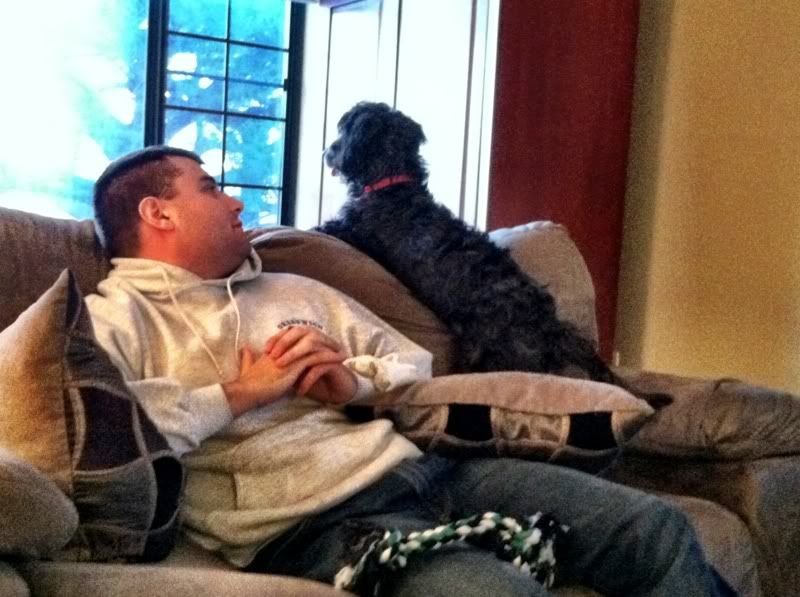 Or look over the back of the loveseat.  This makes me really nervous; because Colby has also found it super fun to run and jump on the love seat… trying to clear it completely. He hasn't cleared it yet.. and we are trying to stop this behavior.. but I am worried he will hurt himself if he does indeed clear it.
We took him out on a 40 minute walk.. which he definitely loved. We need to find a better route because there were some busy parts with minimal sidewalk space.  It is clear that Colby has NOT been trained to walk on a leash because he walks faster than any human being possible could.. and as a result pulls an awful lot.  With all of the excitement.. there were lots of daytimes naps.. and an extended nap from 7:00-9:00pm. Uh-Oh.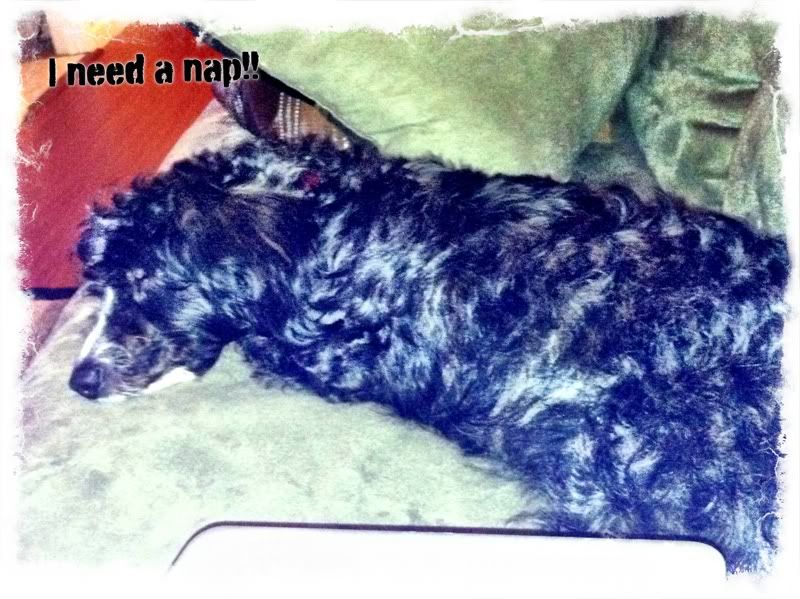 Perhaps sleeping for two hours (like.. passed out cold).. wasn't the best idea.  Colby awoke around 9 – and Justin and I decided to take him for a final walk. Yeah. I was ready for bed at 9. Justin was not.. but I didn't want to leave him to do the walk alone.  HELLO CRAZY DOG. He woke u running around like a child hopped up on Halloween Night.  Remember when I said he was good at running and jumping (almost clearing the loveseat?) He did that so many times he pushed it back about 6 feet.  I of course was on the phone with my mother (who else)… in the bedroom. Colby also made attempts to run and slide into the bedroom door, hoping to open it.
We of course knew that he wasn't going to go into his crate silently and go to sleep.  We knew he'd whine and bark for a bit.  But.. we have neighbors above us. (The unit next to us is empty.. or else we'd have em there too!)  It is one thing to have our sleep interrupted, but we figured our neighbor wouldn't be quite as willing to listen to barking and whining well into the night.
We first crated him in the living room. Fail. His barking was just TOO loud. Our neighbor would be down knowing on our door in no time. I was (again) on the phone with my mother and she could hear him loud and clear.  Option two was to move his crate into our bedroom. Let him sleep out in the bedroom and hope he'd eventually make it to the crate.
20 minutes later, he was still walking around.  So.. we went to option 3. Let's try crating him in our bedroom.  He reluctantly went in (with a little assistance). He whined. Not a loud bark. Just a whine. 10 minutes.. 20 minutes.  Justin went over to him and firmly asked him to be stop.  His whining lessened. 5 minutes later, I got up and used my teacher voice.. telling him that it was time for bed; no more barking.
Not ANOTHER sound for the rest of the night. We were even able to get up and go to the BATHROOM! Because we made the mistake of walking him at 9pm (too early); we both got up at 5:15 and walked him again. We did; however, go back to bed and re-crate him. After I used my teacher voice, he want back to sleep for 2 more hours!
His first night was a little rough, but I think it went well. I mean.. he stopped whining when I asked him to!  When Justin and I went to the gym and grocery store, he wasn't happy when we left. But when we came back, he was quiet. We are both unsure of how long he barked for… but hopefully it was only 10 minutes.
We picked up some cookies to bring to our upstairs neighbor – and to explain to her about our rescued pup; asking her to bear with the barking.
Our biggest concern is TODAY.  Work day. Long time. At home. We hope he doesn't make too much noise. But in all reality; there is NO way to know how long he barks for or how often.
Justin and I both understand we have some work to do to train Colby completely, and it may be a challenge.  We need to control his nipping and his jumping.  We also hope his barking will decrease in time.  It has only brought me to tears once, but I know we made the right decision. Justin reassures me every time.  We will get there