Wait.. I know. You are thinking.. WHERE IS THE POST ABOUT YOUR NEW ADORABLE PUP, COLBY?!!  It is coming, I promise. Likely tomorrow.  It has been a very busy weekend, and this is a post I kind of add to all the live-long week.. so this is what you are going to get
Here's a sneak peak of the Colbmister!  He's adjusting JUST fine!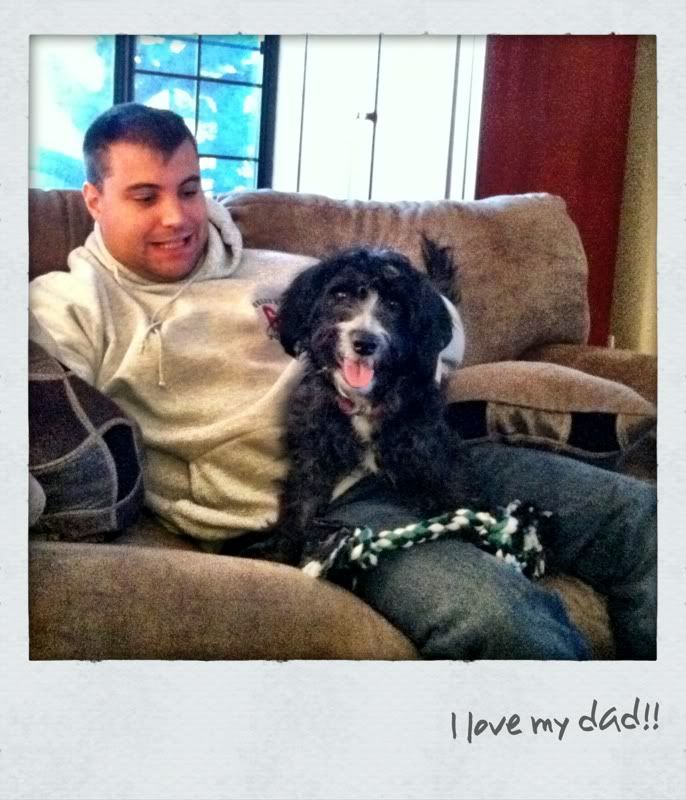 Now.. onto the sweaty stuff
Cardio: 5 days
Lifting: 4 days
Rest: 2 days.
I am actually really proud of myself for staying committed to taking that second rest day. I was so close to packing my gym bag on Thursday morning.. "just in case". A "just in case" packing always means that I WILL end up at the gym. If I want to rest, I've got to leave everything at home.
I am also very proud to announce that I have completed Stage 1 of NROLFW.  I still need to do the special workouts, but the main portion of it is done. It took me a bit longer than I expected (I started it around October 17); but I also cut down the workouts from 3x a week to 2x a week – so I had a little bit more flexibility and variety in my workouts.
I know that I have gained an awful lot of strength through NROLFW.  I am going to try to review my thoughts on the first stage and let you know how I felt about it.. the moves, etc.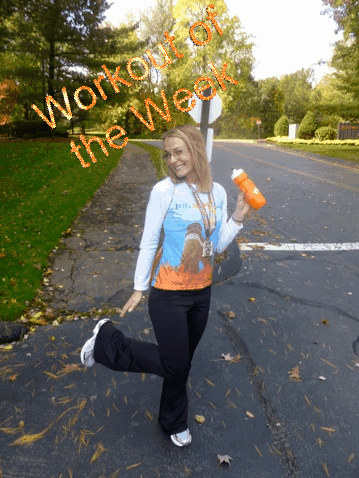 I can give all the credit for this week's favorite workout to the high school basketball scrimmage I attended while I was home on Thanksgiving.  It is a tradition to have an alumni basketball game the Friday after Thanksgiving at my HS Alma Mater.. I played last year and was the oldest person there. (Mind you… I graduated HS in 2004.. not THAT long ago.) I felt incredibly old.  Sadly, I couldn't make myself feel that old this year because I could only stay for the current player scrimmage because of prior commitments.
It was nice to be there because I used to coach the juniors and seniors (when they were freshman and sophomores).  I had to stop coaching once I moved and got my full time job. It just wasn't practical.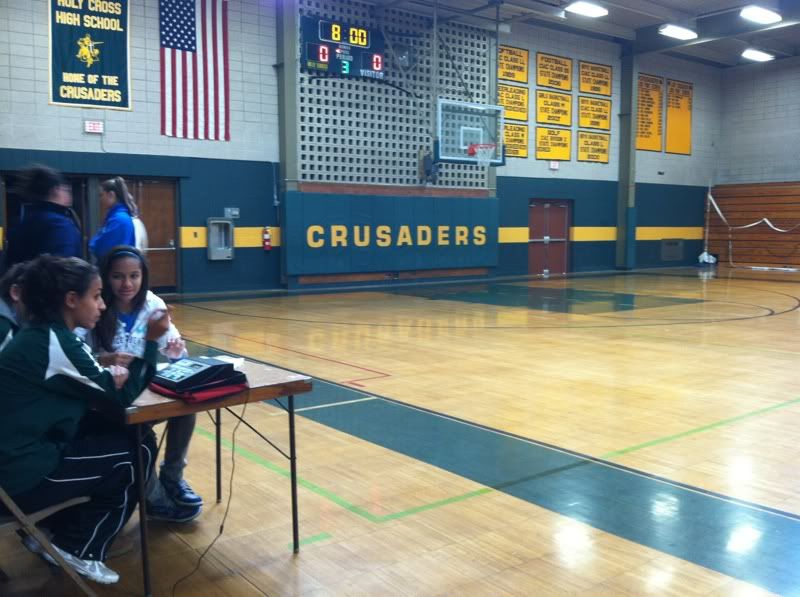 However, being at my old stomping ground inspired to me get my game on! I've played in basketball leagues in the past few years… but haven't found a new one close to come.
Fortunately, my gym has a basketball court.  Even MORE fortunate… is that fact that NO ONE plays basketball at 5 in the morning!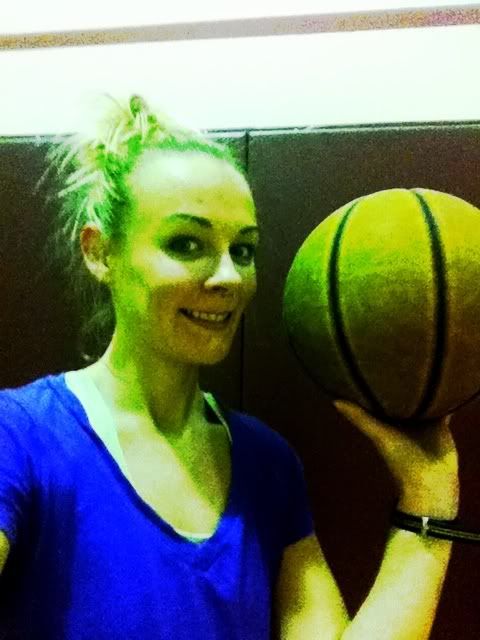 Having the court to myself was nice.  And yes.. it is ABSOLUTELY possible to get in a GREAT solo bball workout!!  It is all about internal motivation and pushing yourself through!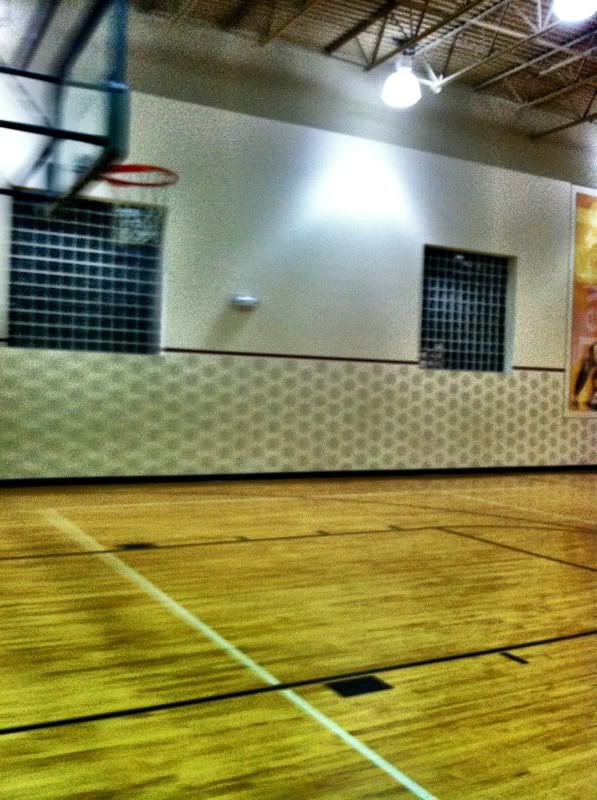 I worked out for a little more than an hour.. and the workout looked like this:
5 minutes shooting around.
10 full court right handed layups; 3 free throws
10 full court left handed layups; 3 free throws
10 full court drives down the middle
Leg Workout: Lunges; full court & back; 50 squats; 50 sumo squats
5 minutes shoot around
10 full court pull ups (right); 10 left; 10 from middle of key.
Arm Workout: 15 bicep curls; 15 over head tripceps; 15 upright rows; 15 bent over kickbacks; 15 reverse flies (x2)
5 min shoot around
10 full court elbow jumpers from right; 10 from left; 10 from foul line
3 min defensive slide
5 min line jumps
Shoot around to cool down
The key to this workout.. is to sprint your but off when doing all of the full court exercises. Think game speed!  And chase down your rebound at a high speed!! Keep that heart rate up!
By the final set of full court shots, I had fatigued both my arms and legs through quick lifting.. so it was very challenging. BUT.. I also felt AMAZING when I was done!!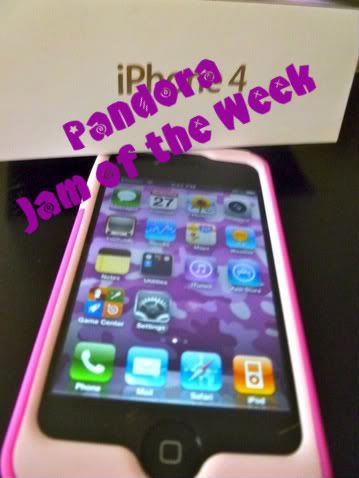 I love when I hear songs I used to listen to when I was younger. It is likely that you will find a song like this EVERY week when I list my Jam of the Week!  Last week, I brought you back to Toya.  And today, I bring you back to Craig David!
FILL ME IN, baby!
Tell me you love this song! Don't deny it!
————-
How was your week with workouts?
Did you play sports in high school? If so, do you still try and play now?