Happy Halloween!  Hope you all had a great weekend. I have Gina here with us this morning. Here blog is amazig – as it combines her running and training with delicious recipes from the kitchen. Her pictures are incredible too!  I am hoping to be back to a regular blogging schedule sometime this week, but for now, enjoy Gina's wonderful post! Thanks for helping a girl out, Gina!!!
———————
Hi guys! I'm Gina from Running to the Kitchen where I blog mostly about food and a bit about running.
I'm currently training for my second half marathon (any other Philly halfers out there?) next month and since Cait just finished her first two (which she totally rocked!) I thought I'd talk about some of the things I've learned throughout half marathon training.
1. Plans are meant to be broken
Putting together a training plan is definitely important when you're trying to tackle 13.1 miles. You want to be smart about how you increase your mileage, make sure you're getting all the necessary runs in and fitting in ways to cross train, rest & stretch. It's a lot! But, if you can show me one person out there who can stick to a 10-12 week schedule without having to move things around once, I'll bake you some of these.
I went into training knowing things would have to shift occasionally because of travel for my job and other random things that pop up but it was still difficult to accept mentally when it first happened. Here's my advice: prioritize your workouts in a given week. If you're training for a half, long runs are probably your most important workout. That's something that I make sure I fit in no matter what then I prioritize from there. This way if push comes to shove and you have to switch things up or skip something, you're at least being smart about what you're skipping.
2. The power of positive thoughts
How many times do you get out there and all of a sudden turn negative when your run/workout isn't going as smoothly as planned? I'm not really a pessimistic person, but I'll admit my mind turns negative first unless I remind myself otherwise. Mantras or positive thoughts have become my thing. At the first sign of doubt or negative thoughts I immediately start chanting one in my head. It's seriously amazing how much better your body reacts to something positive! Two of my recent favorites are:
-run strong, run hard, run proud
-you can do anything for a mile
It works, try it!
3. Fuel & hydrate properly
I drink at least 80 ounces of water a day, usually more like 120. Luckily, I work at home so my every 20 minute bathroom breaks aren't met with weird coworker glares wondering what the heck is wrong with me. I find trying to run without having properly hydrated that day to be incredibly difficult. I end up feeling so sluggish and blah. Another lesson I learned the hard way? Fueling. I run at lunch time a lot, especially with the daylight hours getting shorter now. I don't want to eat a full lunch before heading out on a run but at the same time, I need some extra calories if I expect my body to perform its best on a run since breakfast is pretty much digested by this point. Besides the sick obsession I have with Larabars, I'm not a big "bar" person, so I make my own snack bites which are perfect pre-run fuel. These are a few of my favorites.
Cashew Banana Chocolate Chip Bites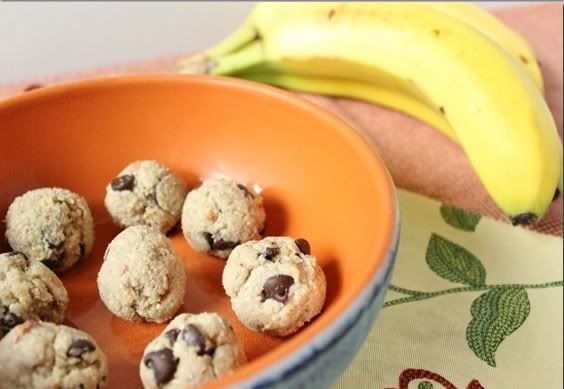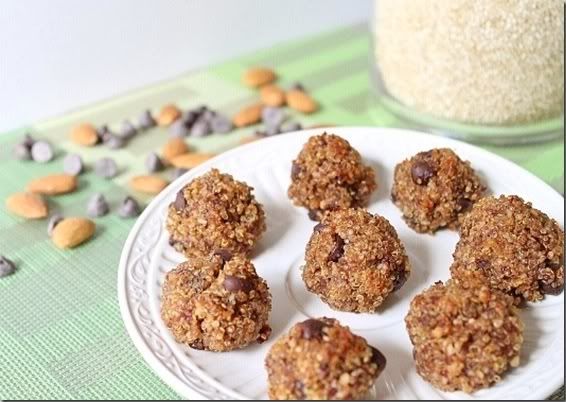 Cherry Coconut Chocolate Chip Balls
Pop a few of these in your mouth on your way out the door and you're good to go!
4. Missing a few days will not completely derail your training
Life happens, sickness happens, injuries happen so try not to get worked up about having to miss a few days of training. Last week I was gone for 6 days straight for work. I came home and caught a head cold which resulted in 4 days off from any sort of exercise at all. At first I freaked. But guess what? I ran a kick butt 10 miles yesterday without a problem. Be confident in your training and let your body do its thing. If you've put the work in, a few days off is nothing.
5. Enjoy yourself!
It's hard not to get caught up in all the training and the goals you've set for yourself, (I'm totally guilty of this with ideas of a PR consuming my brain!) but it's so refreshing to sometimes just take it all in. Whether it's a run on a gorgeous fall day
or, the thrill of race day itself.
What's the point of it all if you're not enjoying yourself?
What things have you learned from training for a big event?