Chea. We had a doozy of a storm yesterday.  A lot of the state is without power. (My parents included) … with a message from the power company of "Please plan to be without power for an extended period of time…"
Our doors are open for the fam! Come on down!
(Although our heat isn't working right.. we don't have cable, internet, or phone..)
I won't lie .. it was very strange to see tons of snow falling.. with all of the leaves still on the trees!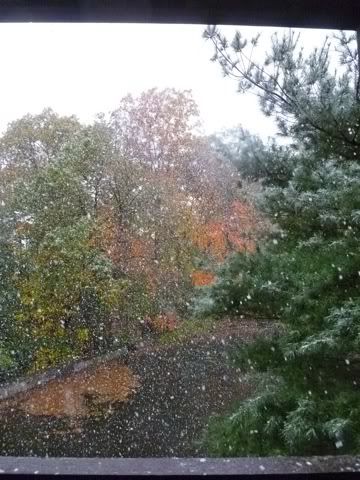 Yea! Some of the leaves are still green! Pretty? Yes. Dangerous.. oh, my YES!
Leaves on Tress + Heavy Snow = Lots of heavy tree branches crashing to the ground.
I tested out the temperatures…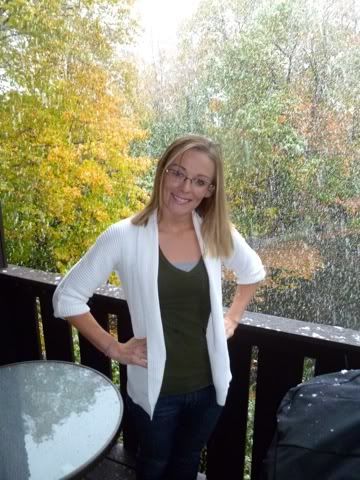 And threw on something a little more weather appropriate:
Okay.. so maybe it was quite cold enough for my get-up. But it HAD just started snowing.. and  I knew it was going to get worse. I was preparing just incase the car got stuck anywhere when I dragged Justin to a bridal shop with me to pick bridesmaids dresses.
Or maybe I can be a little over dramatic.
Speaking of over dramatic… this is how my morning started out: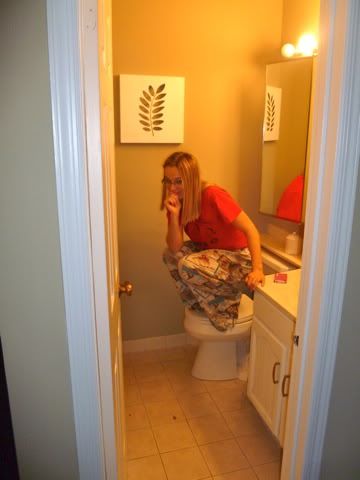 Can you guess what I am doing?!  I am hiding on the toilet.  Not sure if hiding is the right word.  I am kind of just hiding my feet from the bathroom floor.  Why am I hiding my feet from the bathroom floor?  Well.. as I was going to the bathroom, one of my favorite little critters sprinted his way into the bathroom: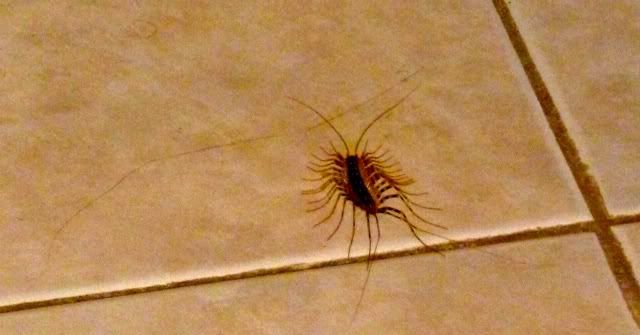 Yep. Another ATTACK OF THE THOUSAND LEGGER.  You bet your bottom dollar that I finished peeing, flushed and closed the toilet as quickly as humanly possible and jumped my booty up on the toilet seat.  And then yelled "JUSTIN, HELP ME!"
He came running.. thinking he would find a tragedy. Instead, he found the thousand legger legit guarding me on the toilet.. staring me down.
Rather then helping this damsel in distres immediately, he took his time wandering around the condo looking for the camera so he could capture this lovely picture. THANKS, BABE!!!
——
Did you get snow this weekend?
Are you a little over dramatic like I was with my buddy, thousand legger?