Good day to all of you!!
I am JUST as excited as all of you that I have …
ONE: completed my first half marathon (Oct 2)
TWO: turned 26 (October 4)
THREE: Gave myself a birthday present… of another half marathon… in 9 days…
Thank you all so, so much for all of the kind comments, tweets, emails, facebook messages, etc over the past couple of days.  You all warm my heart so much. I have a wonderful support network here on the interwebz.. and am so grateful for each and every one of you.
But, I am sure you are not here to listen to me pour my heart out and bow down at your feet, kissing the ground you walk upon.  You are here to see some eats.. here to party.. at the What I Ate Wednesday Party…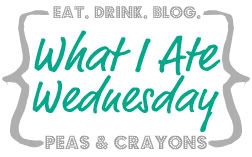 Can we all give a HUGE sigh of relief that li
l Miss Jenn
at Peas and Crayons (the creator of this wonderful party..) has internet now! And is doing a super job decorating and accessorizing her new pad!!
Before I begin.. a few truths:
I did not eat this food on Wednesday. (This is nearly impossible since it posted at 5am).
I did not eat all of this food on Tuesday, either.
But, I did eat all of this food in my last couple of days as a young 25 year old.
Now that I have that off of my chest, lets get this on!
Breakfast noms: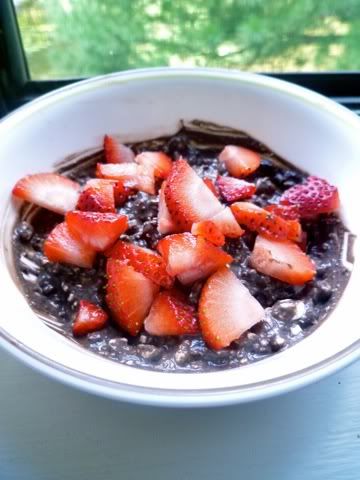 Cottage Cheese, Cocoa Powder, Almond Milk, uncooked oats, and fresh strawberries. Absolutely delicious.  Perhaps more of a dessert then anything. BUT. I am okay with eat a dessert like meal at any time of day.
Some mid-day grub: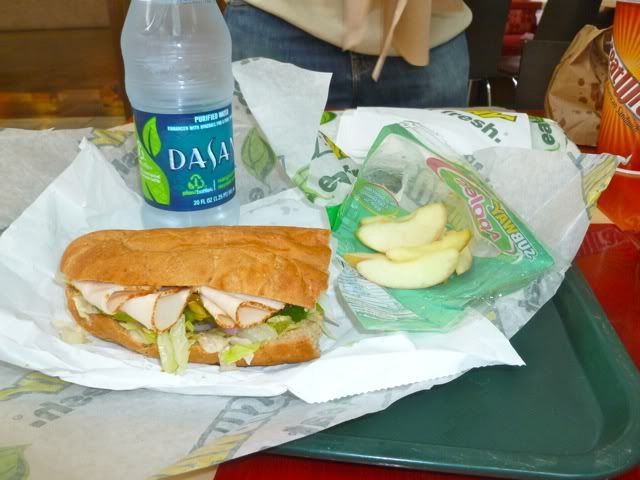 The classic that I get just about every time I go to Subway.  Turkey on Whole Wheat with lettuce, onions, peppers, cucumbers, pickles, and spicy mustard.  And some apples. And some water.  Subway apparently is not longer selling Light and Fit Yogurt.  Instead that have their own parfait. Not a fan. I'd like my Light and Fit back, please.
Dinner Eats:
Yea turkey burger with mango salsa! My days with this piece of deliciousness will likely be numbered.. as mango salsa seems for like a summer food.  Annnd.. burgers are also scarce in the meal rotation during the winter.
And my favorite treat of the week: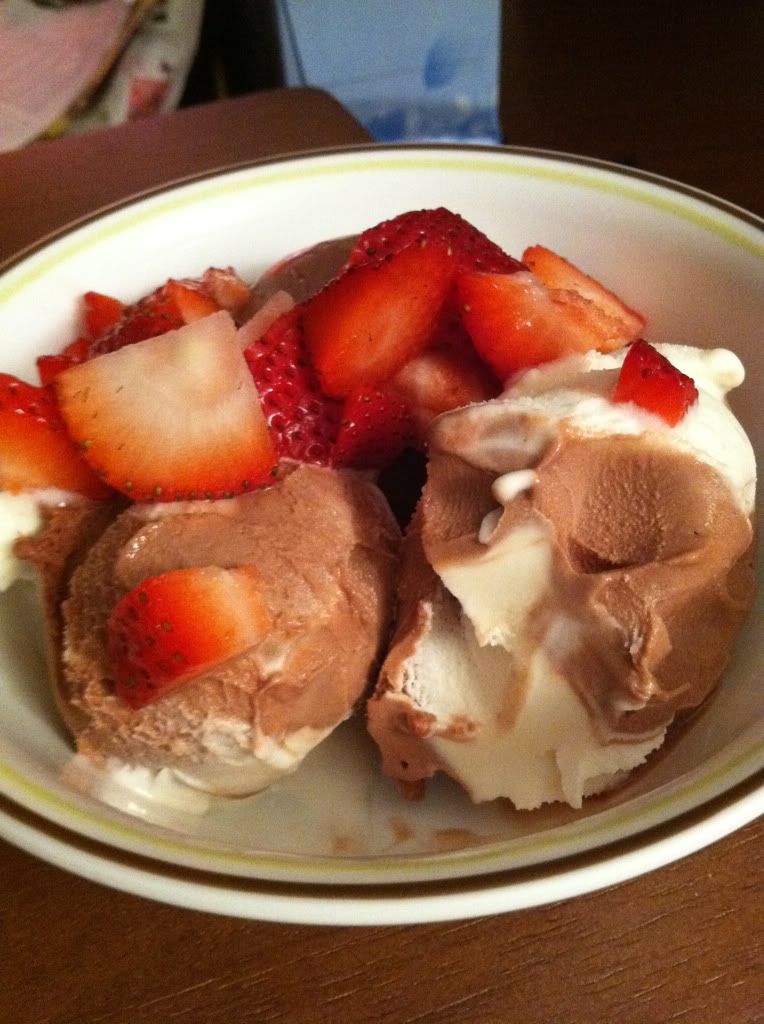 Chocolate and vanilla swirl frozen yogurt with fresh strawberries on top. GET IN MY BELLY!!
—-
Are there foods that you don't eat during the colder months? Do you try and eat them a little bit more at the end of  the summer because you know they won't be making an appearance for a while…?