This is a long one, folks. I hope you'll read  it though. I mean.. do it as an early birthday present. Tomorrow I turn 26!!
After 10 weeks of training.. 10 weeks of lots of running – good runs, bad runs, and all the runs inbetween .. I can finally claim that I've successfully completed a half marathon. And I am more then proud of that claim!
I made sure that all of my things were ready to go before getting to bed at around 9:45 on Saturday night.  It wasn't hard for me to go to bed that early. That is about my bed time during the week. PLUS, Justin and I had a super duper long day on Saturday.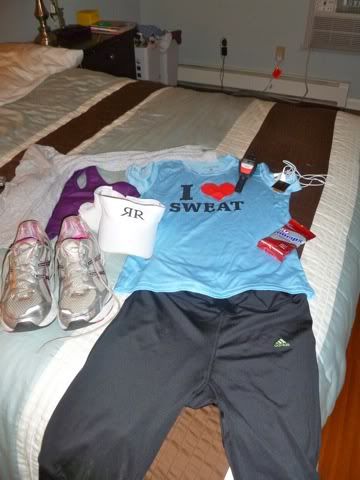 I slept okay. From 4:00am on I would look at the clock every 15 minutes in angst as I waited to my alarm clock to go off at 6:00. At 5:30, I had enough and just got up anyway.  I drank lots of water and ate my standard pre-run/pre-race meal: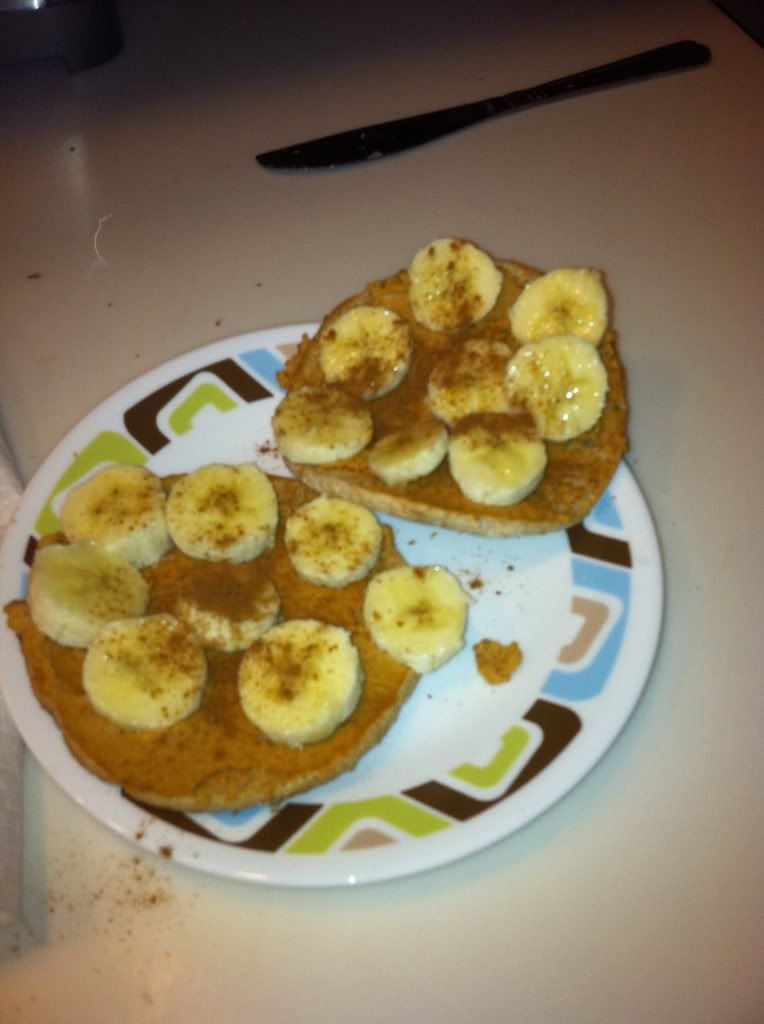 Toasted Sandwich Thin with PB and a slice banana. Does the trick every time.  At this point in time, it was POURING. Like.. if I had gone outside it would have looked like I took a shower. I watched the news and saw it was a band of heavy rain. It looked like the storms would be gone before race time.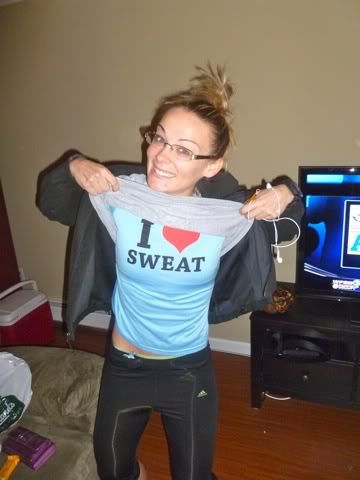 And the we were off!!  The rain had stopped but it was still cloudy and raw out.  Whatever. No rain = happy Cait.  (Can you tell how obsessed I am with my I <3 SWEAT shirt.  You'll see more pictures of me flashing you this shirt.. don't you worry!)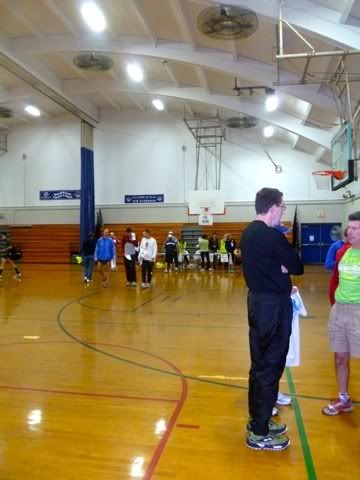 Race start time was 8:30.  Justin and I arrived at around 7:15.  I picked up my number and t-shirt and then wondered what the eff I was going to do for an hour and 20 minutes.  This half marathon is small. Perfect for my first time. The only down side is there was NO swag bag.. and no professional photographers on the course. I did however speak on camera in an mini interview for a 10 min video they put together for the event.
I did a half mile warm up and stretched, used the bathroom, and spied on Justin pondering in the distance.
Justin spent his time studying the race map to determine if he would be able to meet me somewhere on the course.
I warmed up again, used the bathroom again.. and soon it was time to get 'er done!!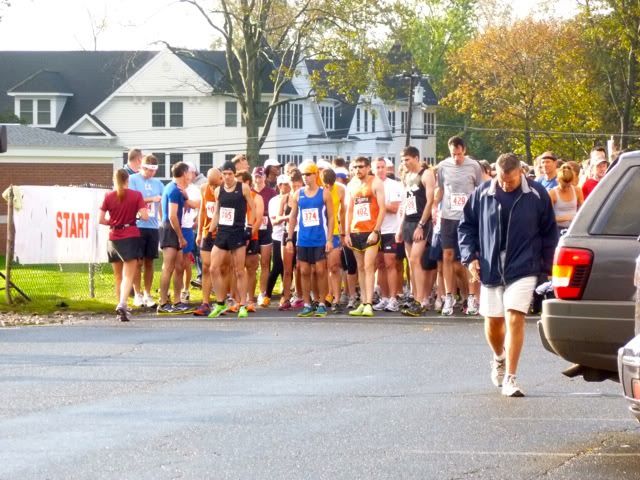 Yes. You ARE seeing a sunny start line. It was amazing. Thank you sun! But I also thank you clouds. I didn't have to squint the whole time.
The following are Justin's attempts to picture me as I ran passed him. Note the word ATTEMPT.
I of course got caught up with the excitement when the race began.  I was running faster then I had trained at.. but that can be expected.
Mile 1: 7:58
I wasn't too concerned with this pace because my body felt absolutely amazing.  I wasn't getting discouraged if people passed me.  If they passed me.. they were faster then me. Or.. they wouldn't last all 13.1 miles at that pace. I wanted to maintain for 13 miles. And I did. Almost.
Mile 2: 8:02
Still feeling wonderful. I had a goal average pace of 8:40/mile. So, in my head I am thinking that I now have 80 extra seconds to fool around with.  In the back of my mind I am wondering if I can hover around 8:00 miles for the duration of the trip.
Mile 3: 8:14
I can't even comprehend how quickly the miles were flying by.  There were plenty of small hills on the course; some with a more intense incline then others.  I am happy that I trained with lots of hills because I ended up picking many people off in the hills during the first third of the race.
Mile 4: 8:04
Mile 5: 8:07
Um. Seriously?  Shocking myself .  But not caring either. I felt fantastic. I took my first Strawberry Gu Chomp at around 5.5 miles. I don't know if I am strange, but I suck on them for a while because I think they are yummy.  They stay in my mouth for at least a quarter of a mile. Am I alone in this?  I honestly didn't think much during the race. I was just running a smiling and enjoying the people who were out there cheering for us.
Mile 6: 8:13
Mile 7: 8:17 (2nd gu chomp eaten sucked on at 7.5)
Mile 8: 8:13
I am feeling pretty consistent in my pacing. But I am also getting ticked off because every time I pass a mile marker.. I am ahead on my watch.  (I ended up running a total of 13.3 miles. WTF).  The course included a loop that we did two times… so we were onto the second loops. It was okay with me because I knew what to expect.. when I would go up hill.. where the water would be, etc.
Mile 9: 7:58
I don't know where this burst came from.  Perhaps it was all the cute puppies I saw… or the triplets that were hanging out the window giving runners a high five.  Maybe it was the fact that every single supported I passed yelling I LOVE SWEAT! YOU'RE SO SWEATY! KEEP SWEATING!!!  I would pay for this quick mile. Gu Chomp #3 consumed at 9.75
Mile 10: 8:36
Mile 11: 8:41
Mile 12: 8:48 (GU ME)
Miles of torture. My legs decided they wanted to carrying sand bags on them for a 5K… and my side decided a cramp would be AWESOME.  I wanted to push through, and I never stopped to walk… but I obviously slowed down. I was calculating in my head when I would finish if I kept this pace. I would still come in under 1:55.  Maybe I would just keep this pace. I seriously considered it. I counted down each mile. Okay.. I counted down the miles.. the tenths of miles.. the number of laps left if I were running around.
Then there were a series of signs that read "It's all down hill from here. You did it". (It wasn't really ALL down hill, but close enough.) I knew everyone would be speeding up for this last mile.. and I wasn't about the get passed by a gazillion people. So I put on my big girl pants, and high tailed it to the finish:
Mile 13: 8:19
Last .27 – 1:45 (6:29 pace) Yes, that does say point .27. NOT .1.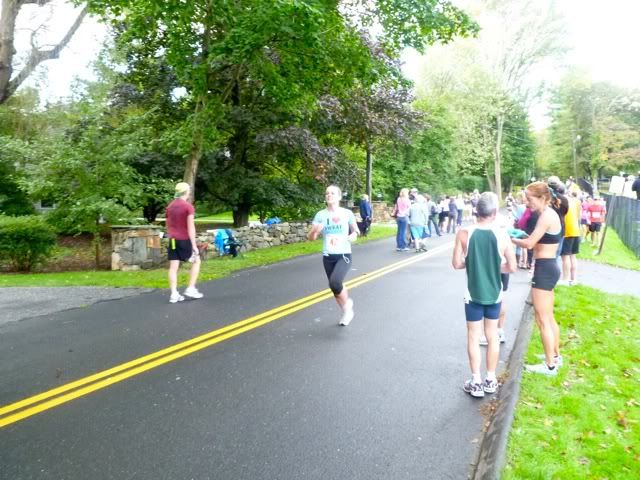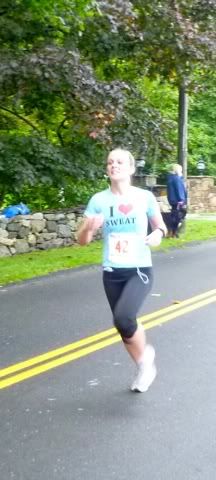 I RAN A HALF MARATHON! I RAN A HALF MARATHON!
And I did so much faster than I would have ever thought.
And it wasn't easy. There were many changes in elevation.
I finished with an 8:21/mile pace. And I placed 5th in my age group!
I found a happy  boyfriend waiting for me at the end.
Are you wondering who took this picture?  A stranger?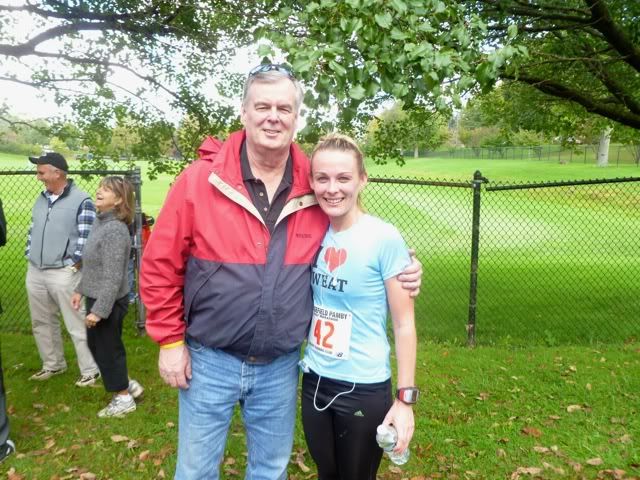 Nope!! Dad surprised me at the finish! Hi Dad! Thanks for coming! I am so happy that you were there! Love you!
I stretched and wanted to get the hell home. In the car I found this fancy piece of paper waiting for me.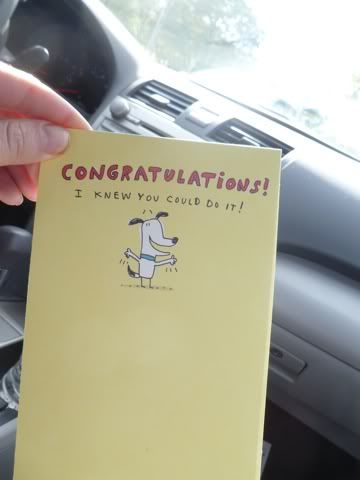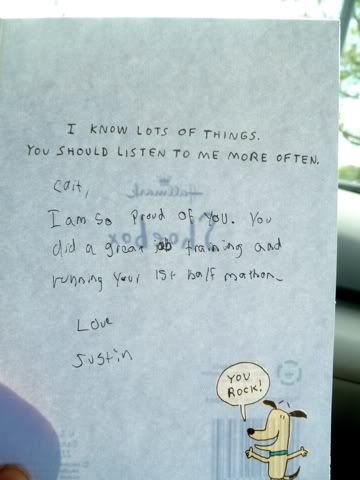 So cute.  :).
I finished off the morning with a (freezing) piece of heaven.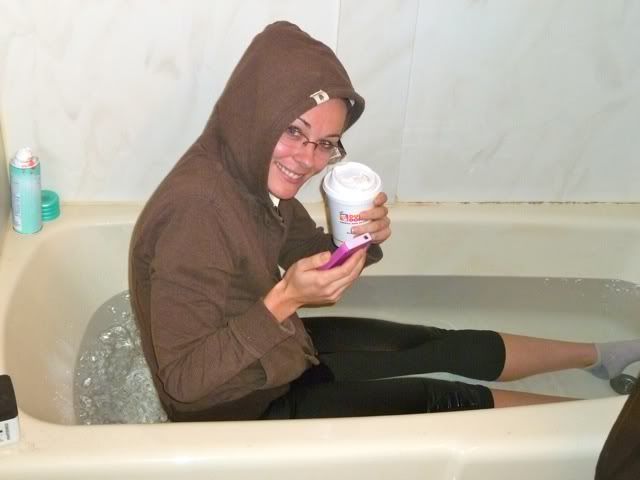 1:49:18. I did it. I am so proud of myself. A year ago.. I could have never come close to running 13 miles.  But an awful lot can change in a year.
Thanks to EVERYONE for their supportive comments, tweets, texts, and facebook messages… not just yesterday.. but through my entire training.
A special thanks to Kaitlin – who got me into this half marathon business.
And Ali - your shirt was a hit. I made lots of friends along the course because of your sweaty shirt. Many random people also took photographs of me along the way.
Goals for my half marathon .. whenever that may be… is to NOT HAVE THOSE 3 BAD MILES!  I was only 3 minutes off from placing.. and to place in a half marathon would be phenomenal.