Good Morning Friends!! Well.. I hope it is good at least.  It is a FABULOUS morning over here in Banana Land! Why??  Well there is four reasons:
REASON 1:
Breakfast.  Today I had Mocha Oat Bran for breakfast.  Mmhmm. Mocha. It was incredible.  I am currently extremely full – but it is A-Ok.. but my breakfast was slamming!!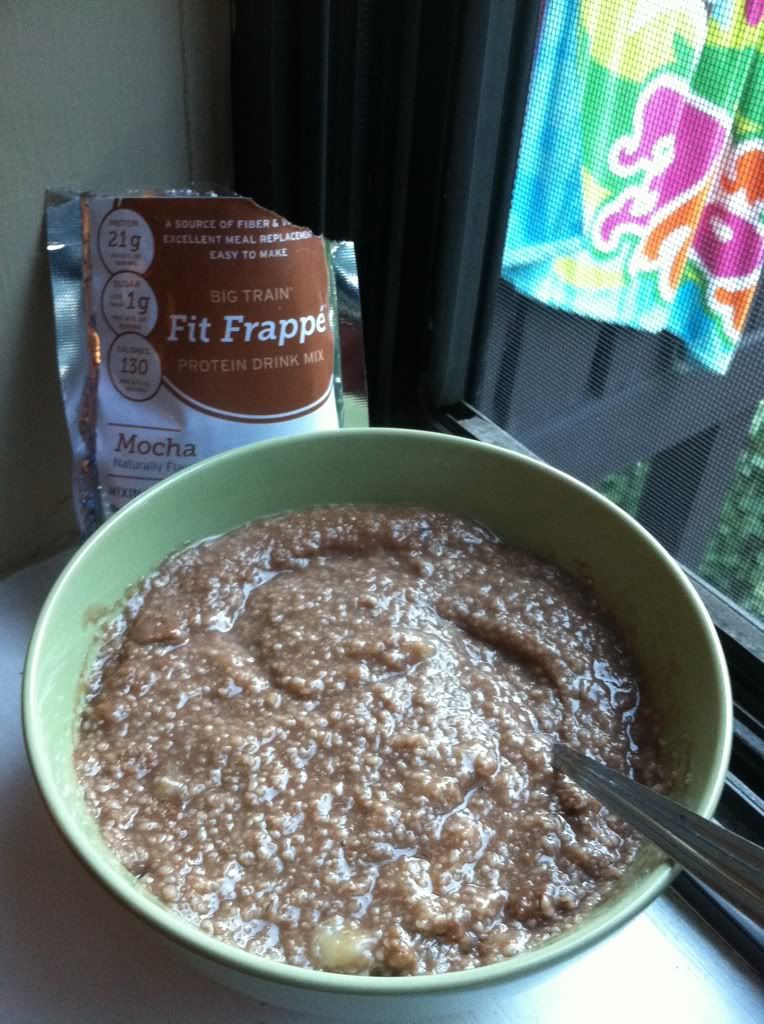 1/2 c. oat bran
2 c. water
1/2 sliced banana
1.5T Mocha Fit Frappe Protein Powder from Big Train
A couple of weeks back, I had some Vanilla Latte oats… which were delicious (courtesy of Vanilla Latte Fit Frappe Protein Powder)  but these top the charts. Holy Goodness.
SECRET:  Make sure you visit tomorrow.. you MAY or may not have a chance to win some Fit Frappe Samples
REASON 2:
I had an incredible week of training:
As you can see – I have been cross training more.  Less miles… but still training.  It is the right move for me mentally and physically. I don't want to start dreading my runs.. and that is what was happening when I was running 5 days a week and crossing 1 day.  Now.. I am happy and my legs are happy!!  My incredible 11 mile run topped of the week!  I am feeling confident as ever.. and am ready to conquer 13.1 on October 2!
REASON 4:
I've got another fabulous week of training ahead of me… which happens to be my last full out training week!
I am excited for this week!!  5 miles before work tomorrow will cut it close timing wise.. but it is all good
.  I will get it done!  A 12 mile PDR next Saturday is in the books as well!!  Next week – my runs are shorter and easier – as I prepare my body for race day!
REASON #4: (AKA the BEST reason of all…)
I said YES to the DRESS!!
Yep, Yup, Mmhmm, yessir.. I found my wedding dress yesterday without a doubt!  It was only my second time dress shopping – but I tried on many dresses both days.. and as soon as I put this one on… my face lit up!  It was one of a few I had been eyeing in magazines and I am so excited. I literally stood in the store just gabbing away for a good 45 minutes because I didn't want to take it off… and considered asking Justin to move out until the wedding so I could just wear the floor sample home and keep it on until my wedding day!
So.. in something like 320 (okay.. longer.. I will not be blogging on my day of wed…) you too will get to see my fantabulous dress!!
—
Okay.. your turn.. tell me one (or many reasons..) why today is a good day!!  (And don't you try to say today isn't a good day… every day is a good day! You have to make it that way!)