First things first…loving all of your suggestions for future posts – and I will be sure to utilize such suggestions in the very near furutre.
If you don't know what I am talking about – well then – you should ENTER MY GIVEAWAY .. and then you'll probs understand!
Don't forget to LEAVE A COMMENT for each thing you do – I've had some new followers on Twitter and new likes on FB – but no comments to correspond! You  HAVE to comment for it to be an entry!!
I had EVERY intention of sitting out by the pool today and reading. I haven't done that in a while..and I need to take advantage of the pool while its still summer.
However – the only sunshine that could be found today – was in my oats:
So, I gobbled those down – and curled up on the coach and enjoyed a wintery cup of coffee.
Laying on the couch was NOT how I wanted to spend my day.
Enter: The mess of unfolded clothes that have been stuffed into my drawers for too long.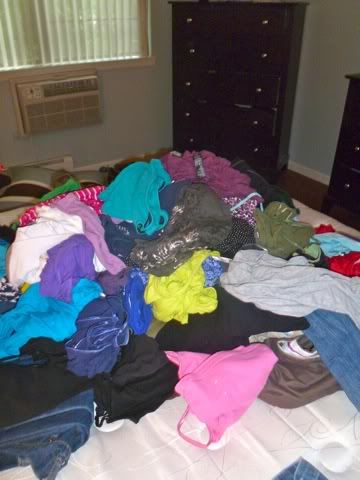 You know how it goes (I hope.)  You are looking for a shirt in the drawer – and you kind of just dig through (rather than neatly lifting folded clothes.)  Pretty soon – you are left with a ginormous, scary mass of clothes.  So – I took all of the clothes out of my dresser – and started from square one.
The end result: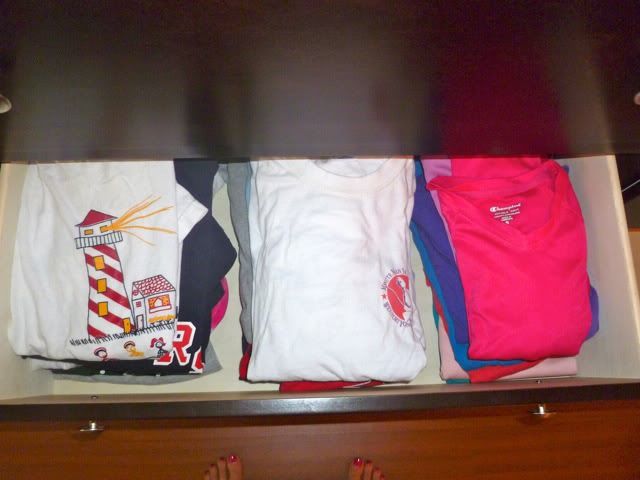 Neatly folded piles.  I am going to try REALLY hard to keep them neat.
Added bonus: I washed the sheets and have a lovely clean bed to sleep in tonight!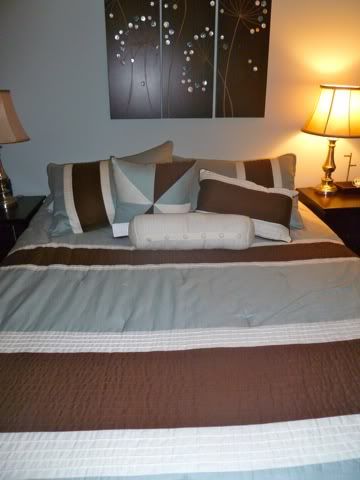 While I was cleaning – I counted my tee shirts.
35. (Far cry from when I was actively playing soccer – that was over 50…)
I only wear tee-shirts to bed.  Just as Kelly noted today in her post (pure coincidence
) – I kind of have a hard time letting go of clothes. I tend to just … keep everything.
Every shirt has some sort of memory – sentimental value.
Forget about the SENTIMENTAL value.. there was an ACTUAL value that I PAID when I purchased these items.  As ridiculous as it sounds  - I often feel like I am throwing away the money that I spent on the item of clothing – if I do decide to get rid of it.
So – here is a better idea – let's just shove it in a drawer where it collects dust and takes up space.
Not so much.
So – today I made a better effort to sort through clothes and get rid of things I did not wear – or that did not fit me anymore. As for the bottoms – and fitting – I decided if I could wear them over my shorts -
Then they were probs too big. Especially if there were still inches of space when I pulled out the waist band.
I got two full garbage bags.  (One for donations… and one for garbage.. you know – those white shirts with stains under the arms type shirts…).  I call it a success.
After my lovely cleaning extravaganza (I am exaggerating.. so what?!) – I felt famished and enjoyed a lovely little lunch: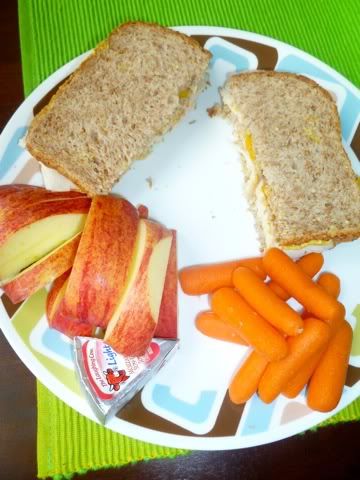 New fruit on the sammy: MANGO. DELISH!
Annnd – here is a Justin made delicious dinner of grilled chicken with homemade BBQ sauce, quinoa (topped with extra sauce) .. and grilled asparagus!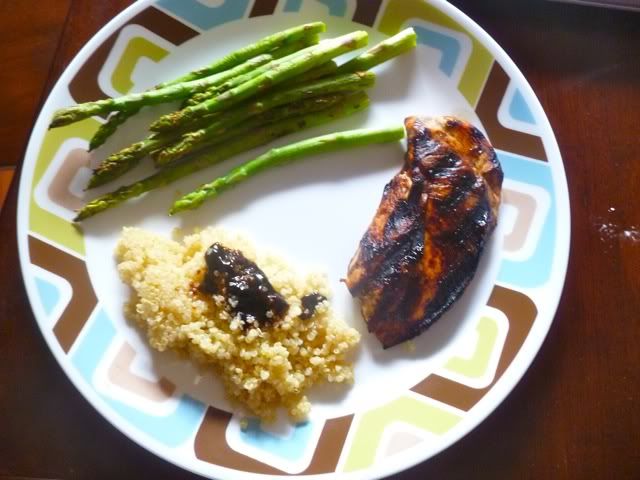 I fully intend on snacking on many-a sunflower seed butter cookies tonight as well
Today – was a slated rest/yoga day for my half marathon training.  This morning – I wanted nothing more then to go for a run. But I didn't. I am in week one. I can't over do it.
By the time yoga rolled around… I felt like I needed to roll myself out the door.  I haven't done yoga in a couple months now (BAD BANANA) … but knew I needed to go for my mental and physcial health!  My muscles have been super tight lately. I am stretching like a mad woman – but am beginning to think I did not stretch adequately during DAY 1, DAY 2, or DAY 3 of my Susan G. Komen 3-Day Experience.
Yoga helped for sure!
Moving on with training – switching things up and going for an early morning long run tomorrow rather then Sunday… and then meeting up with a pretty girl for fro yo
Do you tear through your drawers in an uninhibited manner when looking for a piece of clothing?! Or are you more neat?
Any troubles getting rid of clothing?  What are your reasons?