Weeeee! It is Friday.  While you may be getting up, getting ready for work.. or perhaps for some other fun adventures… I am in the midst of something amazing.
Depending on the time.. and your time-zone.. I am either being emotionally moved by the opening ceremonies of The 3-Day … or I am getting my walk on!
As I was preparing for the walk, I knew I wanted to bring some of my own munchies. Snacks.. fuel, and the like.
Then.. I remember that  I've REALLY been wanting to make granola.
Then, THIS arrived.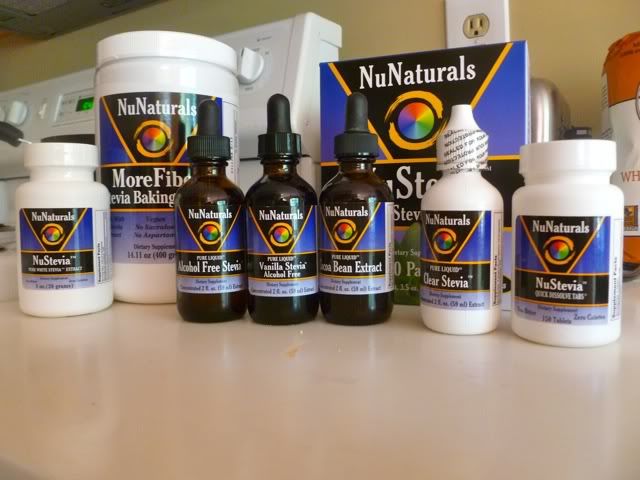 Ron at Nunaturals reached out to me and asked if I'd like to give their products a try. Well, that is a NO BRAINER. Of course I did! I've been seeing this jazz ALL over the blog world and was excited that I would soon be getting my hands on it.  Stevia is a natural sweetener, of course.. and there is no better way to sweeten.. then naturally!  But I never expected all of this! When the box arrived earlier in the week, I was blown away by how large it was!  I am SUPER excited to get my bake on with all this yummy goodness!
I just knew that with some of the ingredients I picked up at the NEW Whole Foods earlier in the week – and the lovely products that NuNaturals provided me to sample… I could create greatness.
And greatness I did create. (Honestly… this stuff is good. I am NOT just tooting my own horn….)
Coconut Cherry Almond Granola
Yeah its a mouthful to say… but you won't be saying it once you've got your mouth full of the stuff
Makes about 4 cups (so… 16 1/4 cup servings…)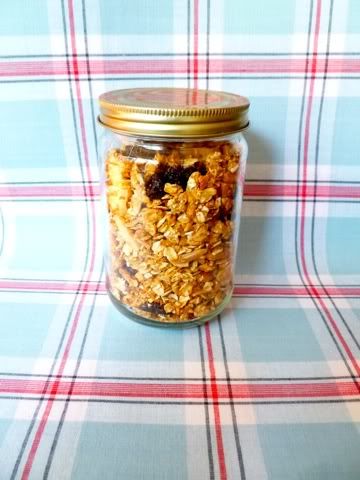 Ingredients
Dry
2.5 c. regular rolled oats (not instant)
1/3 c. sliced almonds
1/3 c. unsweetened coconut (I used reduced fat)
1.5 T Nunaturals Stevia More Fiber Baking Blend
Wet
1/4 c. Almond Butter
1/4 c. Unsweetened Applesauce
2 T light agave
2.5 T Vanilla Almond Milk
.5 tsp Pure Almond Extract
1/2 c. dried cherries, chopped
Preparation
Preheat Over to 350*. Line two baking sheets with parchment paper.
In large bowl, combine oats, almond slices, and coconut.  Mix together well.
Divide dry ingredients on baking sheets. Toast for 5-6 minutes.  Be sure to keep any eye on the oven – as things can burn quickly.  You are just toasting until everything becomes fragrant.
While dry ingredients are in the oven, combine almond butter, applesauce, agave, extract, and milk in a microwave safe bowl.  Microwave on high for 60 seconds.  Stir.  Add in NuNatural More Fiber baking blend.   Stir.  Microwave for 30 more seconds.  Set aside – but stir regularly.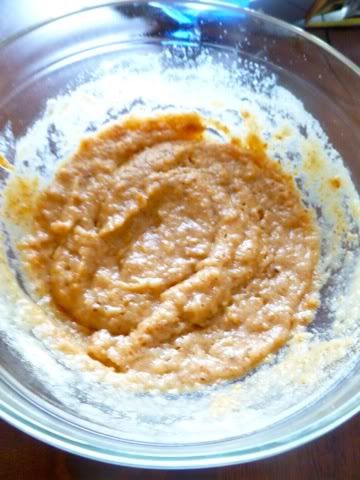 Once dry ingredients are toasted and cooled, return to large bowl.  Add in wet ingredients and stir, being sure to fully coat all dry ingredients with the mixture.
Evenly spread your granola on two baking sheets (still lined with parchment paper; makes for EASY clean-up)
Bake for 10-15 minutes – stirring the granola 2-3 times to prevent clumping any burning. AGAIN.. keep a close eye on everything.  The granola can burn quick. And burnt granola just doesn't taste good! Your final product will still be a bit gooey. It will harden as it cools.
Once cooled, add in dried chop cherries. And then enjoy. With almond milk, in oat meal, yogurt.. as a snack all alone!.. However you so please!
That is one of the things I just luuuurve about granola. It's versatility.  There are so many things you can add it to. Or.. you can not add it to anything and just gobble it up in is wholesome state.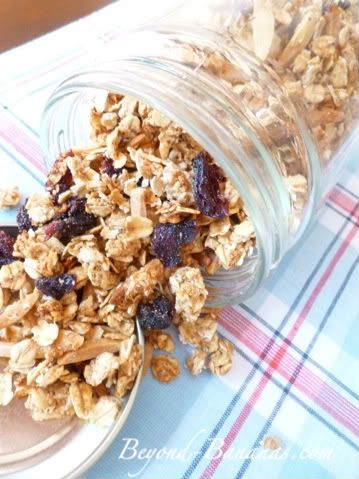 A big thanks to Nunaturals for allowing me to try their wonderful products! I will have a more complete review of EVERYTHING once I give it a try!
What is your favorite way to eat granola?