So – this morning, I was unsure as to whether I wanted to to take a weight training class – or go for a run.
Running won. Duh!  Well, not really duh. But I stepped out onto the balcony..and was shocked by the beautiful weather. It was cool. It was not (yet) humid.. and there was a slight breeze.  (I mean, how much humidity can you expect at 6:30 am).  So, I laced up my sneaks.. got my gear together and was ready to go!
Side note: Justin snored all night. He can't help it because he has a head cold. One that I gave him.. probably. But either way, it kept me up and I was cranky.  Normally I tip toe around the room so he doesn't wake up. Today I may have been loud on purpose. I was cranky. This is a public apology. Sorry Justin
.
I really had no expectations for my run.  I set out to do one thing.. which was negative splits. Okay.. two things…but they are related. Normally.. I go out and get my run on.. quick. I start running at a fast pace.. pretty quick.. and then I die out.
I accomplished both goals.. for the most part.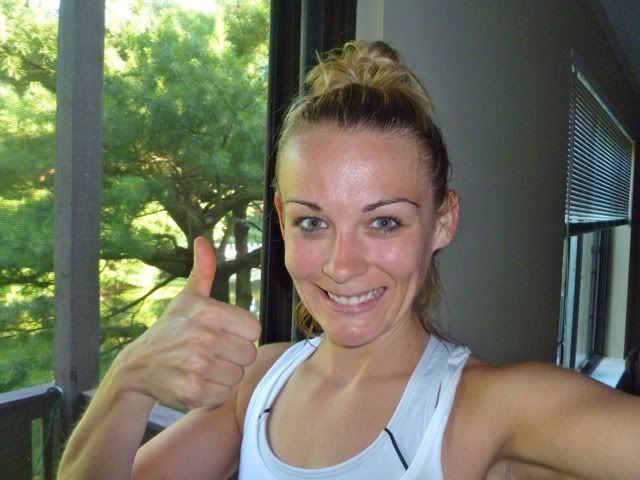 In total, I covered 7 miles in 58:27 with an average pace of 8:20/mi
I started off with a nice easy mile 1 (9:09) .. and picked up the pace slightly for mile 2 (8:41).  Mile 3 (8:24) felt a little to quick for me at this point in the run and I didn't want to run out of fuel..and really wanted to get some great splits at the end.  So – I did NOT have a negative split on mile 4 (8:34) .. but I am okay with it.
I was super pumped with miles 5, 6, and 7!  Somehow, I got this amazing burst of energy and felt great. My pace was consistent throughout these miles, as well (much more so then during the previous miles).
I am giving you lots of graphing pictures.. because I am actually not being lazy and USING my software today..
Pace for Mile 2 (8:44) – VERY all over the place.
Pace for Mile 5 (8:11). More consistent.
It kind of baffles me that my pace varied from 12:30 to 6:30 (roughly) during mile 2.  One of my goals is to try and run at a more consistent pace. (ANY TIPS?!)
---
After I came home, I whipped up a new and improved version of Strawberry Cheesecake Oats.. and I liked these much better then the old version.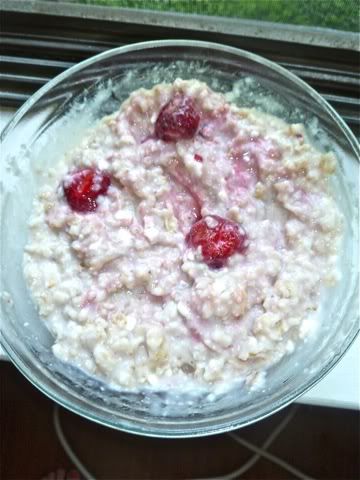 1/2 cup oats
2 c. water
1/2 packet Gotein Strawberry Protein Powder
Bring these items to a boil. Remove from heat. And cover. Let stand for 5-10 minutes.
1/4 c. cottage cheese
1 tbsp plain greek yogurt mixed with 1/2 packet stevia
Transfer oats to a bowl and mix in these two items.
Frozen (or fresh) strawberries.. as you desire..
I wasn't feeling hot oats.. so I actually stuck this bowl in the freezer while I showered, changed, and threw in a load of laundry. I ate them about 45 minutes later and really enjoyed them!!
---
Gotein Protein Powder is actually pretty fabulous. A week or two ago, I won a giveaway on Allie's blog - and received 3 to-go packets of Gotein. (One Chocolate, One Vanilla, and One Strawberry).  What is super cool about these – is that they do not require a protien shaker with a ball in it to break up the powder. It is very easy to mix!
Since I use my powders for more then just drinking… I decided I would decrease the amount of water each time I had some – so I could use it in other things.. like my OATS! (I didn't use the entire packet in each drink…)
Vanilla: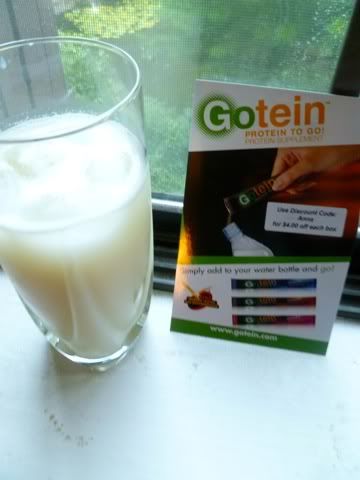 Just the right amount of flavor.. and not too sweet at all! My least favorite types of protein powders are those that are ridiculously sweet.  This definitely was NOT too sweet.
I used about 1/4 of the packet in some mixed berry oats.. and the vanilla flavor really came through!
Chocolate (have not used this in oats.. YET):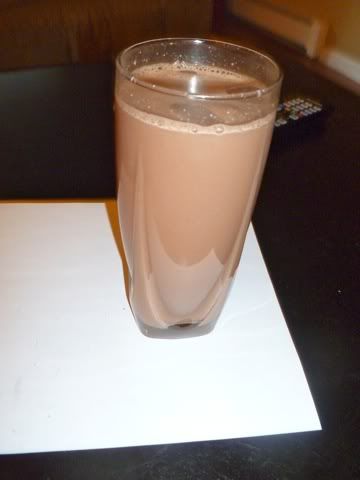 Again, not too sweet. And no chalkyness either!
Strawberry (have not drank this … YET!):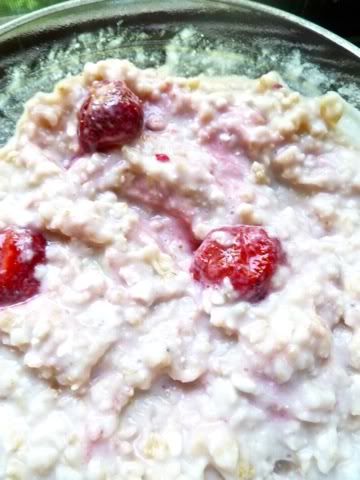 Some thank you again, Allie.. for hosting this fabulous giveaway! It is actually the first time I've ever tried strawberry protein powder!!
Thanks to the publish feature.. I am probably mid BBQ right now.. so I will catch up with you tomorrow with some great pictures of fun times (I hope!)  Have a lovely Saturday!!
---
 Are you a fan of protein powders?  If so – what is your favorite brand.. favorite flavor?! 
---