Good Evening, Folks!  To those of you who have already embarked on your nice long 4th of July weekend.. well.. aren't you just a lucky one!
I can't really say I am jealous because I only work until noon every day.
Today – I had nothing to do. Besides work out and work.
I worked out at 5 am – 45 minutes on the elliptical and 15 minutes of abs.
I finished work at 12pm.
Lots of day left … not a thing to do…
But I didn't want to do nothing.  Today was one of my student's birthdays. She came in without any cupcakes or goodies.  That hasn't happened yet this year. There is always some sort of celebration.  So, I made a little deal with her. I told her I would bring in some cupcakes for her birthday tomorrow – but it had to be a little secret between us!  I mean.. if we let this secret out – I would be baking cupcakes left and right!
Her face lit up like a pot of gold. She said it was A-OKAY with her!!
Now, I knew I had a box of Funfetti at home – always a favorite if you ask me!  I came home.. got the few ingredients together.. and began to cup-cake it up!  :)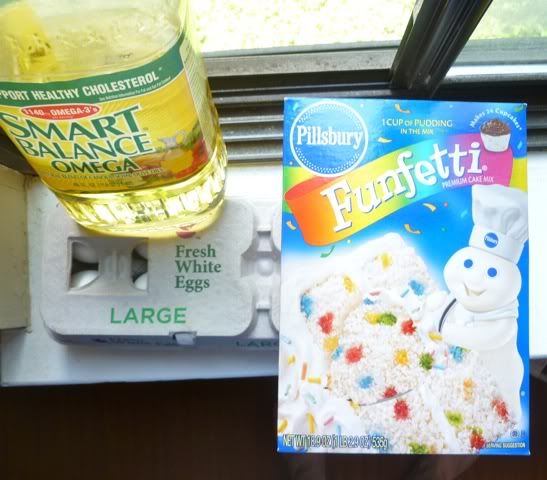 I've made cupcakes for my 17 students many times before. So – I started to fill up my second set (only needed 5).. when it hit me.
I don't have 17 students right now.
I have 24. Crap. Not enough batter.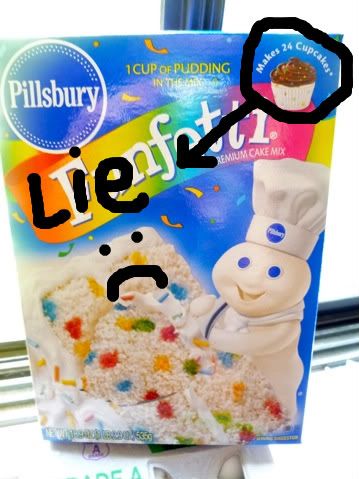 The only other cake mix I had was plain white.
Would half of the class really want plain old white cupcakes .. when their friends had funfetti? I THINK NOT.
I really didn't want to go back out. I am so lazy like that.
Then I remember. A while back, I had seen some GLORIOUS tie-die cupcakes on Andie's Site – Can You Stay For Dinner?
I had food coloring .. so I was all set.
I got to work mixing up my tie-die cupcakes:

Look how how pretty they came out!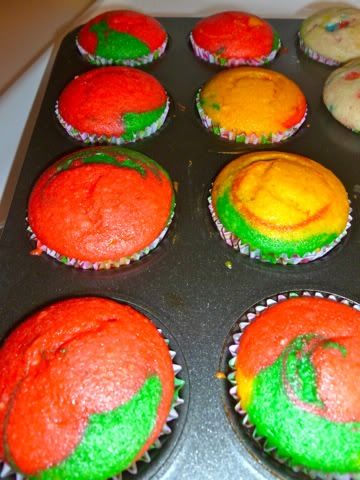 I did miss one step though.. a pretty important one. The one where you mix the colors together in the cupcake paper.. with a tooth pick. Oh well.. they still look nice to me!
Then another ton of bricks hit me.
Would 1/2 the class really want JUST funfetti cupcakes… while their classmates had AWESOME tie-dye cupcakes?
Oye Vey.
So  - I decided to do some tie-dye frosting.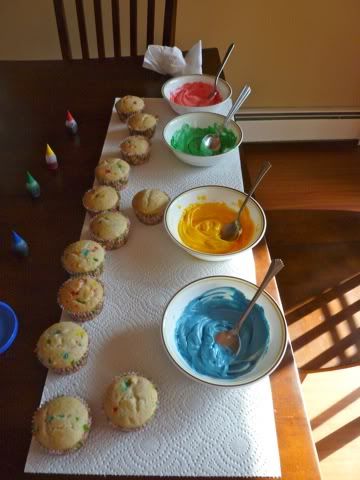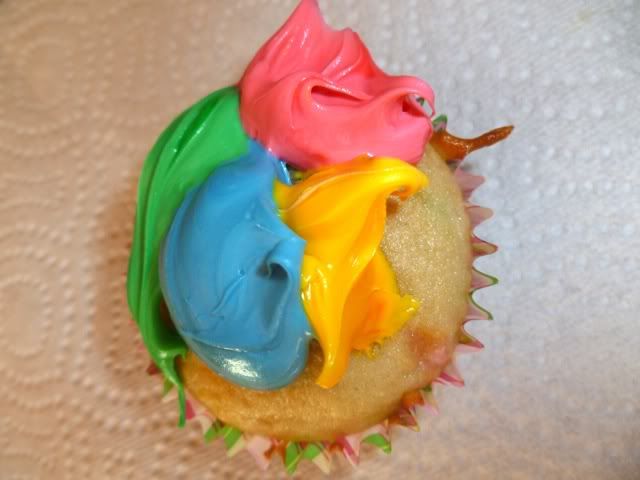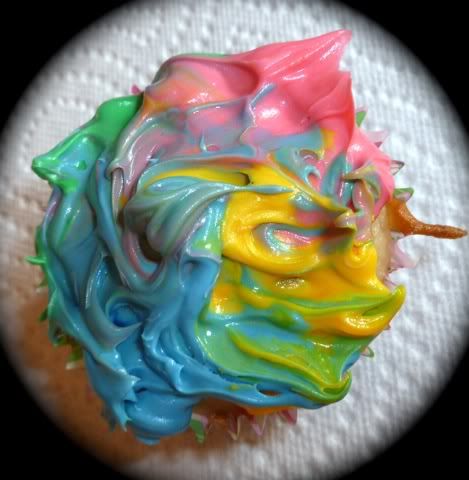 I think it makes it a little bit more equal… no?
I was undecided as to how I should frost the tie-die batter cupcakes – so I waited for Justin to come home to ask his opinion.
The verdict: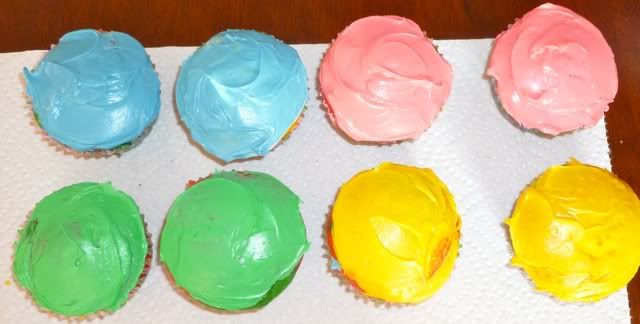 SOLID IT IS!  You can have tie-dye batter OR tie-dye frosting… but not both.
Annnnd… why not top them all with a nice little star.. just to show some USA pride!
And don't worry.. Justin got his cake too!  I ran out of cupcake tins (I am obviously not stocked well in anything) .. so I put the remaining colored batter in a square pan.  I did use all the frosting on the cupcakes though…)
---
…So much for not using the oven much when it is stinkin' hot out!